Great CPAP Gifts for Dad
Every year, more and more people are diagnosed with Sleep Apnea. And while obstructive sleep apnea (OSA) affects both genders, the ratio of men to women diagnosed is about 5:1 in the general population.1 This common sleep disorder occurs when breathing repeatedly stops throughout the night. Left undiagnosed, sleep apnea can leave you feeling tired and sluggish, unable to concentrate, and fighting daily headaches. Plus, it can cause long-term cardiovascular, neurological, and endocrine complications.
The good news is that more people are learning about sleep apnea today than ever before. And with knowledge comes the power to treat this manageable condition. Testing, of course, is the first step to any diagnosis. If positively diagnosed, CPAP continues as the least invasive and most effective treatment for OSA.
So, for all the men in your life who already use or could benefit from CPAP therapy, we have compiled a list of our best-selling gifts for dad.
The Best CPAP Gifts for Dad
This Father's Day, we've put together gifts for every CPAP user in your life. Who knew there was so much more to CPAP therapy?
Gifts for Dad: For the adventure-seeker
If you are looking to travel, camp, or explore the world, we recommend our travel CPAP machines. These mini machines deliver the same therapy as your home units, but are portable, lightweight, and come with tons of bells and whistles.
The Philips Respironics DreamStation Go Auto weighs only 1.86 lbs in a tiny unit that has one-third fewer components than any other travel machine on the market. Standard features include Bluetooth connectivity, premium automatic pressure adjustments, and a whisper-quiet motor. For the dad on-the-go, we offer an optional integrated battery—no more worrying about plugging into an outlet! This little travel machine is the first to offer a true heated humidification system and if you choose to use it, the best part is that it can be powered with tap water.
Weighing 10.6 oz and fitting in the palm of your hand, the ResMed AirMini Auto is the world's smallest CPAP machine. Standard features include AutoRamp, expiratory pressure relief, Bluetooth connectivity, and SmartStart. In fact, this unit even comes with a small, disposable waterless humidifier for added comfort. Only compatible with three masks, our AirMini bundle allows you to choose between the ResMed AirFit P10 Nasal Pillow Mask, the ResMed AirFit N20 Nasal Mask, or the ResMed AirFit F20 Full Face Mask.
Many of our machines, such as the DreamStation Go Auto, offer options to purchase integrated batteries that connect to the base to minimize bulk and maximize space. To supplement those batteries or for an alternative to work on nearly any machine, we recommend stand-alone battery packs (and their corresponding cables). These include the Medistrom Pilot-24 Lite CPAP Battery Backup Power Supply (for ResMed), the Medistrom Pilot-12 Lite CPAP Battery Backup Power Supply (for Respironics), and the lithium-ion Freedom Travel CPAP Battery. Plus, the Freedom 40W Solar Panel allows you to charge your battery from the sun while you are out for the day! Charge times vary depending on the amount of direct sunlight available.
Gifts for Dad: For the stylish dad
When it comes to travel, it is always best to do it in style. And when fashion meets functionality, everybody wins.
The Philips Respironics DreamStation Go Travel Kit protects your travel CPAP in a clam-shell style case. The easy-to-pack case also includes a washable bag to hold your mask, tubing, and extra filters. The case comes in two sizes: small or medium (to hold your unit plus battery or humidifier). Next, the Respironics CPAP Travel Briefcase organizes all your sleep apnea equipment, a laptop, and small personal items in one single carry-on.
The ResMed AirMini Travel Case is a slim hard case for the unit and the ResMed AirMini Travel Bag can hold your machine, accessories, and mask. This bag features a handle, removable shoulder strap, and suitcase strap. And, finally, the ResMed Travel Bag for AirSense and AirCurve 10 Machines has padded compartments to protect your machine from the rigors of travel while keeping you organized.
Gifts for Dad: For the healthy (or messy!) dad
When you use a machine daily, you want to make sure that you are keeping your equipment clean. But a thorough cleaning can take time…and is, therefore, sometimes neglected. However, a CPAP cleaner and sanitizer is quick and easy and can eliminate 99.9% of bacteria, viruses, and mold. That's a no-brainer as far as we're concerned.
Wake up and place your mask (any style) directly in the SoClean 2 CPAP Cleaner and Sanitizer. You don't even have to disconnect the hose. This compact machine uses safe, natural, activated oxygen to sanitize your CPAP equipment with no water or chemicals.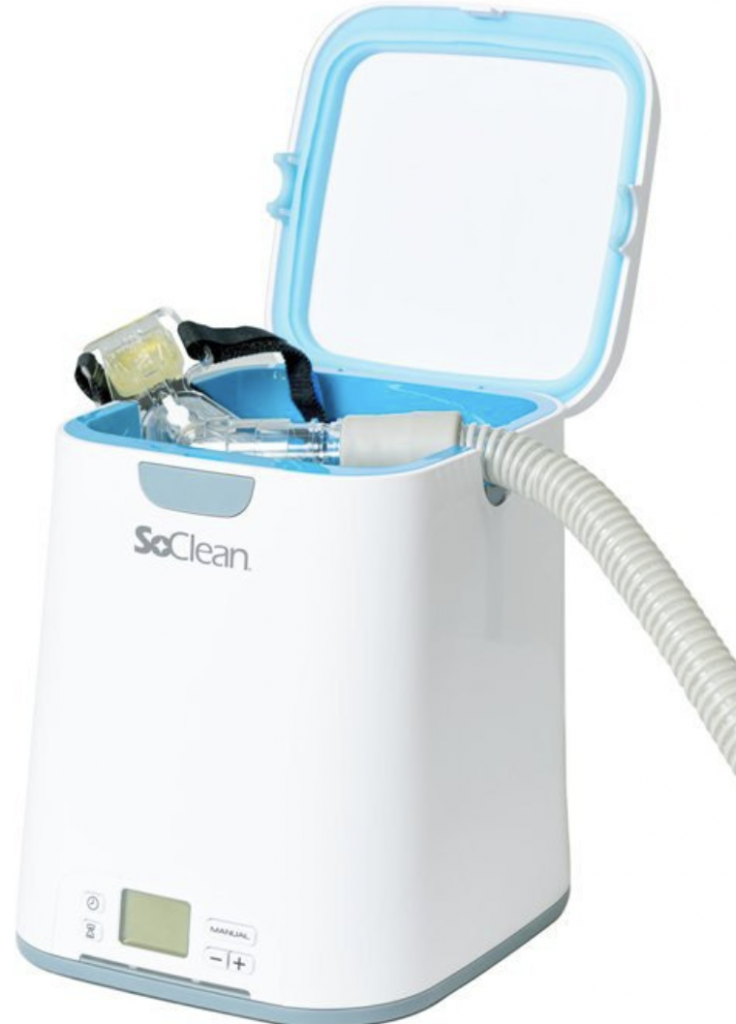 Looking for something even smaller? The Sleep8 Travel CPAP Sanitizer is small, lightweight, cordless, and waterless so you can use it at home or pack it in your carry-on bag. Simply unplug your hose from your CPAP machine and plug it into the universal port inside the bag. Then, close the bag with the mask and hose inside and activated oxygen will clean, sterilize, and sanitize your equipment.
When it comes to gifts for dad, what is better than the gift of a good night's sleep? If you have any questions on the products listed above or need additions suggestions, our knowledgeable team is here to help! Give us a call today.
References:
Roca GQ, Redline S, Claggett B, et al. Sex-specific association of sleep apnea severity with subclinical myocardial injury, ventricular hypertrophy, and heart failure risk in community-dwelling cohort. Circulation. 2015;132(14):1329-37.
[magento store="1" sku="DSG500S11-BUNDLE, 38113-BUNDLE, PILOT12LITE-BUNDLE, 1114784, 1124009, 38840" order="sku" dir="desc" limit="6" class="override"]