The Best Travel CPAP Machines of 2023
This post was updated on January 24, 2023.
Taking your CPAP therapy on your travels requires a reliable travel CPAP machine. Travel CPAP machines are portable, efficient, and FAA-approved. Our experts have curated some of the top manufacturers and reviewed the most important features and benefits to help you choose a travel CPAP machine that fits your needs. Here's our list of the best travel CPAP machines of 2023.
Side-by-side Comparison of the Top-rated Travel CPAP Machine of 2023
Best Travel CPAP Machines of 2023
Three travel CPAP machines stood out to reviewers for their exceptional features and portability.
ResMed AirMini Travel CPAP Machine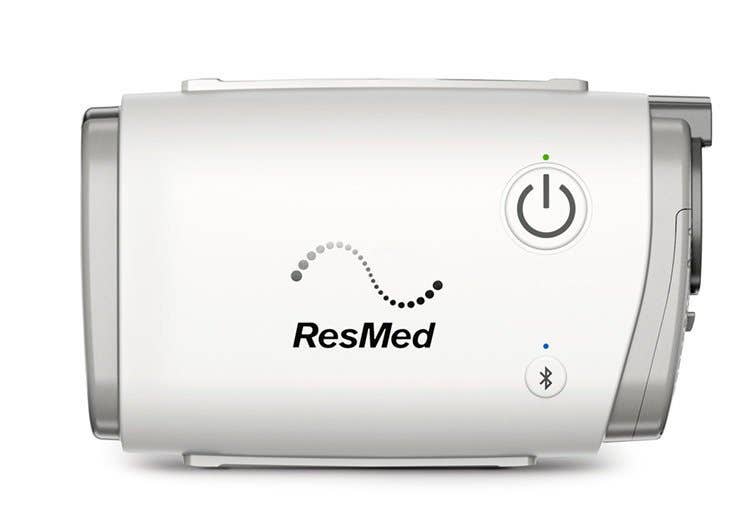 Pros
Lightweight and ready for travel
Lots of features for a travel CPAP machine
Waterless humidification
Cons
No battery included
Not compatible with all CPAP masks
Machine Overview
For those who travel, the AirMini offers many of the essential features of a home CPAP machine while on the go. It is the smallest CPAP machine on the market, perfect for users who are on the go. The lightweight design makes it easy to pack and the waterless humidifier adds to the ease of CPAP while away from home. It is also very quiet, designed with ActiveAir technology to deliver a quiet performance while traveling.
This device also features a companion smartphone app. From the app, patients are able to change the device's settings, view sleep data and reports, and additionally turn the machine on and off. This helps users have an even more user-friendly experience while receiving CPAP therapy. There are many other useful features on the AirMini including AutoRamp, auto-adjusting pressure, and more.
Customer Reviews
Great machine for travel and my active lifestyle. Took it on a trip to Vermont from New Jersey and it was so much easier than packing up my AirSense 10. – review by Thomas
Bought this for my father who is very active. He is on the road constantly with his RV and loves camping. The AirMini has allowed him to keep doing what he loves. – review by Julie
I bought this to use for travel purposes because I was tired of toting around my bigger at home CPAP. The size and portability is great! -review by Mark
Why Should I Buy ResMed AirMini Travel CPAP Machine?
Frequent travelers who want to stay CPAP complaint can rely on the AirMini to maintain consistent and comfortable CPAP therapy on the go. The design is FAA approved and provides traveler CPAP patients with a ultra-quiet, small footprint version of their ResMed home model.
• Provides all the comfort and convenience provided by your home auto CPAP in a small, travel-ready package
Shop Now
HDM Z2 Auto Travel CPAP Machine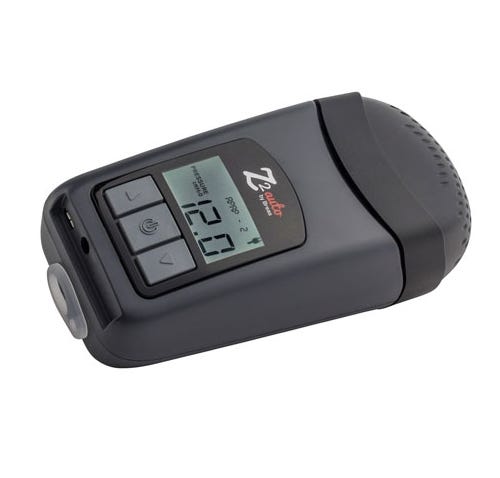 Pros
Ultra-small and lightweight – Only 10.5 ounces
Integrated battery
Auto-adjusting pressure, expiratory pressure relief
Cons
Noisy
Difficult to disassemble
Machine Overview
Waterless humidification and auto-adjusting pressure, expiratory pressure relief all contribute to making the HDM Z2 one of the most effective CPAP machines for travel. Bringing many of the home features without the bulk offers benefits to CPAP patients on the go. This device is a quieter version of its predecessor, HDM Z1, and also has more features and benefits that users enjoy.
The HDM Z2 is compatible with all CPAP masks and tubing, perfect for patients who already own CPAP supplies. This machine has an exclusive breathing algorithm that was designed to deliver an overall lower average airflow pressure compared to standard fixed-pressure machines. So, it's able to automatically adjust its pressure to match a user's breathing pattern.
Customer Reviews
With the Z2, you can use your existing mask or one of your many old ones. It comes with an adapter that allows you to fit the standard CPAP tubing. – review by Claire
I love this Z2. I have had this device for 6 months & use it only for travel. I find it is quiet & I have no issues. – review by Steve
Just bought a new Z2. The good thing so far is that it has given me good sleep results. – review by srcascade
Why Should I Buy HDM Z2 Auto Travel CPAP Machine?
Choose the HDM Z2 for its compact design and integrated features, like the auto stop/start, integrated battery, and many others, to help stay CPAP compliant on the road. This unit is especially useful for not requiring additional equipment to pack when traveling, such as an external humidifier.
• Ultra-small, lightweight, auto-adjusting CPAP machine, perfect for travel or at-home use
Shop Now
Somnetics Transcend 3 Auto MiniCPAP Machine
Pros
Small and lightweight for easy travel
Features auto-adjusting pressure, expiratory pressure relief, and AutoRamp
Drying mode to eliminate moisture and condensation
Cons
Issues with pressure adjustment
Difficulty programming
Machine Overview
Unique features such as the drying mode set the Transcend 3 apart from other travel CPAP machines. Drying mode assists in preventing spreading harmful germs by blowing a steady stream of air through the hose. This results in eliminating any moisture or condensation buildup. While some users found the travel CPAP machine difficult to program and adjust, overall, most users enjoyed the no-fuss performance. It is very compact, about the size of a soda can, and still delivers effective CPAP therapy.
The Transcend 3 is compatible with any CPAP mask. It also features pressure relief, which helps users breathe easier, and reduces exhalation pressure for a more comfortable night's sleep. This machine will auto-adjust its pressure to deliver the least amount of pressure required to keep a user's airway open.
Customer Reviews
Received for Christmas a few years ago. Have never returned to using my huge CPAP machine. This one is fantastic for travel and home. Fits into my palm. Quiet. No fuss. Just right! – review by Rick
I just wanted to snooze elsewhere sometimes other than going to bed. – review by Paperdoll
Why Should I Buy Somnetics Transcend 3 Auto MiniCPAP Machine?
The Somnetics Transcend 3 offers unique features that help make the use of CPAP therapy while traveling easier. Many of the features available on a similar home unit are available in this compact travel CPAP for those focused on CPAP compliance away from home. Remain comfortable and compliant while using this device.
• A small and lightweight design for easy travel, providing advanced Auto-CPAP therapy
Shop Now
Things to Remember When Choosing a Travel CPAP Machine
Look for compact, lightweight, and reliable designs when choosing a travel CPAP machine. Some units do not offer many features, while others offer many of the same features and befits of a home machine. If you want full performance like a home unit, be sure to focus on all the features that you care about most.
Climate Control Settings of a Travel CPAP Machine
Look for full adjustability for integrated humidifiers so that you can mange humidity levels for changing climates and weather when you travel.
Do Travel CPAP Machines Support External Batteries?
Many travel CPAP machines can receive power from external batteries. These optional accessories are especially helpful when you are traveling in areas without too many opportunities to recharge, such as camping trips or road trips.
What Type of Filters do Travel CPAP Machines Use?
Most travel CPAP machines will use disposable filters to help ensure clean air for every use. Follow the manufacturer's instructions for changing filters.
What Do You Need to Know About Using Travel CPAP on an Airplane?
Many travel CPAP machines are FAA approved for use on airplanes. Be sure to check that the portable unit you select is FAA approved if you feel you will need to conduct CPAP therapy while in flight. We also recommend contacting the airline you are traveling with to ensure use of a machine is allowed.
What Types of CPAP Pillows Can You Use with a Travel CPAP?
Head position can play an important role in CPAP therapy. CPAP pillows can help you sleep comfortably while providing proper head and neck support. Any pillows you choose from home use you can use with travel CPAP machines.
How to Buy a Travel CPAP Machine
You can shop online for travel CPAP machines from all of the leading manufacturers. Visit The CPAP Shop for the latest in travel CPAP machine options.
Do You Need a Doctor's Prescription for a Travel CPAP Machine?
You will need a doctor's prescription to purchase your travel CPAP machine. You can submit your prescription to The CPAP Shop and start shopping for your machine.
What is the Best CPAP Mask for a Travel CPAP Machine?
When you purchase your travel CPAP machine, also look for a CPAP mask that works for you. The CPAP mask you use at home, works just as well while traveling. Compare masks to find one that is comfortable and compatible with your travel CPAP machine.
What Other CPAP Accessories Do You Need for a Travel CPAP?
Be sure you select a CPAP mask and hose for your travel CPAP. You can also choose external batteries for additional power and an external humidifier if you do not have a built-in humidifier.
What is the Pressure Range of a Travel CPAP Machine?
Check your doctor's prescription and make sure your travel CPAP machine works within the pressure range prescribed. Pressure ranges may change over the course of your treatment, so it's important to find a machine that offers a broad range.
What is the Ramp Time for a Travel CPAP Machine?
Ramp time eases you into your prescribed air pressure. Look for a machine with ramp time to help you gradually get accommodated to higher pressure settings.
What are the Average Noise Levels for a Travel CPAP Machine?
Some travel CPAP machines can be noisy. Review decibel levels so you can find a machine that operates quietly. A quieter machine improves sleep for both you and your bed partner when traveling.
What is the Power Source for a Travel CPAP Machine?
Most travel CPAP machines include DC power for recharging. You can also find machines that can be charged on your car or boat or use external batteries when no power source is available. Select a power source option that fits your travel plans.
What are the Alerts and Control Settings in a Travel CPAP Machine?
Alerts help you stay informed about changes in your travel CPAP machine performance. Alerts can tell you when there is a mask leak, when your batteries are low or when there is a respiratory event. Easy to use controls are also especially helpful for those who are not tech savvy. Most travel CPAP machines feature user-friendly LED control panels to make operating and setting the machine easier than ever.
How Often Should You Replace your Travel CPAP Machine?
It is usually time to replace your travel CPAP machine after five years of use. To maintain the highest level of CPAP compliance, you want your CPAP machine at peak performance, and replacing it after 5 years ensures continued CPAP therapy success.
How to Set up a Travel CPAP Machine
Most travel CPAP machines are easy to set up.
Attach the hose
Attach and adjust the mask
Plug in the machine to a power source
Turn on the humidifier if needed
Adjust ramp settings if needed
Learn more about travel CPAP machines by reading this blog post.
How Reliable and Durable Are Mini Travel CPAP Machines?
Most mini travel CPAP machines are designed for the rougher conditions that come with travel. They maintain their reliable performance even with frequent use.
What Is the Difference Between Travel CPAP And Standard CPAP Machines?
Most travel CPAP machines come with many of the features of most standard CPAP machines. Users often rely on their travel unit as their home unit. The only difference is that travel CPAP machines are smaller and lighter which makes them easier to pack for trips.
Reviewer's Choice
The ResMed AirMini continues to be a good choice for most users and upon review has the most features for on the go CPAP therapy. Easy to use, lightweight and full of features the ResMed AirMini is the best choice among experts and CPAP patients.
The CPAP Shop is an authorized online retailer of all these travel CPAP machines. The CPAP Shop does not recommend any of these CPAP machines exclusively. You can buy any of these CPAP Machines on our website. This article is based on the author's choice from the data available on the internet/user manual of the products.
Where Can I Buy a Travel CPAP Machine?
You can find the reviewed travel CPAP machines at The CPAP Shop. Our knowledgeable staff can help you select the travel CPAP machine that best fits your therapy needs. Give us a call at 866-414-9700.
---
Leave A Comment