Can You Go Camping With CPAP Therapy?
As the weather warms, it's time to start spending more time outdoors. Spring is a great time for camping. Our extensive line of Travel CPAP equipment makes it easy to enjoy a night under the stars. Here are some tips to make camping with CPAP hassle-free.
What CPAP Machine Should I Pick When Camping with CPAP?
Whether it is your first time or you are a seasoned pro, camping requires a lot of gear! In addition to your personal necessities, you may need a tent, sleeping bags, bedding, tarps, chairs, firewood, and cooking utensils, at a minimum. The last thing you want is to pack another heavy, cumbersome machine. Don't worry, we have you covered.
Our new line of travel CPAP machines is compact and lightweight—weighing as little as 2 lbs! These mini machines include all the conveniences of your home unit. Plus, they can operate on battery power and even include heated humidification options.
Our customer favorites include:
Philips Respironics DreamStation Go Auto Travel CPAP Machine
At half the size of the at-home DreamStation, the DreamStation Go Auto delivers all the same powerful therapy on-the-go. Features include a color touch screen, automatic pressure adjustments, flex pressure relief during exhalation, a whisper-quiet motor, and Bluetooth connectivity. Additionally, the new 12mm microtubing is the smallest diameter tubing available, making it lightweight and flexible.
The innovative design features a built-in power block to eliminate bulk and take up minimal space. Either plug the machine directly into an outlet or purchase an optional battery to use off-grid or as a back-up in case the power goes out. Conveniently, the color screen shows the current battery pack charge status so you are never left guessing. And even with the optional battery, the DreamStation Go Auto still weighs in at less than 3 lbs!
But what really makes the DreamStation Go Auto stand out against its competitors is the addition of the new optional heated humidifier. Heated humidification adds moisture to your delivered air to improve comfort during therapy. With the DreamStation Go Auto, the heated humidifier seamlessly connects to the unit. Additionally, it can be operated with tap, bottled, or distilled water.
ResMed AirMini Auto Travel CPAP Machine
The world's smallest CPAP machine, the ResMed AirMini Auto fits in the palm of your hand. It weighs only 10.6 ounces. However, size is only a number when it comes to delivering powerful therapy. The AirMini offers many of the same features as the standard AirSense 10 Auto device, including auto ramp, expiratory pressure relief, Bluetooth connectivity, and SmartStart.
While portability was the driving factor in the ResMed AirMini's design, it also features many new, innovative technologies including a waterless humidification system. Named HumidX, the small, 30-day replaceable, waterless humidifier features bands of material embedded in a pod that sit in the mask tubing. Instead of water, the machine delivers humidification through vented air.
The ResMed AirMini is compatible with only three masks: AirFit P10 Nasal Pillow, AirFit N20 Nasal Mask, and the AirFit F20 Full Face Mask.
HDM Z2 Auto Travel CPAP Machine
Building on the form of the Z1, the new Z2 Auto CPAP features a quieter motor, auto start/stop, auto-adjusting pressure, and exhalation pressure relief. Weighing at 10.5 oz, the machine is lightweight, compact, and portable. And, it is compatible with any mask!
The Z2 comes with a small, portable humidification cartridge. It is inserted between the hose and the mask to capture the moisture in the exhaled breath and release it on the inhaled breath without any electricity or additional water.
When camping with CPAP in areas with limited power or off-grid, the Z2 has an optional PowerShell fully integrated battery option to provide a full night's sleep on one charge.
How Do You Power Your CPAP Machine While Camping?
When it comes to running your CPAP machine through the night, you have a few options. The first is, of course, plugging your machine into an outlet. Most campgrounds have campsites with electricity. If that is an option, you can easily plug your machine into the electricity post outside your tent and enjoy the comforts of home while camping with CPAP.
Integrated Batteries
However, for areas with limited power or when you choose to go completely off-grid, many of our travel CPAP machines come with the option to purchase integrated batteries. These batteries are unique to the machine and seamlessly connect the base to minimize bulk and maximize space. They are available for purchase with the DreamStation Go Auto and the HDM Z2.
Battery Packs
We also carry stand-alone battery packs (remember to buy the corresponding cables!) that can work with nearly any machine. These include the Medistrom Pilot-24 Lite CPAP Battery Backup Power Supply (for ResMed), the Medistrom Pilot-12 Lite CPAP Battery Backup Power Supply (for Respironics), and the lithium ion Freedom Travel CPAP Battery. Charge times vary depending on the amount of direct sunlight available. These work particularly well with the ResMed AirMini.
In cases of spotty coverage, the battery will serve as a back-up to guarantee an uninterrupted night of sleep. Battery power time will vary from 10 hours to 40 hours depending on your individual pressure settings. You can easily recharge your battery by purchasing cables to connect to a deep cycle marine battery or a cigarette lighter. However, if you are in a remote area with no access to recharging, consider buying multiple batteries to cover the length of your stay.
While it is tempting to skip a night of therapy, remember that pausing therapy has many negative mental and physical health risks. Even one night of missed therapy can result in depleted energy, headaches or migraines, and trouble focusing. Don't miss out on the fun!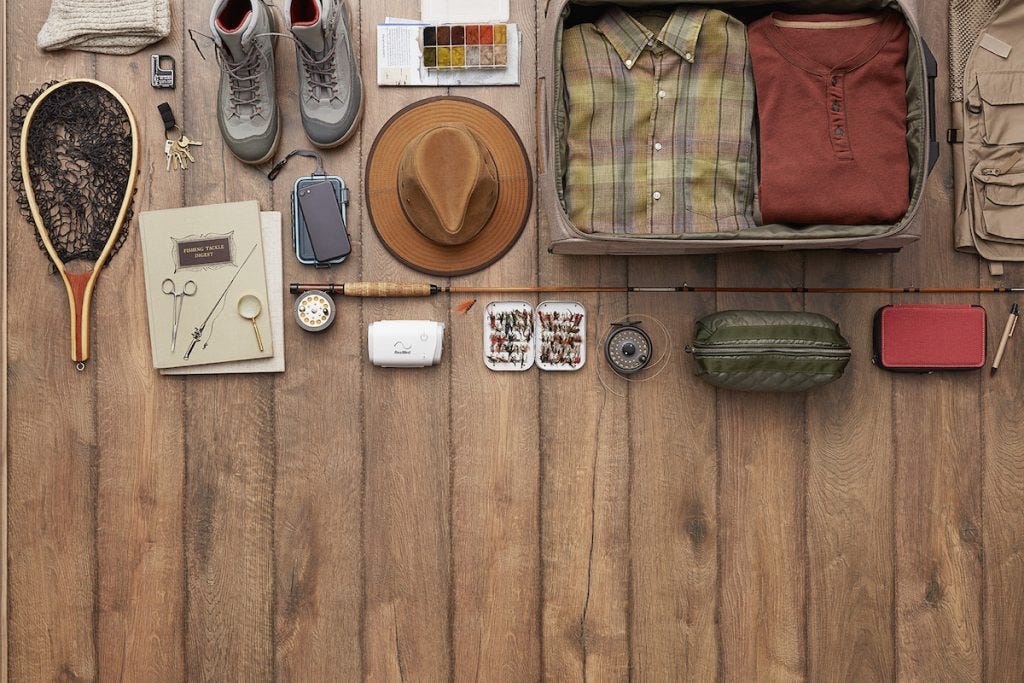 The Trouble with Inverters
In some cases, if you are using an older CPAP machine, an inverter may be necessary to connect the machine to a battery. In these cases, the CPAP machine plugs into the inverter and the inverter plugs into the battery. Both the inverter and the machine pull their power from the battery, so this can drain the battery power twice as fast. Therefore, the best solution is to buy a battery that is specifically designed for your machine or consider upgrading to a travel machine with a built-in battery for the most efficient delivery.
Pro-Tip! To maximize your CPAP battery life, turn the heated humidifier off. It can continue to add humidity but just not heated.
– Jose Acosta, CRT, respiratory therapist at The CPAP Shop
Contact Us
The CPAP Shop's knowledgeable team is here to answer any questions you may have. We can help you decide which products best suit your travel needs. Give us a call at 866-414-9700!
Have you taken your CPAP therapy on the road? Please share your experiences with us below. Our readers greatly appreciate the insight as they make their own buying decisions.