Amara View Full Face CPAP Mask Review
This post was originally posted on June 19, 2015, and updated on March 21, 2022.
The Amara View Full Face CPAP mask offers innovative features unique among CPAP masks. For users searching for all the benefits of a full face mask and a nasal pillow mask-Amara View delivers. The Amara View provides full face mask coverage with a low profile and nasal pillow cushion secure seals. Users can enjoy the distinctive benefits of both types of mask in one.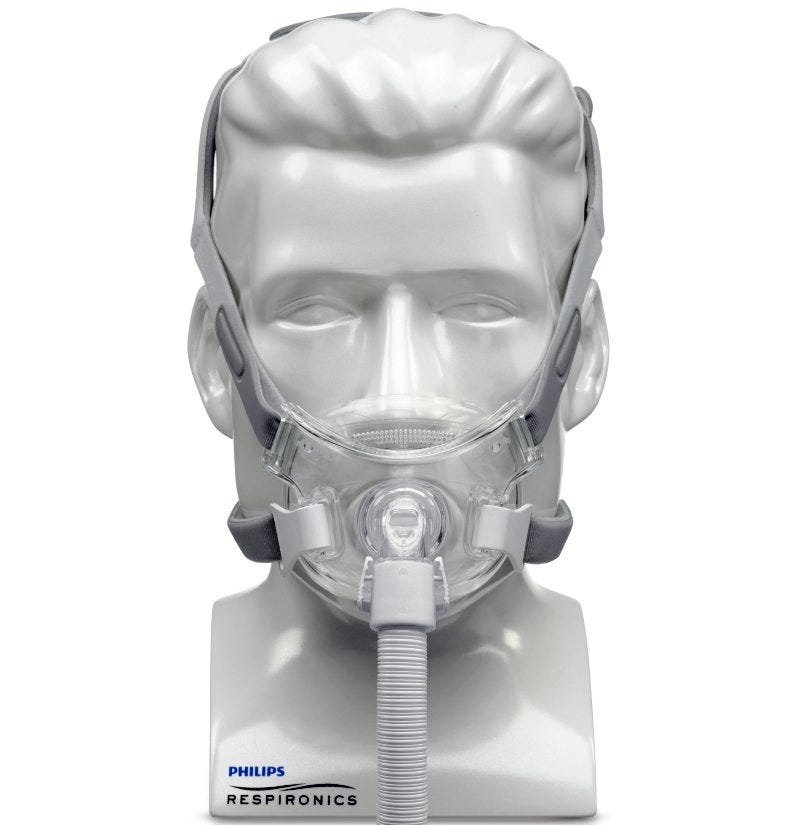 Key Features of Amara View Full Face CPAP Mask
The dynamic design offers a one-piece full face mask with nasal pillow cushion positive pressure nasal airflow along with many other features that are useful to CPAP patients.
Quiet exhalation design
Low profile
Reduced facial contact
Versatile cushion sizes for the best fit
Head crown strap for more flexible fit and easy release tubing
Snug headgear with easy to remove magnetic clips
Benefits of Using Amara View Full Face CPAP Mask
The unique design of the Amara helps resolve common issues when choosing a comfortable CPAP mask. Amara provides the complete coverage many full face mask users need along with direct airflow that is preferred by nasal cushion mask users.
The Amara also helps users by:
Minimizing facial contact to reduce red marks and soreness
Reduces noise to provide peaceful sleep for bed partners
Offers many options for the best fitting CPAP mask
Makes it easier than ever to remove the mask when you need to get up at night
What is Unique About Amara View View Full Face CPAP Mask?
No Forehead or Nose Pads
The Amara View is a full face mask like you've never seen before. Traditional full face masks press down on the bridge of your nose, and they also use a pad against your forehead. This mask leaves your nose and forehead completely clear, which doesn't impede your vision. It's great for users who need a full face mask but who are a little claustrophobic or who prefer to read or watch TV before they go to sleep.
Release Clips on The Tube Allow for Easy Movement
If you need to get up in the middle of the night, there are clips at the top of the tube that release the hose. You can go to the bathroom or get up and check on the dog without having to take your whole mask off.
Headgear Is Stable, Yet Easy to Get on And Off
The Velcro straps keep this mask in place but allow you to take it off without much of a fuss.
It's Quiet
We tested this mask on an average pressure setting of 12 and found that it was extremely quiet. There are two places on the mask where the air is allowed to escape, and we had no concerns at all with the low white noise sound.
Headgear Clips Allow for Easy Removal
You can separate the cushion and frame from the headgear quite easily for cleaning and maintenance.
Made of Pliable Plastic for Comfort and Durability
The silicone cushion is soft and pliable, which means it's more comfortable on your nose, and it won't break if you roll over in the middle of the night or pack the mask in your suitcase for travel.
Amara View Full Face CPAP Mask - Comfort Features
Cushion Comfort
The secure nasal pillow cushions deliver the ideal pressurized air delivery while properly and accurately fitting the CPAP patient. These cushions are also very contouring, fitting snugly around the nose to provide maximum comfort while still maintaining an effective seal that promotes CPAP compliance.
Cushions are available in small, medium, or large cushions to fit any user comfortably.
Headgear Comfort
The contouring headgear provides soft, stretchable, and breathable straps for the most comfort. The magnetic clips also make it easy to remove the mask along with a smart design so that mask removal does not require a readjust. Using five points of Velcro contact, the headgear fits without uncomfortable tightening.
Noise Levels
This mask will make the most noise as a user breathes out. However, because of the innovative design, the Amara View gently diffuses the air as a person exhales, breaking up and reducing the volume coming from the mask. Thanks to its quiet operation, a CPAP patient and their bed partner can sleep without any disruption.
Additionally, quieter performing masks, like the Amara View, also aid in a user being CPAP compliant.
Easy to Use
The Amara View is designed so that any level of CPAP user will find the mask hassle-free. Simple design refinements make it easy for users to adjust the mask for a perfect fit. Magnetic clips make it easy to remove the mask at anytime during CPAP therapy without losing adjustment settings. The design also allows users to maintain and clean their mask with confidence.
Amara View Full Face CPAP Mask – Maintenance
The Amara View CPAP mask offers many user-friendly maintenance features:
Fast and easy assembly and disassembly lets users take apart their CPAP mask for thorough cleaning
Cushions can be replaced as needed without a lot of effort
Simple design features also allow users to comfortably adjust their mask to their face and head shape
Where Can I Buy the Amara View Full Face CPAP Mask?
The Amara View Full Face CPAP Mask is available at The CPAP Shop. Our site makes it easy to learn more about each product and quickly and simply make orders online. If you have any questions about the Amara View or other products we offer, our expert team would be happy to help you. Call us at 866-414-9700 today!