Connecting a CPAP Machine to an Oxygen Concentrator
Many older adults who are on CPAP also may need supplemental oxygen. Supplemental oxygen is typically for people who have some form of pulmonary disease such as COPD, emphysema, or lung cancer. A CPAP user might also need oxygen at night while asleep due to low blood oxygen levels.
Whatever the case, if supplemental oxygen is necessary, CPAP users might run into challenges when purchasing an oxygen concentrator and connecting it to their CPAP machine.
Can All CPAP Machines Connect to an Oxygen Concentrator?
All CPAP machines have the ability to connect to oxygen concentrators. This connection usually occurs between the input valve on the concentrator and the CPAP mask.
There are two types of oxygen concentrators that can connect to CPAP machines – home oxygen concentrators and portable oxygen concentrators. Much like the names imply, one is a larger unit for home use, while the second is a more compact, portable unit that is convenient for oxygen therapy on the go.
Connecting your CPAP Machine to an Oxygen Concentrator
There are two ways to connect your CPAP machine to an oxygen concentrator: directly to your CPAP mask or by using a bleed adapter.
Oxygen Port on CPAP Mask
Many CPAP masks come with an oxygen port already built into the frame. It will most likely have a cap on it, so air doesn't escape during CPAP use.
If an oxygen port exists on the frame, simply remove the cap, connect the oxygen tubing directly to the port, and use normally.
Oxygen Bleed Adapters
Most new CPAP mask designs may not have this oxygen port. If your CPAP mask does not, you will need a bleed adapter or tubing with an oxygen bleed line.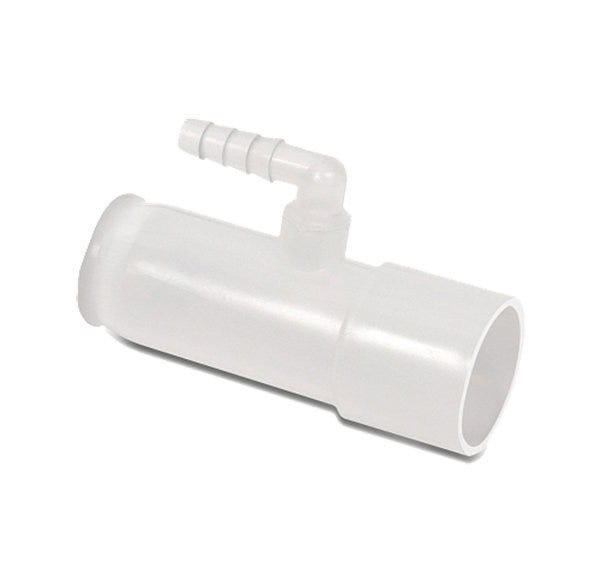 Bleed adaptors add oxygen directly into the circuit and typically connect between the CPAP machine and the CPAP tubing. As you can see from the picture, the oxygen tubing connects into the port and feeds the air inside the CPAP tube. This is a standard method of connecting your CPAP device to an oxygen concentrator.
Connect the CPAP tubing to your CPAP mask as you typically would when using your CPAP machine.
Secure the Bleed Adapter to the opposite end of the CPAP tubing. Be sure to fit it tightly so it doesn't come loose.
Connect your cannula for your oxygen concentrator to the small L-shaped extension on the Oxygen Bleed Adapter
Connect to the CPAP machine
Can You Connect a BiPAP Machine to an Oxygen Concentrator?
For those who use BiPAP therapy, the same connection methods can be applied to your BiPAP machine and an oxygen concentrator.
Adding oxygen to CPAP therapy is a simple procedure no matter what equipment you are currently using. However, it is necessary to speak with your doctor to ensure proper compliance. Whatever the situation, it is important to become knowledgeable about the products you are using.
If you have questions regarding you CPAP equipment or finding the right mask, don't hesitate to give us a call. Our knowledgeable customer care team can be reached at 866-414-9700. You can also contact us at questions@thecpapshop.com.
If you have been prescribed oxygen and want to learn more, contact our sister store, The Oxygen Concentrator Supplies Shop.
Chris Vasta is the president of The CPAP Shop and an expert in sleep and respiratory therapy. He often provides insights on product design and functionality on various manufacturers' prototypes. He is also frequently tapped to provide reviews on new releases.