CPAP Battery Power
For patients who treat sleep apnea with CPAP therapy, it is always best to prepare for the unexpected power outage. This is particular true if you live in an area prone to rough weather (hurricanes, tornadoes, snow avalanches) or natural disasters (ie, forest fires or earthquakes). But even if you live in a stable environment, power outages are often unforeseeable and can leave you without the therapy you need. Therefore, we recommend always having an alternative battery on hand.
In general, we find that our CPAP customers are much more informed about the importance of compliance. Going a night without CPAP therapy, for most users, is something they try to avoid at all costs. Yet, surprisingly, most PAP users do not have an alternative power source available in case of an unforeseen circumstances or last-minute travel.
A recent survey of 150 people found that nearly 85% of CPAP users always take their CPAP when they travel.
From a health perspective, this is terrific news. According to WebMD, "Even one night of not using the machine can make you sleepy the next day." And, when use is intermittent, the benefits are reduced considerably.
We asked our survey respondents whether they have ever used a CPAP battery to power their machine. Given the low availability of effective batteries, only 13% of our 158 respondents have ever used a CPAP on a battery! However, only 21% responded that they did not have an issue with frequent power outages.
One year later, we asked the same question again with slightly different results. Only 29 of our 333 respondents used a battery to power their CPAP machines. That's less than 10% of CPAP users who own a battery backup for emergencies or travel. It's also a slight decrease from 13% to 10% of CPAP users! We can only speculate that our CPAP users are either traveling less frequently or are not concerned about power loss.
In fact, 27% of CPAP users are unaware that new CPAP lithium ion batteries are lightweight, very portable, and relatively inexpensive. In fact, many of our subjects did not even know CPAP batteries were available to power their machines!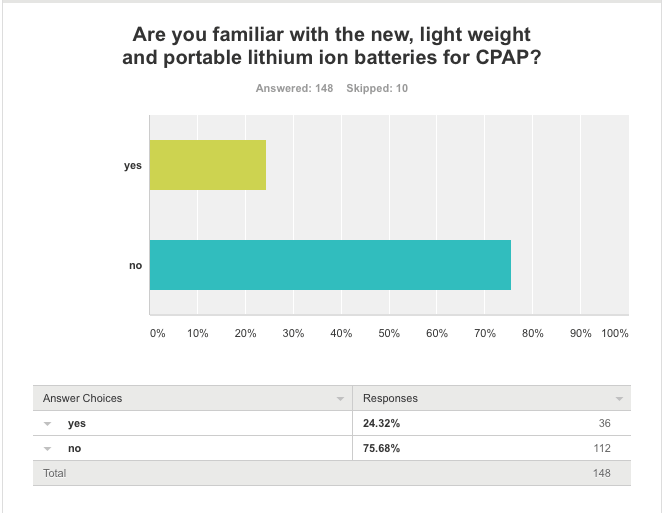 People on CPAP do not necessarily need a battery backup unless they are going somewhere without access to power. Also, day-long power outages are fairly uncommon across most of the United States.
CPAP Battery Backup - It's Not Just for Camping!
Unfortunately, as you may now realize, a backup battery for your CPAP can be useful in many circumstances not just camping. Hopefully, the recent forest fires passed you without much trouble. The next time power is out in your area, a CPAP battery can deliver uninterrupted power for your CPAP therapy.
As you will see, CPAP battery backup is easy, affordable, and offers peace of mind. A really impressive CPAP battery backup system is the Freedom CPAP Battery. It replaced many of the older batteries with more unique features, a smaller size, and longer life.
In addition, we asked our users whether their CPAP therapy had ever been interrupted by a power outage.
Flooding in Houston, hurricanes off the Florida coast, tornadoes in the Midwest, and forest fires in California have knocked out power for extended periods. It made people realize the need for a backup CPAP battery system. Fortunately, people with a CPAP battery backup for their CPAP machines can breathe a sigh of relief.
We asked our 29 CPAP Battery users if they were satisfied with their backup batteries and almost all of them were highly satisfied with the backup battery option.
How Batteries Power a PAP Machine
Most PAP machines work with either AC or DC power. Wall outlets in the United States produce 110 volts while in Europe outlets produce either 220 or 240 volts. Most batteries output 12-volt DC power. There are several types of batteries that can power a PAP machine. In some cases, the CPAP machine will require an inverter from DC to AC power. If an inverter is required, it will reduce the number of hours received from the battery. It's important to check with your equipment provider to determine what type of equipment and power cords you will need.
Longest CPAP Battery Power Source
The deep-cycle marine battery will power PAP machines the longest. With some pressure settings your PAP machines can run up to 3 days. You can buy a deep-cycle marine battery at any auto supply store. They are great for RVing and for when the power goes out at home.
You can purchase the inverter and power adapters necessary for your PAP machine from our battery power cables page here.
Another Battery that Can Power a PAP
Many manufacturers have recognized the need for batteries specifically designed to power PAP machines. In 2019, there are several PAP machines that have integrated or specialized batteries. These include:
DreamStation Go Travel CPAP with Battery Pack
Only 1.86 lbs with built-in power supply for fewer parts
Integrated rechargeable battery (optional)
Integrated heated humidification powered by tap water (optional)
Complies with FAA standards for in-flight use
HDM Z2 Auto Travel CPAP Machine
Only 10.5 ounces and ultra-small
Integrated battery (optional)
Waterless humidification
Complies with FAA standards for in-flight use
ResMed AirMini Auto Travel CPAP Machine
Only 10.6 ounces and fits in the palm of your hand
Waterless humidification
Ultra-quiet operation
Complies with FAA standards for in-flight use
Lithium ion batteries are lighter, smaller, and have options like USB ports and dashboards that indicate battery life. Additionally, all major brands of CPAP machines work with battery power using an adaptor.
The machines with integrated batteries are the easiest to connect. We asked our 29 survey respondents what type of battery they were using and most of them used a rechargeable battery.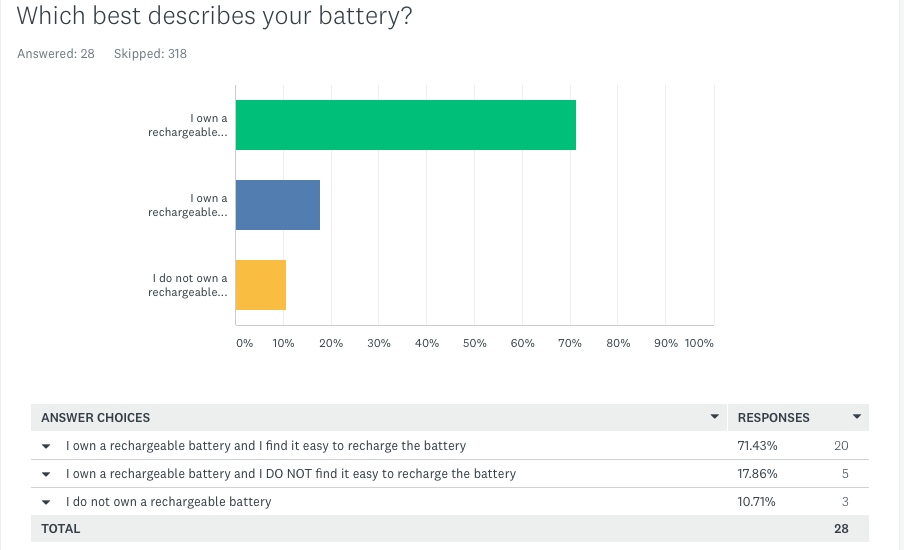 CPAP Battery Power Packs
PAP Battery Packs offer an all-in-one power solution using the DC power adapter connected directly to a battery pack. Battery packs can power a PAP from 8 to 24 hours depending on pressure settings. Most battery packs cannot power heated humidifiers. Also, passive humidity (supplied by the humidifier without turning on the heated option) can increase the power usage. As a result, 66% of survey respondents indicated that the battery does last long enough.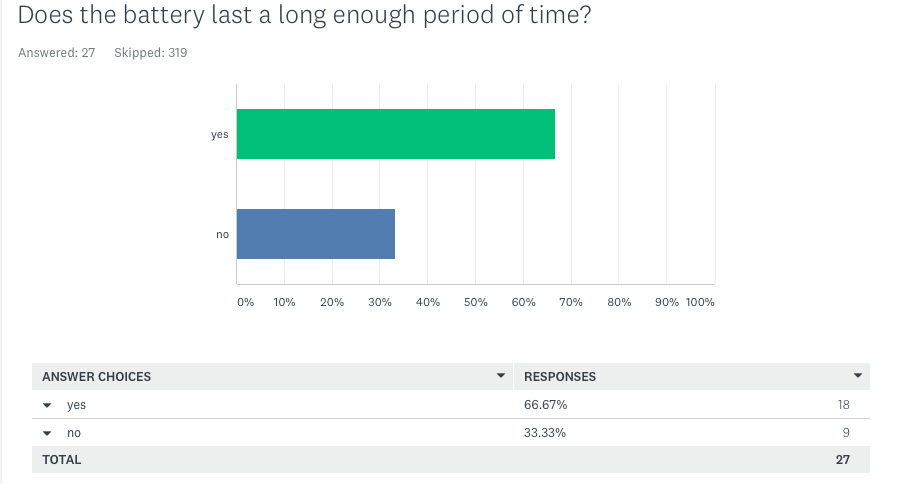 Battery packs can be expensive. But for travelers, and campers, and those living in areas prone to power outages, a battery pack is worthwhile.
Here are a few different battery pack options currently available at The CPAP Shop:
Medistrom Pilot-12 Lite CPAP Battery Backup Power Supply (for Respironics)
FAA-approved for use in remote locations where main power is not available, such as camping, road trips and during air travel.
Medistrom Pilot-24 Lite CPAP Battery Backup Power Supply (for ResMed)
The built-in USB port allows the Pilot-24 Lite to power countless handheld electronic devices, including mobile phones and cameras. It can also be used as a charging station for various electronic devices.
Since many people won't spend over $300 on CPAP battery power. The Freedom Travel CPAP Battery is priced at only $269.95! This battery is compatible with all PAP machines (although some machines require a specific dc cable). It is lithium ion and meets all current FAA requirements. The battery can be used to power other devices that use a 5V USB port. This includes cell phones, and tablets and it even has an option for charging in a vehicle or by solar power.
If you need helping picking the right battery for your machine, please call 866.414.9700or email us at questions@thecpapshop.com.
It's Easy to Connect CPAP Battery Packs to Tour CPAP Machine
Over the years, we've posted several videos on our site that outline how to connect batteries to CPAP machines. We want users to be able to continue their CPAP therapy even during times when power is not available. A CPAP battery pack would also give them the freedom to travel anywhere.
Some of the machines have special converters that must be used when hooking up to CPAP battery packs. All of the batteries have approximately 6 ft cable lengths. When using battery power, you don't have to be right next to the power source.
In addition, our survey respondents think it is very easy to connect their machines to a battery. Some of the older machines need an inverter in order for the battery to work. The CPAP machine plugs into the inverter, and the inverter plugs into the battery. A small amount of battery power is lost, but not enough to affect therapy.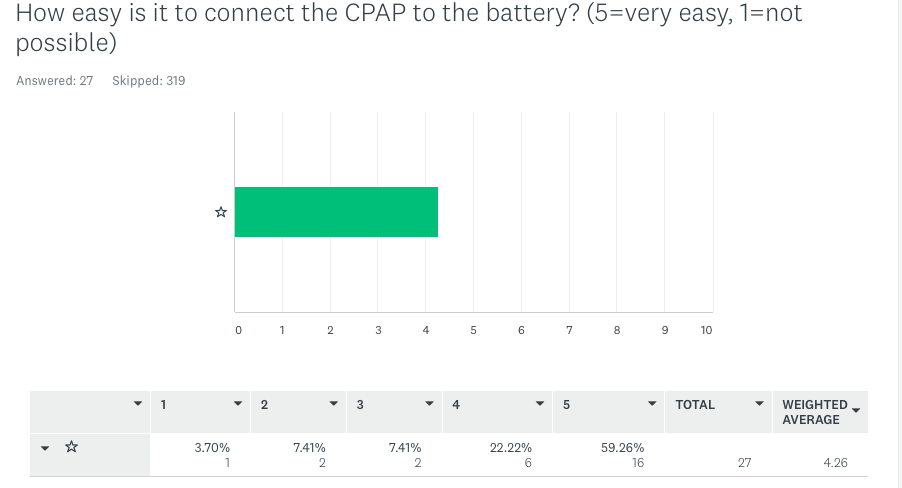 We produced a video about several different CPAP machines and how you can use them with a CPAP battery. You can see specs for the other batteries by watching the video here.
Chris Vasta demonstrates in a recent video how to connect the Philips Respironics Dream Station machine to its battery. In the video, Chris sets up the battery so that it will kick into action if the power goes out. For the demo, he uses the lithium ion Phillips Respironics travel battery. It weighs only 2.25 lbs, and is FAA approved for airline travel. As Chris quickly demonstrates, all it takes to power a CPAP machine with this battery is a simple one-cable connection.
Our customer care team is here to answer your questions. Give us a call 866.414.9700 or send an email to questions@thecpapshop.com.
Chris Vasta is the president of The CPAP Shop and an expert in sleep and respiratory therapy. He often provides insights on product design and functionality on various manufacturers' prototypes and is frequently tapped to provide reviews on new releases.