CPAP Machine FAQs
In our most recent survey, we asked our users about their CPAP machines. By sharing their responses, new CPAP users will be able to decide on the most important features in the purchase of a CPAP machine. We've listed their responses in the form of CPAP machine FAQs.
CPAP Machines FAQs - #1 CPAP Users are Happy with Their Machines
Are CPAP users happy with their CPAP Machines?
We surveyed over 500 CPAP users and asked them if they were satisfied with their CPAP machines. 98% of them were satisfied and over 60% of them were highly satisfied.
CPAP Machines FAQs #2 CPAP Machines are Long-lasting with Proper Care
How long do CPAP machines last and how long do most users keep them?
CPAP machines are the most expensive part of the CPAP therapy's initial cost, but they typically last over 5 years. With care and maintenance, 7-10 years is not uncommon. However, technology is improving CPAP machines so quickly that in 5 years, they can become obsolete. With over 500 CPAP users surveyed, the majority of CPAP users had machines that were over 3 years old. Even though these machines initially can seem expensive, they are typically built well. They also seem to last longer than manufacturers' recommendations.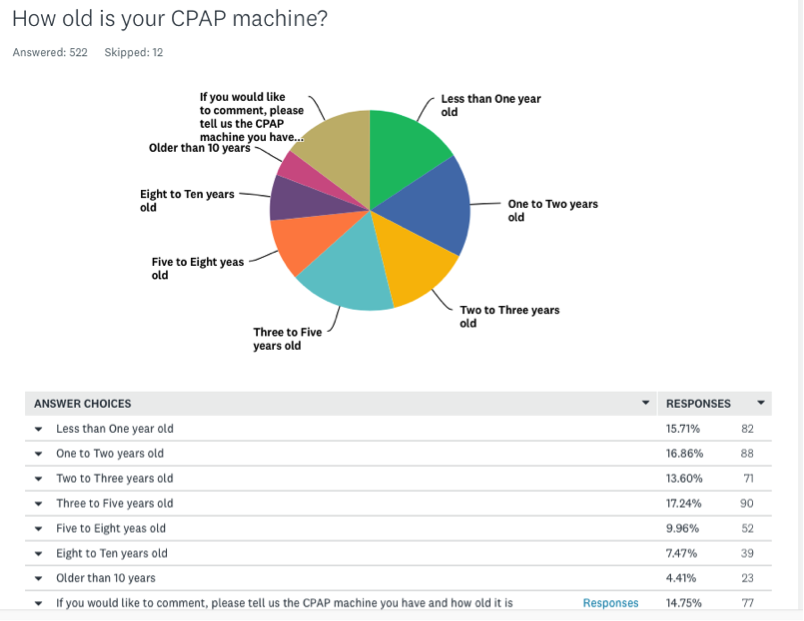 Nine respondents specifically mentioned how much they love their Philips Respironics RemStar Pro machines. One person commented "I have a bi-pap and it works better than any CPAP! Mine is 12 years old and works like it is brand new. It is a Respironics Remstar Pro 2 bipap." Twenty respondents specifically commented on the ResMed machines they love, ranging from the newest AirSense 10, the S9, and all the way back to the S8. These machines, many over 9 years old, are still working perfectly. Seventeen respondents particularly love their Respironics brands. One person commented this way "Have used a Respironics System One for the past two years. Just received, this week, a new Respironics Dream Station Auto CPAP. Wanted a second machine because I do lots of traveling."
CPAP Machines FAQs - #4 Most People Own an Auto CPAP Machine
Just as a reference note, more than half of our survey respondents own an Auto CPAP. About 35% own standard CPAP machines and 13% use BiLevel or BiPAP machines.
CPAP Machines FAQs - #5 CPAP Machines are NOT Loud
Another common question we get about CPAP machines is "Are CPAP machines loud?"
In a testament to newer technology, 90% of CPAP users have no complaints about the noise level of their CPAP machines.
CPAP Machines FAQs - #6 CPAP Machines are Easy to Use
As a side note, almost all CPAP users felt that their machines were relatively easy to use. Only 14% found them very difficult to use. There may be a learning curve associated with CPAP machine use, and we plan to query our users about that in future surveys.
CPAP Machines FAQs - #6 Most CPAP Machines are Not Connected to Bluetooth
All the newer machines make it very easy to access sleep data. We found that more than half of our CPAP users look at their sleep data. However it seems that the longer they have used CPAP, the less likely they are to monitor their sleep patterns. As one user commented "After a while, I didn't look at my sleep data. No reason except the knowledge that I had a good night's sleep." Many people did comment on how easy it was to sync up their phones to the newer machines, but of the 22% that have connective apps, only about half of them actually use the apps.
CPAP Machines FAQs - #7 People Really like their Auto CPAP machines with Humidification!
Finally, we thought it would be interesting to share the most important features of a CPAP machine based on the responses of our 500 plus CPAP users who took our survey:
CPAP Machines FAQ - #8 People mostly care about whether their therapy is working.
Most people are most concerned with the fact that their apnea episodes are reduced and they can be sure that their CPAP therapy is working.
Humidity – Many users find the humidification feature adds a level of comfort to the pressurized air that allows them to tolerate it night after night.
Quiet Operation – Especially those who sleep with a partner appreciate the newer machine's whisper quiet noise level.
Small Size – Many respondents commented on the newer machine's small profile and for travel and due to the fact that it no longer looks like a medical device.
Ease of Use – Several people commented that they felt their machine were easy to use, easy to maintain with new filters and easy to clean. They liked the ability to remove the humidifier for short travel. Others also commented that their machines were compatible with SoClean CPAP cleaners.
Humidification – This feature, available as an option on most new CPAP machines prevents nasal passages from drying out with the pressurized air.
Auto Adjust Pressure – Those with Auto CPAP machines felt this was a very important feature.
BiLevel – In the same manner those with BiLevel machines were very happy with the results and comfort provided with this type of pressure adjustment.
Dependable – Especially those who have been on CPAP therapy for over a year felt that they could depend upon their CPAP machine for consistent results.
Auto Start Feature – Some machines start as soon as the mask is in place, and people seem to really like that feature.
Screen Clarity – Some of the newer machines, like the DreamStation Go travel machine have touch screens that are very clear and easy to use.
Auto Ramp Feature – The easy to use ramp feature keeps the pressure down while the user falls asleep. Then it gradually increases pressure for optimal therapy.
Leak Detector and Mask Fit Screen – These allow for consistent results even as masks age and need replacement parts.
We hope these CPAP machine FAQs will help users navigate the sometimes complicated information available online about CPAP machines. On our website, we've made it easy to shop for the most popular, best rated, and newest machines. You can also find machines that support the features that our survey respondents have deemed the most important. As you shop for a CPAP machine, remember that our knowledgeable customer support staff can help you choose the machine that will meet your specific needs.
Chris Vasta is the president of The CPAP Shop and an expert in sleep and respiratory therapy. He often provides insights on product design and functionality on various manufacturers' prototypes.