Frequently Asked Questions about Nebulizer Machines
What is a Nebulizer Machine and What Does it Do?
These machines are typically used to treat the symptoms of asthma. The nebulizer is the mechanism used to deliver the medication in mist form to help alleviate these symptoms. The medication comes in liquid form which, when installed into the nebulizer machine, is converted into a mist which makes it easy to inhale. Sometimes referred to as a breathing treatment, is effective in infants and small children who need medication or anyone who struggles with asthma.
When Do You Need a Nebulizer? Do You Need a Prescription?
Nebulizers are prescribed by a doctor to anyone who needs to inhale medication usually to treat asthma. The medication can be used for immediate need or preventative maintenance. A prescription by a licensed doctor is required.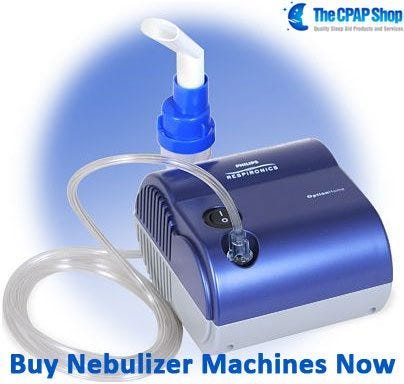 How Do You Set Up and Use a System?
Putting together and using this device is a simple procedure. Firstly, you will need to connect the nebulizer mask to the nebulizer with the compressor tubing provided with the machine. Attach the premeasured medication into the fitting of the nebulizer. The medication is premeasured so you use the appropriate amount each time nebulizers are used. Once you are ready, place the mask securely on the face correcting for any leaks. It is important to take long deep breathes while inhaling the medication to allow it to settle in the lungs. The treatment should last as long as there is medication remaining.
What Do You Put in Nebulizers?
Medication prescribed by your doctor will be converted into a mist in order to inhale from the nebulizer. Two types of medication, Albuterol or Alupent, are used to relieve asthma attacks quickly by opening up the airways. These start to act immediately and last for up to four hours.
How Do You Clean Nebulizer Machines?
Like any other piece of medical equipment, it is important to clean and disinfect after each use. Cleaning is simple and should be done with plain soapy warm water. Refrain from using strong or harsh detergents especially those with a scent. Simply disconnect the mask and tubing from the nebulizer. The mask, if not disposable, should be washed and let air dried. It is not necessary to clean the tubing daily. However, cleaning on a weekly basis is recommended. If you prefer to disinfect your nebulizer mask, use a 1/3 ratio of vinegar to water. Let the mask soak for 10 minutes and rinse well so not residue remains. Allow to air dry. Remember that having a proper cleaning regiment help to stave off any types of infection.
Do you have more questions about Nebulizer Machines, feel free to ask us via comments we will be happy to answer you.