HDM Z2 Auto Travel CPAP Review
When it comes to summer travel, the key is to keep your bags light! For those who rely on CPAP therapy for a good night's sleep, the new Breas Z2 Auto Travel CPAP is an FAA-approved, ultra-small, lightweight addition to your must-pack list. The Z1 Auto Travel CPAP started the travel CPAP evolution with its small, lightweight design and portable battery. The Z2 builds upon that success with an upgraded version combining all the benefits of the original including an improved algorithm for more comfort. Measuring 6.48" x 3.3" x 2.0" and weighing only 10.5 oz, the Z2 can be dropped into your carry-on and forgotten. No more bulky, heavy machines to lug around!
Z2 Auto Travel CPAP Characteristics
Motor
Building on the design of the Z1, the new machine features an improved, quieter motor. Plus, the Z2 comes with a free Qtube to muffle the noise at the mask.
Auto-Adjusting Pressure
The Z2 uses a proprietary breathing algorithm with a sampling rate of several times per second. As a result, therapy is delivered at a lower overall average pressure than a fixed-pressure CPAP. Plus, the machine will continually adjust the pressure over the course of the night.
Exhalation Pressure Relief
With the Z-breathe technology, the Z2 Travel CPAP machine helps reduce the pressure during exhalation. Users can pick between three settings.
Auto Start/Stop
New to the Z2, the machine features an auto start/stop feature. Therapy begins when the mask is placed on the face and the device senses that you have started to breathe. When the mask is removed or a leak is detected, the machine will automatically stop delivering therapy.
Humidification
The Z2 uses HME (heat moisture exchanger) cartridges that are inserted between the hose and the mask. The HME captures moisture during exhalation and releases it during inhalation, thus offering the comfort of humification without electricity or additional water.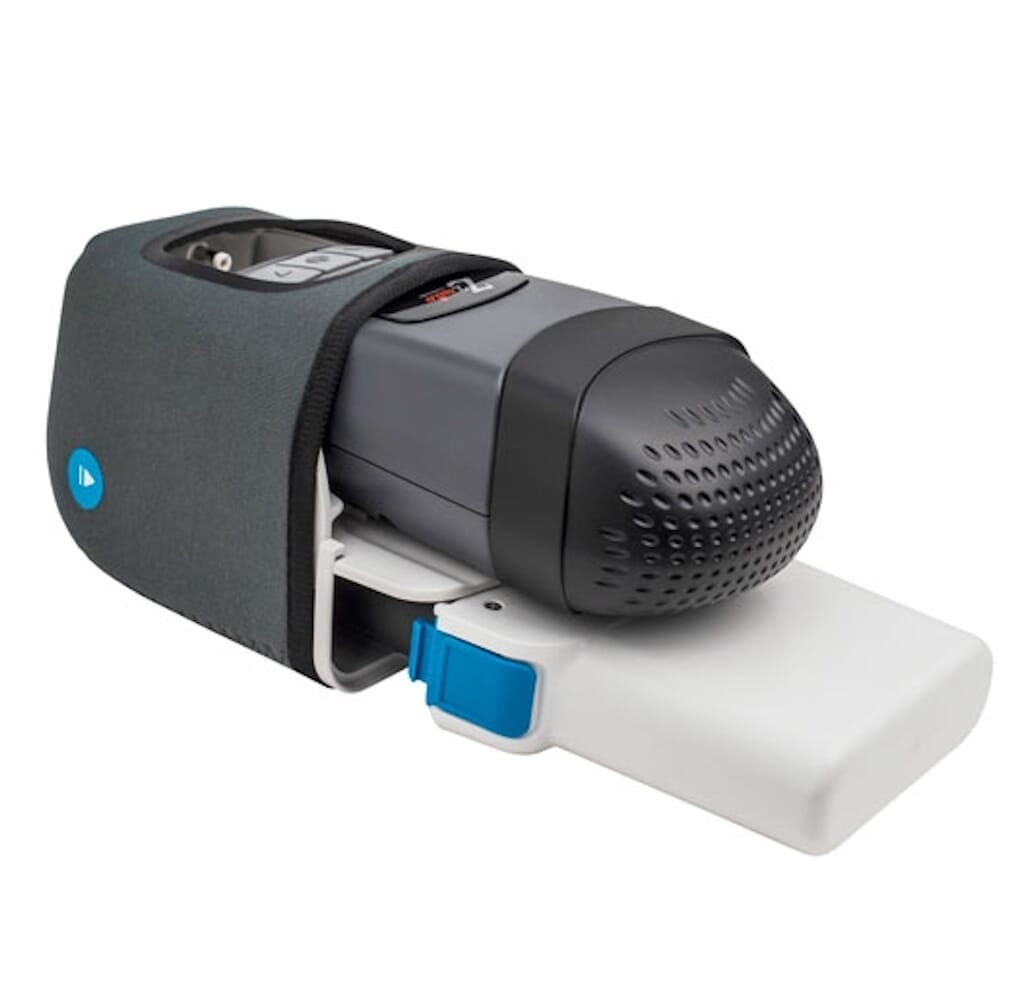 Battery
The Z2 offers an integrated battery option, which is recommended when traveling off-grid or in areas where power may be limited. The PowerShell Extended Life Battery is a rechargeable, lithium-ion battery and provides a full night's therapy on one charge.
Mask
The Z2 Auto is compatible with any mask or tube.
The Z2 Auto Travel CPAP At-A-Glance
| | |
| --- | --- |
| Modes | Standard, CPAP, AutoPAP, CPAP/AutoPAP wih Ramp |
| Sound | 26 dBA |
| Size | 6.48" x 3.3" x 2.02" |
| Weight | 10.5 oz |
| Pressure Range | 4-20 cm H2O |
| FAA-Approved | Yes |
| Warranty | 2 years |
At The CPAP Shop, we are so sure you'll love the Z2 Auto CPAP, that we are offering you our 30-night risk-free, money-back guarantee. If you are not 100% satisfied with the Z2, return the machine for a full refund. As always, if you have any questions, our knowledgeable team is only a phone call or email away. We're here to help you!
[magento store="1" sku="718116-BUNDLE, DSG500S11-BUNDLE, 38113-BUNDLE" order="sku" dir="desc" limit="3" class="override"]