Fisher & Paykel Eson 2 Nasal CPAP Mask Review
The Fisher & Paykel Eson 2 Nasal CPAP Mask is one of the simplest and most convenient nasal CPAP masks to use. It features VisiBlue indicators making this CPAP mask easy to clean and assemble for anyone. It features a comfortable cushion and soft headgear so users can still enjoy a comfortable night's sleep while receiving therapy.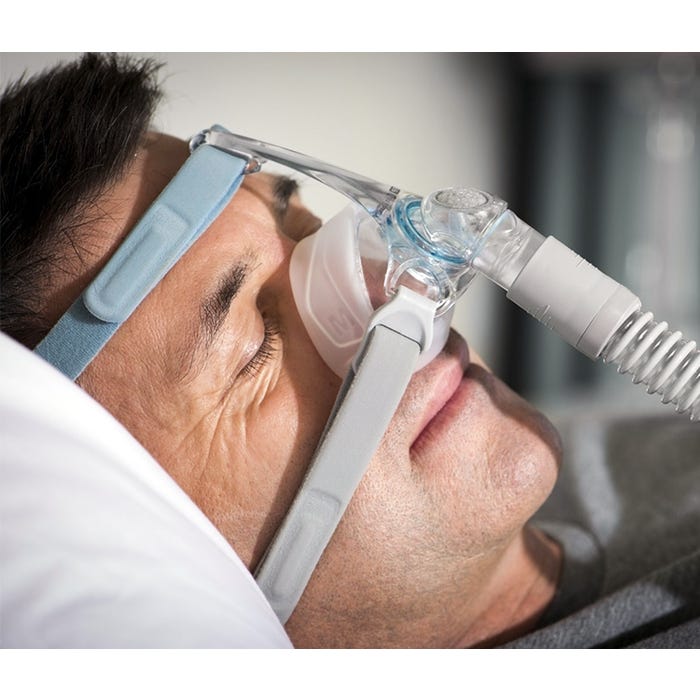 Key Features of Fisher & Paykel Eson 2 Nasal CPAP Mask
Secure, Precise-Fitting Seal: The RollFit technology of the Eson 2 Nasal mask eliminates any mask leaks. That's because the cushion gently rolls around the nose, adapting to any sleeping position a user may be in. This innovative technology allows for better and more compliant treatment.
Flexible Adjust Headgear: The flexible headgear is perfect for any face shape or size. It delivers stability and comfort, ensuring that this mask will stay in place all night regardless of a user's unique facial contours.
Clear Field of Vision: The minimal design of the Eson 2 allows users to not be interrupted from their normal bedtime routine. While wearing this mask, CPAP patients can still watch TV, read, or even wear eyeglasses.
Benefits Of Using Fisher & Paykel Eson 2 Nasal CPAP Mask
Worry-Free Fit: CPAP patients who struggle with achieving a proper fit will not have to have that worry when using the Eson 2. That's because this mask includes a firm seal that forms around the bridge of the nose, resulting in more effective and comfortable therapy. 
Easy Assembly for Easy Cleaning: The simplified design of the Eson 2 uses highlight indicators to help with disassembly and reassembly. Users will find cleaning hassle-free, and likely will clean it more often because of its simplicity, resulting in better-equipped products for more effective therapy.
Improved Version of the Original Eson Nasal CPAP Mask
Some of the cool new features of the mask include:
The mask has newly designed clips that make it very easy to put it on and take it off.
The hose connection swivels all around for a more comfortable experience. 
The mask filter is also newly designed in the Eson2. In the old Eson-style mask, you had to throw away the mask filters, and Fisher & Paykel has now made the filters washable with the fabric filter stitched somehow to the plastic attachment piece.  The filter gently disperses the air away to make for a very quiet mask.
The mask has newly designed Velcro – which appears to be much tougher than the original mask's Velcro straps. and should result in the mask lasting longer.
The top of the headgear is attached through a very thin profile plastic bar that allows for an open line of sight, and the forehead rest will barely touch so that it will not leave strap marks.
The nasal cushion pops off for easy cleaning.  This cushion does what it is supposed to do – create a good seal without feeling too tight against the nose. The cushion actually crumples to compensate for facial imperfections or a mustache and still provides a great seal.
Fisher & Paykel Eson 2 Nasal CPAP Mask – Maintenance
The Fisher & Paykel Eson 2 has cushions in the following three sizes: small, medium, and large. Cushions should be cleaned daily with a CPAP mask wipe or warm, soapy water. If damaged, cushions should be replaced immediately; otherwise, replace CPAP cushions approximately every 3 months. Following a scheduled cleaning routine helps keep your mask effective and prevents bacteria.
Fisher & Paykel Eson 2 Nasal CPAP Mask - Warranty 
The manufacturer's warranty is common to CPAP masks and covers the Fisher & Paykel Eson 2  for 90 days from the date of purchase by the end user. This warranty does not cover damage caused by accident, misuse or abuse, or modification to the product.
Where Can I Buy the Fisher & Paykel Eson 2 Nasal CPAP Mask?
You can shop online for this mask at The CPAP Shop. We offer the benefit of expert knowledge from our staff to help you answer all questions about the Eson 2 and all of the products we offer. Give us a call at 866-414-9700.