ResMed AirFit N20 Nasal Mask Review
Innovation is one of the keys to success. ResMed has been at the forefront of CPAP equipment innovation for many years. The company continues to offer compelling reasons to try new products that are typically state of the art and well-tested by actual users. Most recently, ResMed introduced an improved version of a quite popular nasal mask. The AirFit N10 was a strong addition to the ResMed nasal mask product line. After some reflection and customer feedback, ResMed has improved upon a strong performer with the release of the AirFit N20 Nasal CPAP Mask. Let's dive into the mask in more detail.
AirFit N20 Nasal Mask: Improved Comfort
Fit and comfort are the holy grail for CPAP masks. Although massively improved over the last 5 years, CPAP users are on a constant mission to find "the one" for their facial features. With the N20, the mask design is the culmination of over 3 years of research by ResMed. The design of the N20 has brought about improvements in mask fit, comfort and ease of use. ResMed claims that the N20 has been designed to fit all patients regardless of their facial features. In fact, ResMed has tested the N20 on numerous continents with a 99% acceptance rate. If true, this is quite an achievement.
For our launch, almost 80% of those who purchased during the first week were men. However, the initial 20% purchased by woman has been steadily creeping up as word of mouth filters through the community.
AirFit N20 Nasal Mask: InfinitySeal
The new AirFit N20, along with the full face style, AirFit F20, use a proprietary silicone cushion called the InfinitySeal. This ultra soft cushion adjusts to every person's unique facial contours to provide a perfect fit and effective seal. ResMed gained knowledge and confidence in the N20 as they tested all types of faces, genders, and sizes in the U.S., Australia, the E.U. and Asia. This subjects reported superior comfort as well as improved fit which reduced air leakage and, in turn, allowed for maximum treatment efficacy.
AirFit N20 Nasal Mask: Easy to Take On and Off
Another ingenious aspect of the N20 is that it comes with magnetic clips for the headgear. Interestingly enough, one side of the clip has a lip which helps to guide easy on and off. This, of course, is incredibly helpful when needing to get up during the night. Additionally, in typical innovative fashion, the field of vision is expanded since they have removed the forehead support or "T" bar which obscures vision. Of course, this appeals to users who like to read or watch television with their CPAP masks on, or for those who feel claustrophobic.
AirFit N20 Nasal Mask: Simple Fit
The N20 is particularly appealing to new CPAP users as fitting for the N20, as well as the F20, CPAP masks is very easy. Both offer increased comfort with a newly designed dual walled cushion which is incredibly adaptive. Moreover, since the masks are easy to fit and adjust due to its modular design, comfort is not compromised for stability.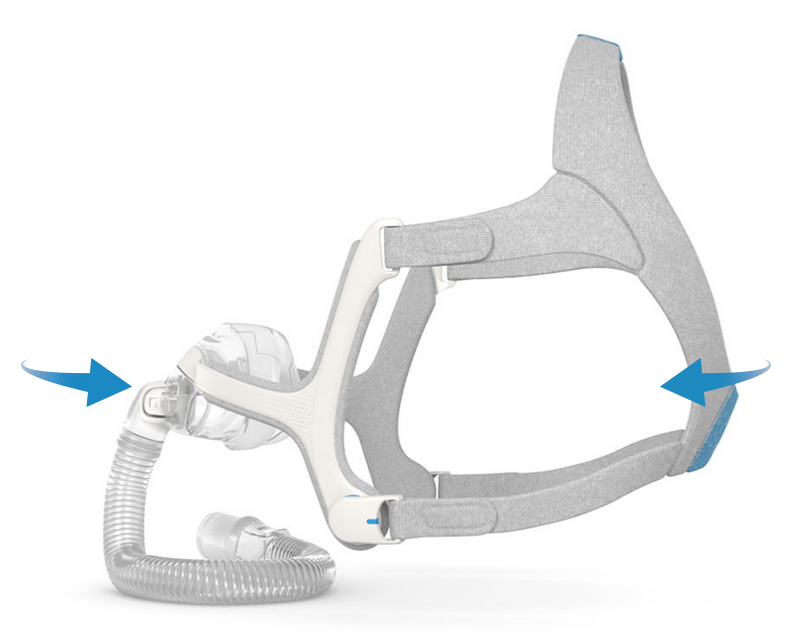 A wide field of vision, a swivel connection for the hose that allows active sleepers or those who like to sleep on their sides a comfortable experience and ResMed's rock solid and industry leading reputation rounds out the reasons to give the N20 or the full face version, F20, a chance to impress. . Given customer feedback, if you are considering a new nasal CPAP mask, or are a first time CPAP user, we suggest giving this mask a try. As usual, we have a 30 day return policy in case things don't work out with either mask.
AirFit N20 Nasal Mask: Video Review
For more information see our video review:
Where to Buy the ResMed AirFit N20 Nasal Mask
CPAP patients can find this mask online at The CPAP Shop. We offer this products and hundreds of others so that users see successful results from therapy. If you have any additional questions or need assistance, give our knowledgeable staff a call at 866-414-9700 today!