ResMed AirSense 11 vs 3B Luna II CPAP Machine Comparison
When selecting an auto-adjusting CPAP machine, consider two well-known models. The ResMed AirSense 11 and the 3B Luna II offer many useful features for users and provide reliable and consistent performance for CPAP compliance. Auto CPAP machines are especially useful for new users getting started with PAP therapy as they need time to get accustomed to breathing pressurized air while they sleep. Both of these machines offer features to help anyone experiencing comfort issues with a standard CPAP machine.
ResMed AirSense 11 vs 3B Luna II CPAP Machine - Features 
Modes Available
AirSense 11: You can adjust the ResMed AirSense 11 to either auto-adjusting mode or CPAP mode. The auto-adjusting mode will help most users fall asleep if they have comfort issues with standard CPAP. The CPAP mode allows users to engage in standard CPAP therapy if they no longer need auto mode.

Luna II: The Luna II only offers auto mode, so it may not be the best choice for anyone who wants to eventually switch to standard CPAP mode.
MyAir App 
AirSense 11: MyAir is a smartphone app that guides you through the setup process of the CPAP machine. This includes device setup videos, mask fitting videos, trying therapy using the Test Drive feature, and tracking your sleep health progress. The app is not required to operate the AirSense 11 device. Use the ResMed MyAir application for a personal CPAP therapy assistant, which helps the user with the assembly and setup of their CPAP equipment through its voice-guided video instructions.

Luna II: Since MyAir is a ResMed exclusive app, the Luna II does not include MyAir app.
Size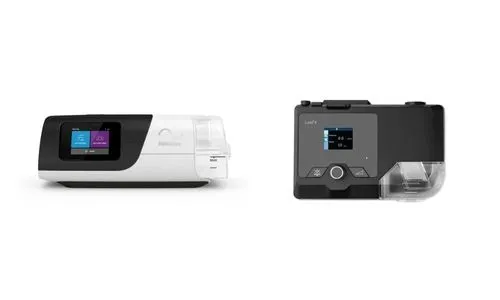 AirSense 11: The sleek and modern design of this ResMed AirSense 11 machine will not be an eyesore on a user's nightstand. It is only 10 inches long and weighs just 2.5 pounds so it leaves plenty of room at your bedside table. Although compact and lightweight, this machine still delivers excellent therapy that users can rely on throughout the night. the ResMed AirSense 11 is light and compact enough to pack for a trip.

Luna II: The Luna is slightly heavier at 4 pounds but about the same size as the AirSense 11.
RampPlus Feature 
AirSense 11: The ramp feature of the AirSense 11 gives you a flexible range of time increments to set your ramping, which starts at a lower air pressure as you fall asleep and ramps up to the prescribed setting while you are asleep.

Luna II: The ramp feature of the Luna II includes an extended 60 minutes of ramp time for those who need more time falling asleep before the machine ramps up to the prescribed setting.
Noise Level 
AirSense 11: Noisy CPAP machines are a common problem in CPAP therapy. But at 27dBa the AirSense 11 offers quiet performance for you and your bed partner. Most users will find that the noise level is well within a range that allows peaceful sleep.

Luna II: The Luna has a noise level of only 28dBa which is still within the comfort range for sleeping. Both machines offer quiet performance equally.
Touch Screen
AirSense 11: The full-color and big touchscreen display make navigating to all of your sleep settings easier. This touchscreen display replaces the smaller screen and navigation dial the Airsense 10 had, making room for this larger display for users to have an easier experience viewing and managing all of their sleep settings. This device also features a large Start/Stop button to easily help users turn on and off their CPAP therapy.

Luna II: The 3B Medical Luna II provides updated data on your sleep apnea therapy using a backlit LCD display located on the top of the CPAP machine. It allows navigation from a single dial menu access that provides all the information on the last CPAP therapy as well as statistics on your sleep.
Humidifier
AirSense 11: The integrated heated humidifier is also something to note on this device. It can be controlled manually or automatically with the Climate Control feature. The ResMed ClimateLine tube maintains a warm temperature from the machine to your mask to deliver the most efficient and effective air. A heated humidifier like the one built into the AirSense 11 will help to eliminate rainout, which occurs when heated air cools in a user's tubing and reaches their mask as water, causing them to get a damp face.

Luna II: The dual-chamber heated humidifier is integrated to provide the best comfort levels for CPAP therapy and is easy to clean. No other equipment is required for comfortable CPAP therapy.
ResMed AirSense 11 CPAP Machine - Pros And Cons
Pros
Built-in heated humidifier
Care Check-In feature for free coaching and assistance
User-friendly with large start/stop button
30-day risk-free trial
MyApp application provides therapy assistance
Care Check-In feature is designed to guide patients through setup, check in on their progress, and provide tailored support content to help them self-resolve common therapy challenges
The ResMed AirSense 11 disposable air filter removes environmental particles to deliver clean and fresh air during therapy
With the help of cellular and wireless connectivity of the ResMed AirSense 11 AutoSet CPAP machine, you automatically receive software updates and send CPAP therapy data while connected to cellular data or a wifi network.
Cons
More expensive than other devices
3B Luna II CPAP Machine - Pros And Cons
Pros
Auto-adjusting CPAP to fit your therapy needs so you have fewer trips to the doctor
Integrated, dual-chamber heated humidifier provides longer humidification
Extended ramp time of 60 minutes
Comfort features including expiratory pressure relief, auto-start, and mask leak alert
Uses Wi-Fi or cellular connection to share therapy data (if desired)
The Reslex Expiratory Pressure Relief is a comfort feature that provides easier inhaling and exhaling during CPAP therapy.
The Luna II makes it easy to access your CPAP data with QR scanning. Scanning the QR will immediately provide your mobile device access to all your CPAP data.
Cons
No option for standard CPAP therapy mode
No MyAir app
ResMed AirSense 11 CPAP Machine - User Reviews
"The AirSense 11 adjusts itself automatically. I'm at the maximum air flow capacity, and am greatly benefiting from the use. My energy is coming back slowly and I am feeling better.
Highly recommend this machine." - Review by 007

"I purchased this unit to replace my, still working, ResMed AirSense 10 machine. The machine came with my Rx already input for pressure. The machine is smaller and quieter than the older unit. The menus are easy to navigate and understand. I have been using the ResMed app and website to track my results." -Review by Lee
3B Luna II CPAP Machine - User Reviews
"This company has been really good. The shipping was really fast. I ordered the machine on the December 21st and had it in my hands by December 24th. That was really fast. I ordered this machine because the machine I had and couldn't use was a Philips Respironics system one 60 series. It is taking some time to get use to using it again." - Review by Albert

"Have been using for about a month now and really like this unit, only draw back at this time is filters and reservoir spare parts not easy to find. Good value/price." -Review by David

ResMed AirSense 11 Or 3B Luna II -  Which Is The Better Auto CPAP Machine?
The ResMed AirSense 11 offers more features than the 3B Luna II such as the MyAir app and options to switch from auto mode to standard CPAP mode. However, the price point for the AirSense 11 is much higher than the Luna II. For some users, who do not care about all the bells and whistles, a more affordable price for the 3B Luna II would make this machine a better choice.

There are a few remarkable features of the Luna II that some users may find attractive such as the extended ramp time. This feature would be helpful if some users find it difficult to fall asleep in the allotted time frame provided by the AirSense.
Where Can I Buy the ResMed AirSense 11 CPAP Machine?
Some retailers sell CPAP machines online, making it easier to shop and buy. You will find this CPAP machine at The CPAP Shop. The knowledgeable staff can answer all your questions on this and other CPAP machines and get your CPAP machine shipped to your doorstep promptly.
Where Can I Buy the 3B Luna II Auto CPAP Machine?
You can also shop and buy the 3B Medical Luna II at The CPAP Shop. The best part of shopping at The CPAP Shop is that you can get the help you need with your CPAP prescription and get help ordering essential supplies for CPAP therapy including hoses, cleaning supplies and masks.