SoClean 2 CPAP Cleaner and Sanitizing Machine Review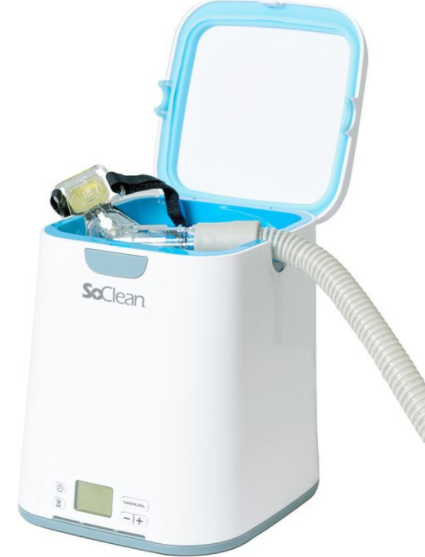 For patients who use CPAP machines, the masks and machine parts need to be cleaned daily. Traditionally, CPAP users were encouraged to wash the parts of their machine and mask with mild soap and tap water. In addition, the lengthy process included washing by hand and then allowing the parts to air dry before putting away for the next day. With the introduction of the SoClean 2, users can now thoroughly sanitize their equipment without disassembly and sleep knowing their equipment is 99.9% germ-free.
Key Features of SoClean 2 CPAP Cleaner & Sanitizer
The SoClean 2 is an automated daily equipment cleaner. The small, bedside unit sanitizes and disinfects CPAP accessories including the mask, headgear, tubing, and water reservoir, without chemicals or water. Instead, the machine uses activated oxygen to eliminate mold, bacteria, and viruses that come in contact with the CPAP equipment. The unit was designed to accommodate any mask type.
SoClean 2 Cleaner & Sanitizer Ease of Use
The SoClean 2 CPAP cleaner and sanitizing machine was designed to be user-friendly. The machine can accommodate all types of masks, from nasal pillow to full face. And no disassembly is required. Just place the mask directly into the SoClean 2 chamber and press start. The cycle light indicator will tell you every stage of the cleaning process.
SoClean 2 Maintenance/Cleaning
First, when first using the SoClean 2 CPAP cleaner and sanitizer, begin by applying the pre-wash included in the kit. The pre-wash eliminates any pre-existing odors or residue from the manufacturing process.
To keep your SoClean 2 CPAP cleaner operating properly, you will need to change the check valve assembly and filter cartridge every six months. The SoClean 2 cleaner will also alert users when they are close to needing a replacement.
Pro & Cons: SoClean 2 CPAP Cleaner & Sanitizer Machine
Pros:
Most CPAP machine manufacturers and sleep physicians recommend rigorous cleaning procedures for CPAP equipment to minimize the risk of infection and illness. There are a couple of ways your CPAP machine and mask can cause illness. For example, the bacteria from dead skin and oils can build up on CPAP masks and spread to the tubes. Or, contaminated standing water in the chamber can breed harmful germs you end up breathing in.1
The SoClean 2 CPAP cleaner and sanitizer meets the highest hygiene expectations by destroying 99.9% of bacteria, viruses, and mold in an automated, time-saving disinfecting cycle. You'll be less likely to have colds and infections, more likely to keep sickness at bay, and the air you breathe will be cleaner. Note: Sanitizing equipment does not replace the need to clean your machine parts and masks.
Cons:
Certainly, the cost of yet another piece of CPAP therapy equipment might seem unnecessary. Plus, CPAP cleaners are not covered by Medicare or insurance. As our customers can attest, the health benefits and time-savings are worth the additional investment in your health. And with The CPAP Shop, there are always promotions and sales plus financing to offset some of the upfront expenses.
Types of SoClean 2 Cleaner Machines
The SoClean 2 is the only SoClean machine on the market currently.
Is there a warranty?
The SoClean 2 CPAP cleaner and sanitizing machine comes with a two-year warranty.
Where can you buy it?
The SoClean 2 can be purchased here. In addition, all SoClean parts and accessories are available here.
Any risk-free trial available?
The CPAP Shop offers a 30-day risk free trial on the SoClean 2 CPAP cleaner and sanitizing machine. Order your sanitizer today and see if it is right for you!
How much does a SoClean 2 cleaner cost?
The SoClean 2 CPAP cleaner and sanitizer currently costs $348 (originally $399). Prices are subject to change and vary with promotions and sales.
Is financing available?
The CPAP Shop is currently offering 0% financing on the SoClean 2. Rates are subject to change. If users qualify, financing allows for affordable monthly payment plans. Learn more here.
Is there any discount?
The CPAP Shop often runs discounts and promotions. Sign up for the newsletter for the latest deals. To earn rewards on future purchases, sign up here.
Shipping
The SoClean 2 CPAP cleaner and sanitizing machine qualifies for free shipping at The CPAP Shop. All orders are shipped immediately and will reach their US destination within 1-5 days. Faster shipping options are available.
What Are Our Customers Saying?
"Waited and read multiple reviews before buying SoClean…love the machine wish I had bought sooner!!" – Review by Michaelene on 9/7/2019
"I've had mine for about a year now and wouldn't be without it. Also, it is so easy to use and saves me a lot of time not having to clean my equipment manually. It gives me peace of mind to know that 99.9% of all germs are being eliminated. The SoClean is worth every penny, a great investment for your health." - Review by Rick on 7/14/2019
"My life has changed so much since using this machine. No infections and goop in the back of my throat, no more bronchitis! Thank you SoClean!" - Review by SuBee on 1/30/2019
"I have used this product for a little more than a year. And every night I look forward to the benefits this machine offers. I no longer wake up with the "uckies" in the back of my throat (which I assume is the many germs that gather there each night in my mouth). I absolutely love this machine. Wish I had it for my entire CPAP life (about four years). If you don't have one of these - you need to get one." - Review by trecardtony on 9/29/2018
"This machine is great, it works as advertised, and is just the right size for my full face mask. I have used it for less than a month and all my problems are gone. No more stuffy noses, no more headaches and no more sinus problems. Here in Hawaii we have a big problem with molds and fungus growth, so the ozone does the trick. I recommend this machine for every CPAP User." - Review by Clark on 7/2/2017
Reference:
Harvard Medical Letter. Is your CPAP machine making you sick? Harvard Health Publishing. 2019 Oct. Accessed November 5, 2019.
[magento store="1" sku="SC1200-BUNDLE, PN1207, PN1101.8" order="sku" dir="desc" limit="3" class="override"]