The Best CPAP Machines of 2018
As we review the best CPAP machines of 2018, this year's most noteworthy trend is the popularity of travel machines. Continuous positive air pressure, or CPAP, is a therapy used to treat sleep apnea. Sleep apnea is a condition where the person's airway is collapsed during sleep. This causes them to periodically stop breathing. Standard CPAP machines provide a flow of pressurized, humidified air to ease the breathing process and prevent sleep disruption. Travel CPAP machines are lighter and more portable versions, allowing patients to take their CPAP therapy on-the-go.
Our customers are looking for CPAP machines that can fit their lifestyles. The top spots in our best CPAP machines of 2018 list are reserved for the smallest, quietest, and lightest machines on the market today.
As always, we prefer our customers make knowledgeable decisions. But if you have any questions concerning which machine is best suited for you, we are only a phone call away!
Standard Machines


The innovative Philips Respironics DreamStation Auto launched a few years ago but still remains fresh and one of the top CPAP machines. The FAA-approved machine is a stylish, modular design that is 18% smaller and 28% lighter than its competition. The vibrant color screen displays daily progress and features easy-to-use menus. The top-mounted humidifier hose swivel and front-facing display. This make it easy to operate when lying down or sitting up in bed. And it's small and lightweight too!
The DreamStation Auto CPAP automatically adjusts pressure levels to fit your changing needs. You will always receive the lowest pressure necessary. It can accommodate pressure changes from weight gain or loss, a cold, or changing sleeping positions during sleep. The machine incorporates clinically-proven C-Flex, C-Flex+, and A-Flex technology. This allows it to deliver pressure relief at the beginning of exhalation and soften pressure transition from inhalation to exhalation. The algorithm intelligence responds to the user's needs on a breath-by-breath basis to mimic natural breathing.
Whisper Quiet Technology
The whisper quiet technology delivers 25.8 decibels with an average pressure of 10cm. Our own private tests confirm the DreamStation Auto CPAP is extremely quiet, even when pressure increases to 15cm!
Tubing
The non-heated SlimLine tube is 40% lighter and 14% thinner than traditional tubing, so it takes up 35% less space. This allows the user to move around in bed without feeling anchored or mask leaks. The new smart-fit cuff design makes it easy to attach and remove the tube. The heated tube maintains the temperature of the air inside the tube. This ensures that rainout is avoided even if the temperature in the room drops during the night. The DreamStation tubing is compatible with any nasal, full face, or nasal pillow mask.
Additional Key Features
Integrated Bluetooth connectivity to offer more monitoring choices than any other leading CPAP machine.
Simplified in-house performance check and device evaluation to reduce number of normally functioning devices that are returned for service.
EZ-Start: Automatic and personalized adjustments to CPAP pressure to help patients gradually acclimate to their prescribed level of therapy.
OptiStart: Based on 90% of the previous night's auto-titration, this allows for a gradual adaption to the CPAP machine.
Ambient light sensor adjust the brightness of the screen based on the amount of light in the room.
Bluetooth Integration
The DreamStation has built-in Bluetooth capability to integrate with the DreamMapper app. The free mobile and web-based app features motivational alerts, troubleshooting advice, and educational content.
Sleep Coaching
Best of all, The CPAP Shop offers premium sleep coach service in the United States for any DreamStation Auto purchased through us. Sleep coaching improves satisfaction and increases adherence. With this optional service, the user receives two phone calls to assist with any technical questions that may arise during the initial use period. Topics include machine setup, menu applications, CPAP functionality, humification and heated tubing, CPAP mask issues, and the DreamMapper app. The more you understand how your equipment functions, the more you'll see enhanced results, better sleep, and increase your quality of life!
Launched in 2014, the ResMed AirSense 10 AutoSet CPAP is a premium auto-adjusting device for treating sleep apnea. It automatically adjusts pressure levels to fit your changing needs to ensure you're receiving the lowest pressure necessary. Standout features include an integrated humidifier and a built-in wireless communication.
The user experience was a priority when designing this device. ResMed's new AutoRamp feature with sleep onset detection delivers a low pressure to help you fall asleep with ease. Once it detects you are sleeping, it comfortably increases the pressure until your prescribed level is reached. Users set the expiratory pressure relief (EPR) setting to make breathing feel more natural.
The Easy-Breathe motor is an innovative design that incorporates foam and isolating materials into the base of the device. With less turbulence, it delivers more performance and virtually eliminates the nose radiated into the room.
Humidification
Heated humidification is standard feature in all AirSense 10 machines as it does not detach from the unit. The Climate Control's enhanced auto option allows the user to simply attach the ClimateLineAir heated tube and press start on the CPAP machine.
Tubing
Similar to the DreamStation, the AirSense 10 AutoSet uses both the non-heated SlimLine and the ClimateLineAir heated tube. This provides lightweight, slim, and comfortable options. These tubes are compatible with any nasal, full face, or nasal pillow mask.
Additional Key Features
Ambient light sensors adjust brightness of the screen to the amount of light in the room.
Advanced event detection differentiates between obstructive and central apnea. You will always receive the appropriate therapy.
Forward-facing design features user-friendly controls, intuitive interface, and color LCD screen. It delivers simple navigation and customized comfort settings.
Bluetooth Integration
The AirSense 10 AutoSet comes with built-in wireless technology to connect to ResMed's cloud-based management system called MyAir, which is accessible in the United States. Through MyAir, the user can change device settings or have their supplier troubleshoot remotely.
Travel Machines

The most popular new travel machine, the Philips Respironics DreamStation Go, comes in either a fixed or auto CPAP machine. It is incredibly compact, lightweight, and FAA-approved for in-flight use. It packs all the therapy and comfort of the DreamStation platforms into a unit half the size. A key design features is the built-in power pack. You no longer need to carry the bulky power pack separately. Additionally, the DreamStation Go's features a new 6 ft long 12mm flexible tubing. It is easy to pack and proves extra mobility when you sleep. That makes the tubing 58% smaller compared to the standard 22mm tubing and it still easily connects with any type of CPAP mask!
Flex Technology
This travel CPAP has one-third fewer components than other similar-sized machines. Weighing in at under two pounds, the DreamStation Go comes with Philip's patented flex technology. The machine automatically evaluates user breathing patterns and provides pressure relief to mimic natural breathing and make it easier to stick to CPAP therapy.
Travel-Friendly Features
When it comes to travel, there are a few innovative features that make this machine stand out. The DreamStation Go offers an optional FAA-approved, 1.5-pound integrated rechargeable lithium battery. This makes the machine easy to pack for any kind of trip, even camping. It snaps directly into the unit so no additional cords. Moreover, a built-in USB port allows for easy charging of mobile devices. And the optional clamshell ensures a safe transport through airport security scanners.
Sleep Coaching
With the DreamStation Go, like the standard DreamStation, The CPAP Shop offers optional premium sleep coach services in the United States. This service improves patient satisfaction and increases the likelihood that the user will continue using the therapy. Sleep training includes two phone calls to better understand your CPAP equipment and best practices for a better quality of life.
Bluetooth Integration
Lastly, the machine stores breathing compliance data for one year on-board the machine database. It connects wirelessly using Bluetooth technology to the DreamMapper app. If you have a standard DreamStation model at home, the data can combine to monitor continued progress.
More and more customers are choosing the DreamStation Go for their everyday CPAP machine.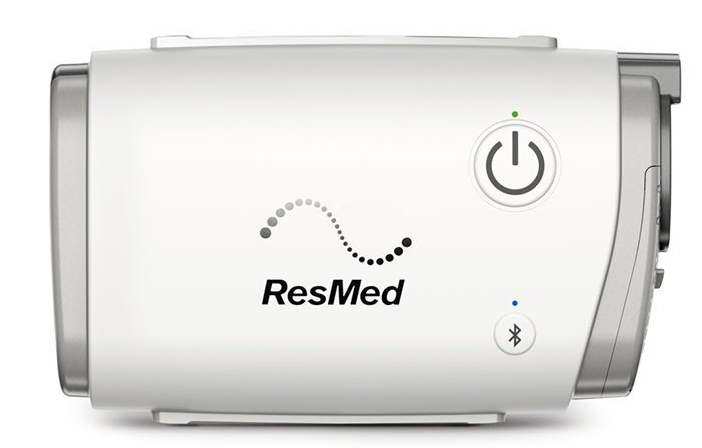 The ResMed AirMini Auto Travel CPAP is the world's smallest CPAP machine. It focuses on portability—weighing in at 10.6 oz and measuring 5.4" x 3.3" x 2". A small 20-watt power cord powers the ultra-quiet machine.
The AirMini travel machine incorporates a ramp feature that allows users to slowly adjust to CPAP pressure. An automatic start and stop means that all you need to do is put on the mask and start breathing to begin therapy! Sleep therapy stops as soon as you remove the mask. The user can change the EPR setting as needed between 1cm to 3cm H2O.
Humidification
The AirMini features the newest ResMed technology, including HumidX, to improve moisture levels without a fully integrated humidifier. HumidX is a small, disposable waterless humidifier. It is about the size of the diameter of a quarter. Circular bands of material are embedded in a pod that sits directly in the mask tubing. HumidX works with the N20 set up kit and the AirFit P10 Pillow Mask for AirMini only. Once opened, HumidX must be replaced within 30 days.
The AirMini works with only one of these three masks: AirFit P10 Nasal Pillow Mask, AirFit N20 Nasal Mask, and the AirFit F20 Full Face Mask. No other mask is compatible.
Bluetooth Integration
Lastly, the AirMini connects wirelessly via Bluetooth technology to view sleep therapy data. Because the device does not have a screen, the AirMini app displays important information including 30-day sleep score, usage hours, events per hour, and leak rate.
Travel-Friendly Features
Additional accessories, such as a small lithium battery and a carrying case, are sold separately or via a bundled package. The AirMini is designed to work in either CPAP or APAP mode.
---
At The CPAP Shop, we provide our customers with the latest technology on the market today. We hope this list of the best CPAP machines of 2018 was helpful. Remember, we're always available to walk you through the pros and cons of each machine. Let us help find the right fit for you.
Chris Vasta is the president of The CPAP Shop and an expert in sleep and respiratory therapy. He often provides insights on product design and functionality on various manufacturers' prototypes and is frequently tapped to provide reviews on new releases.