Truckers and Sleep Apnea
Sleep apnea negatively impacts the well-being and health of nearly 20 million undiagnosed Americans.1 Left untreated, this sleep disorder is tied to both short- and long-term health complications. For people who make their living driving, untreated sleep apnea impacts the ability to focus and slows reaction times. It may also contribute to daily headaches. A study sponsored by the Federal Motor Carrier Safety Administration (FMCSA) reported that nearly 28% of commercial truck drivers suffer from mild to severe sleep apnea.2
What Are the Risks When a Trucker Has Sleep Apnea?
In addition to the short- and long-term health risks of sleep apnea, truck drivers face additional work-related risks. Drivers with sleep apnea are five times more likely to be involved in a crash, estimated to cost upwards of $15.9 billion a year.2 Sleep apnea occurs when the airway closes during sleep. Breathing stops and oxygen flow to the brain is restricted. These periods are known as apnea events. In severe cases, apnea events can happen up to 30 times per hour. This many times can cause patients to stop breathing for up to 10 seconds. This lack of oxygen flow while sleeping can cause drowsiness similar to that of the legal blood alcohol limit.2
How Can CPAP Therapy Help Truckers?
A study released in September 2012 at the European Respiratory Society's Annual Congress in Vienna compared two groups of sleep apnea patients: those who drove commercial vehicles, and those who did not. Members of both groups were similar in age, weight and the frequency of sleep disturbances per night.
According to results, drivers consistently reported to be less sleepy and more alert than non-drivers, although both groups were in therapy with CPAP machines and had a similar number of sleep disturbances. On a sleepiness scale, drivers had an average reported score of 8.1, compared with 11.0 in the non-driver group. After six months of CPAP therapy, both sets of numbers improved, but drivers still reported less sleepiness: 4.8 vs. 7.7.3
Interestingly, the study's authors believe that the drivers may have reported lower scores because they thought higher scores could jeopardize their jobs.
The good news is that sleep apnea doesn't have to hinder a truck driver's career. With CPAP therapy, truckers are able to effectively treat and manage sleep apnea. And today's sleep equipment offers several CPAP machines and accessories designed for patients on-the-go.
Why Do Truckers Struggle with Sleep Apnea?
In the past, CPAP therapy has been considered cumbersome due to heavy machines and claustrophobic masks. For those that make their living driving, the added difficulty of finding power sources and effective ways to clean equipment have made CPAP compliance a burden.
In recent years, however, new technology and design innovations have allowed companies to improve CPAP equipment to be sleek, portable, and fit easily into any lifestyle. Commercial drivers do not need to feel burdened by their CPAP therapy and can now seek effective, comfortable treatment.
Taking Sleep Apnea on the Road with Travel CPAP Machines
For truck drivers (and even cab drivers, bus drivers or pilots) who suffer from sleep apnea and are currently on therapy, The CPAP Shop recommends a travel CPAP machine.
Not only do studies show that the use of a CPAP mask and machine can reduce these work-related problems, but a well-enforced compliance program can generate a return on investment in the form of savings on medical costs, accident reduction, reduced turnover and increased productivity.
A number of trucking companies are recommending and/or utilizing travel CPAP machines for truckers. This is especially true with long-haul truck drivers who have tested positive for obstructive sleep apnea.
Leading companies such as Respironics and ResMed have worked aggressively to create what is considered among the most effective and technologically advanced travel CPAP machines currently available. These new travel-friendly CPAP machines are lightweight and portable, designed to save space while delivering the same powerful therapy as their home unit counterparts.
Top Sellers of CPAP Products:
The Philips Respironics DreamStation Go Auto Travel CPAP Machine is a preferred CPAP machine for travelers. This customer favorite features a built-in power supply to reduce the number of parts. Weighing only 1.86 lbs and half the size of the DreamStation Auto, this machine comes with Bluetooth technology and includes a USB port for easy charging of mobile devices. The DreamStation Go Auto stands out from its competitors with the optional integrated rechargeable battery or heated humidifier (that uses tap, bottle, or distilled water!). Optional sleep coaching connects users with experts to help with set-up and initiating therapy.
Here's what some of our customers have had to say:
"As I travel frequently, using this travel machine is convenient and very easy to pack." - Suz 1/1/2020
"The GO is easy to travel with, very compact, the travel case is perfect and it connected seamlessly to the same app as my DreamStation." - Mark 1/24/2020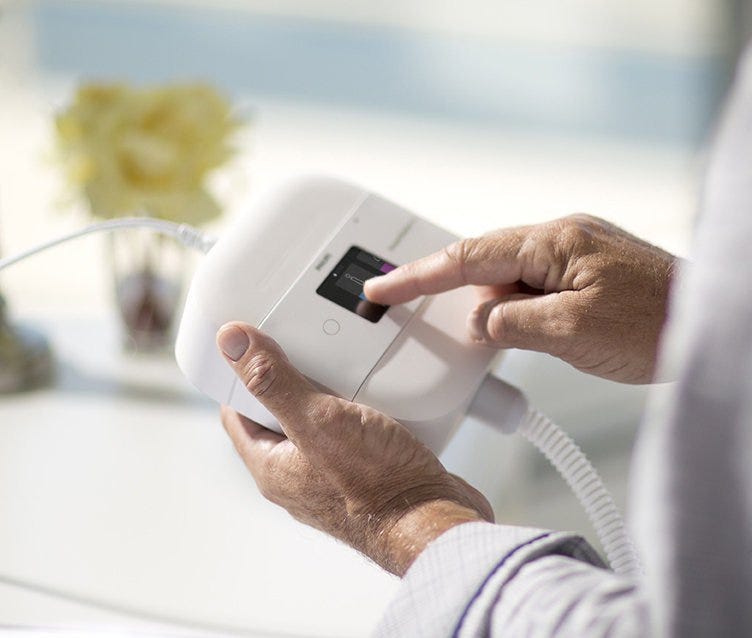 The ResMed AirMini Auto Travel CPAP Machine is another top choice for truck drivers. This travel unit weighs only 10.6 ounces and fits in the palm of your hand. With a small 20 watt power cord and waterless humidification, the ResMed AirMini focuses on comfort and delivering a quality CPAP experience. The ResMed AirMini is compatible with only four masks: the AirFit P10 Nasal Pillow, AirFit N20 Nasal, AirFit F20 Full Face or AirFit F30 Full Face. This unit is an ideal choice for drivers with limited storage space in their cabs.
Customer reviews:
"Small and compact and provides what is needed without having to lug around a big machine with a humidifier." - Ben 2/9/2020
"The size is amazingly small and it works beautifully." - Kat 8/29/2019
CPAP Batteries for Long Haul Performance
Interstate drivers often face limited access to power while traveling. For these instances, CPAP batteries are highly recommended. The lithium ion Freedom Travel Battery works with most CPAP and BiPAP machines and can be used as a back-up power supply. Drivers can rely on the Freedom Travel Battery for power outages, emergencies or even use the battery to charge their phone or tablet.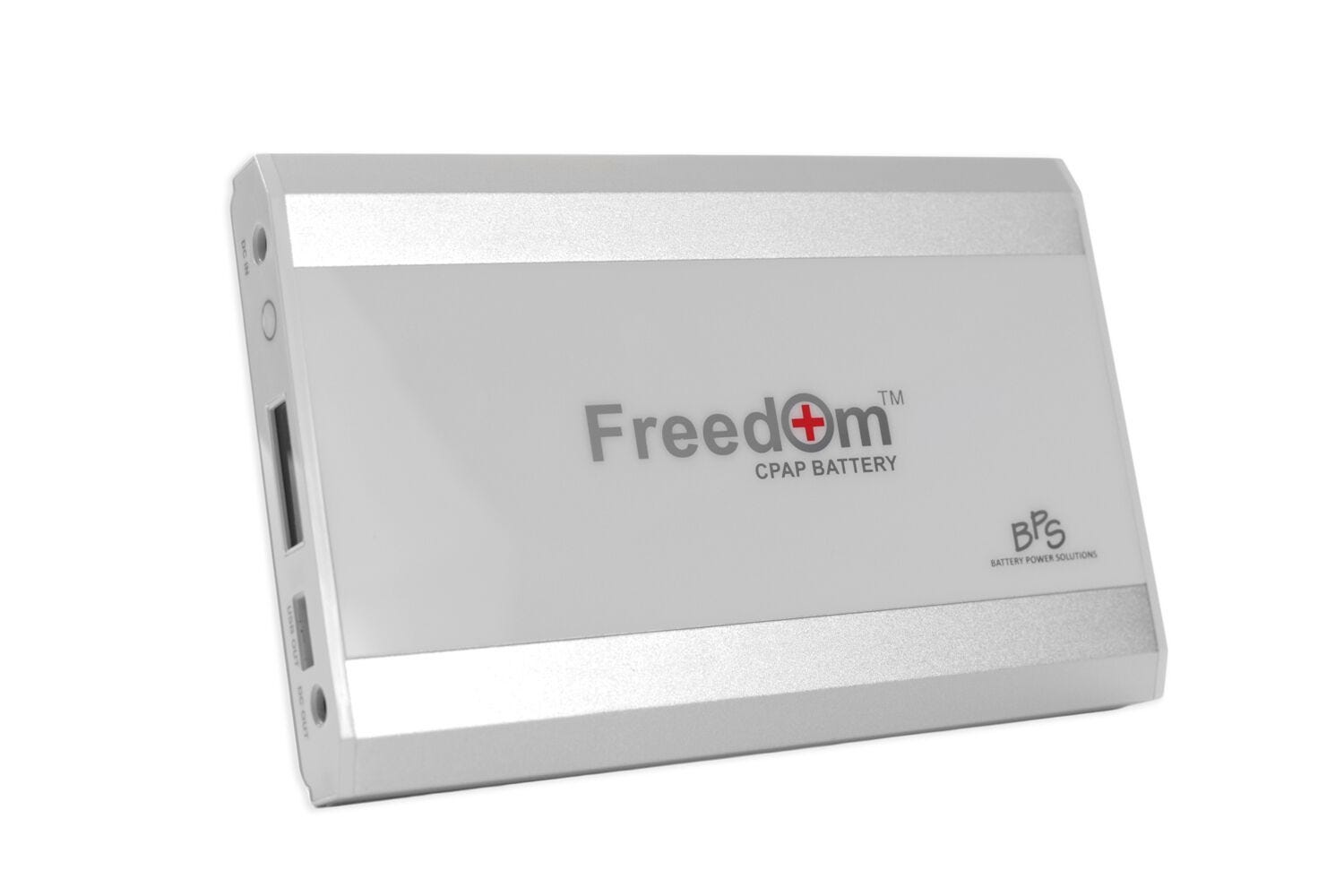 For drivers with a Philips Respironics DreamStation Go Travel CPAP Machine, the DreamStation Go Overnight Battery is an excellent choice. The battery requires no special adapters and can also be used as a permanent power backup device.
Another highly recommended option for users of both the DreamStation Go Auto and AirMini is the Medistrom Pilot-24 Lite CPAP Battery Backup Power Supply. If using this battery, however, it does require an adapter.
Plus, with the Freedom 40W Solar Panel, you can charge your battery from the sun while you are out for the day. Charge times vary depending on the amount of direct sunlight available. These work particularly well with the ResMed AirMini.
Sanitizers Keep Your CPAP Gear Clean While Traveling
Interstate travel gets dirty with road dust and soot. It can be a struggle for drivers to find the time and the best place to maintain sanitary conditions for their CPAP equipment. Many drivers turn to sanitizers for convenient CPAP sanitation.
The SoClean 2 CPAP Cleaner and Sanitizing Machine destroys 99.9% of bacteria, viruses and mold on masks, headgear, tubing, and water chambers using activated oxygen. A short, automated cycle gives peace of mind to any trucker concerned about getting sick from CPAP.
The Sleep8 CPAP Cleaner & Sanitizer Device is a more travel-friendly ozone sanitizer that requires no special adapters or connectors. Simply drop the humidifier chamber, tubing, CPAP mask and headgear into a sanitizer bag and press start. With no extra cords or water, this unit works well for sanitizing CPAP gear on the front seat of a semi. And it fits in the palm of your hand!
Truckers With Sleep Apnea and Respiratory Illness
Many drivers may be contending with more than just sleep apnea. Asthma and other respiratory illnesses may be compounding their OSA. Nebulizers are the ideal solution to ensure easier breathing by misting essential respiratory medications. Innovative on-the-go machines perfectly suit the interstate truck driver.
The Philips Respironics Innospire Go Portable Mesh Nebulizer allows for fast and easy treatments for busy drivers. Typical treatments are completed in 5 minutes and one charge is good for 30 treatments. Visual and audible alerts let drivers know when treatment is complete so they can focus on the road and not their medication.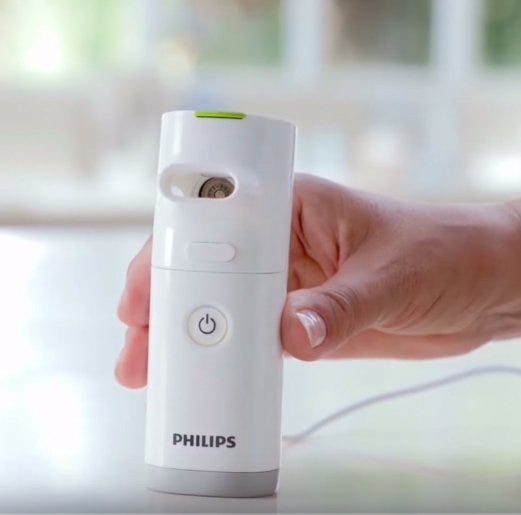 Importance of Travel CPAP Machines for Truckers
An increasing number of trucking companies are mandating compulsory treatment and trucking organizations are recommending treatment benchmarks to continue driving. The Sleep Quality Indicator and data monitoring capability of travel CPAP machines makes it easier for medical professionals to monitor compliance and effective treatment. Consequently, drivers with OSA can get the rest that they need and stay on the road.
Schneider National, one of the country's largest trucking companies, instituted a sleep apnea screening and treatment program several years ago, partnering with ResMed Corporation. With the use of their CPAP machines and masks, the program resulted in a 73% reduction in preventable driving accidents among a group of 225 drivers diagnosed with Sleep Disorder Breathing (SDB).4
In addition to the accident reduction, its cost savings and worker productivity increased, and medical treatment costs were cut in half. Schneider National's sleep apnea initiative has saved the company $538 per driver each month in health care savings and yielded a 55% greater retention rate among participating drivers. Additionally, Schneider's annual cost increase on health care claims has remained lower than industry norms.5
With truck drivers being a vital link for moving the nation's goods as well as being a major factor on its highways, truck drivers with OSA must seek proper treatment. Travel CPAP machines are among the best options for sleep apnea therapy on the road. Better sleep resulting in alert and healthier drivers on the roads.
Have any questions? Our customer care team is available to offer product recommendations or answer any questions. Give us a call 866-414-9700 or send us an email at contact@thecpapshop.com.
References:
American Sleep Apnea Association. The State of Sleep Health in America. Accessed January 2020.
Abt N. For many, health dangers start with sleep apnea. FleetOwner. 2018 Nov. Accessed January 2020.
European Lung Foundation. Commercial drivers could be understating sleep apnea symptoms for fear of losing their license

. ScienceDaily. 2012 Aug. Accessed January 2020.

Nguyen T. Schneider: sleep apnea treatment pays off

. FleetOwner. 2006 Oct. Accessed January 2020.

Leone D. Sleep Apnea Program Cuts Costs for Health Care, Schneider Says

. Transport Topics. 2007 Sept. Accessed January 2020.