Veterans and Sleep Apnea: How To File A Claim For CPAP
Sometimes sleep apnea is diagnosed during a soldier's active duty. Furthermore, sometimes it is a secondary issue to other war-service-related problem. Either way, next to truckers, the veterans group is one of the highest groups of sleep apnea suffers. This post is all about veterans and sleep apnea.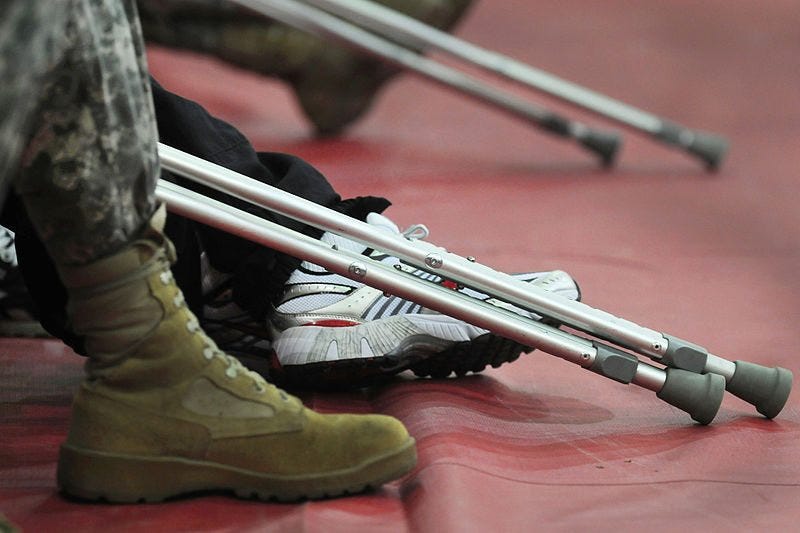 Veterans and Sleep Apnea - The Dept of Veteran's Affairs
Many times the U.S. Department of Veteran's Affairs (the VA) will let veterans know of sleep apnea classes they can attend where they also pick up any CPAP machines and masks. All veterans will have to have had a sleep study done and sometimes when they fail the study, the journey of making a claim for this war-related health problem can be difficult without help.
Service-related obstructive sleep apnea sometimes comes after a moderate sleep apnea diagnosis after retiring from service. After retiring, if sleep issues continue, these sleep studies (not necessary government-run) will let the veteran know which setting they need to be on for their CPAP machine and sometimes get issued an AutoPap.
A doctor needs to write the CPAP prescription, which veterans then should send in along with issuance documentation with filed their filed claim. It is important to keep in mind that just because the VA may give you a CPAP machine, doesn't necessarily mean your sleep apnea is service related. If you have Post Traumatic Stress Disorder (PTSD) you have to file for the sleep apnea as a secondary to your PTSD. Also, make sure to get your doctor to put your sleep study in your records along with your C&P Exam, which is below, courtesy of Veterans Benefit Group:
A veteran must show three things to be eligible for disability compensation benefits from VA.

Firstly, the veteran must have a current disability.
Secondly, the veteran must have been injured or developed a disease in service, or have had a pre-existing condition which was made worse by service.
Lastly, there must be a nexus between the in-service event or injury and the current disability. This usually means that a veteran needs to provide medical evidence that his or her current disability was caused or made worse by something that occurred during military service.

If a veteran is seeking service connection for a disability, the Compensation and Pension Exam (C&P Exam) is used by VA to establish the above requirements. The exam can be used to determine whether the veteran has a current condition and whether that condition is related to his or her service.
Sleep apnea can take years to diagnose and often comes coupled with diabetes, PTSD and even Traumatic Brain Injury (TBI). To prove your service connection to sleep apnea, all veterans must prove the diagnosis of the condition in-service. So, it's important to keep all your medical expert reports for your claim. Once you connect the service for sleep apnea, the VA will rate your condition move along to filing your claim.
Veterans and Sleep Apnea
Many vets share a common need for CPAP equipment with our clients. Many times, vets cannot get the CPAP equipment they need because their medical benefits do not cover it or because they can't afford it. If you've got sleep apnea in common with a veteran, you can then make a difference in their lives by donating used machines or new supplies and masks. Additionally, to make it easier for you, we looked up places in several states that accept donations of medical equipment for vets, and compiled them here for you:
Med Share:
Only accepts new equipment
Project Mend:
1201 Austin Street
San Antonio, TX 78208
Accepts used machines and new supplies.
Breathe California of the Bay Area:
1469 Park Avenue
San Jose, CA 95126
Accepts new or used PAP machines less than 6 years old, and new supplies only.
The Reggie White Foundation:
2356 S. 102 Street
West Allis, WI 53227
Accepts used machines and new supplies.
Project Sloopy:
Philadelphia
Accepts used CPAP machines.
American Sleep Apnea Association:
1717 Pennsylvania Avenue, NW
Ste. 1025
Washington, DC 20006
Accepts used machines, new masks and also accessories.
Additionally, learn more about donating machines here: https://www.thecpapshop.com/blog/used-cpap-equipment-save-life/
There are also a few places that may specifically accept donations for veterans as well, although they don't specify whether CPAP equipment is included.
Veterans Inc:
69 Grove Street
Worcester, MA
The Purple Heart:
7008 Little River Turnpike
Annandale, VA 22003
PO Box 49
If you're a veteran in need of CPAP equipment and you can't find what you need from any of the above organizations, we are here to help you. Let us know if there is anything else you want to know about veterans and sleep apnea.
Thank a vet on Veterans Day…or any day!
Chris Vasta is the president of The CPAP Shop and an expert in sleep and respiratory therapy. He often provides insights on product design and functionality on various manufacturers' prototypes.