What are the Different Types of CPAP Machines?
CPAP, or continuous positive airway pressure, is a form of therapy used to treat sleep apnea. Sleep apnea most commonly occurs when an individual's airway is obstructed, and oxygen cannot travel to the brain. This results in episodes of paused breathing that can last for as long as ten seconds, and in severe cases, can occur more than 30 times per hour. CPAP machines use continuous, pressurized air to keep the airway open, allowing individuals to breathe throughout the night for a restful sleep. However, not all CPAP machines are created equal. There are a number of key features that separate the different types of CPAP machines.
Types of PAP Machines
First, what are the different types of PAP machines? They are:
CPAP stands for "continuous positive airway pressure."
BiPAP stands for "bi-level positive airway pressure."
APAP stands for "automatic positive airway pressure."
Although most PAP therapy is referred to as "CPAP," each type of machine is used differently. PAP machines provide airflow to the patient's airway through a tube connected to a mask interface that the user wears while sleeping.
Be sure to speak with your doctor if you think you may have sleep apnea and require PAP therapy. PAP devices require a prescription from a licensed physician per the FDA.
How Do the Types of CPAP Machines Differ?
CPAP
Patients diagnosed with mild or moderate sleep apnea may wish to use a standard CPAP machine. These machines provide a single, fixed air pressure to the patient's airway. This air pressure is determined by the doctor's prescription and is the minimum amount of air pressure needed to keep the airway open throughout the night. CPAP machines deliver this air pressure between 4 cm of water pressure and 20 cm of water pressure.
APAP
APAP, or automatic PAP machines, are common among most sleep apnea patients. These machines deliver auto-titrating, or auto-adjusting, air pressure depending on the patient's needs. For example, if an individual with sleep apnea rolls onto their back, this can put greater pressure on the airway causing it to further collapse. If the patient is using an APAP machine, the machine will sense that the breathing pattern has changed and increase the airflow to keep the airway open.
These machines are ideal as lifestyle changes such as weight loss have been shown to improve sleep apnea symptoms and possibly reduce the amount of air pressure needed during therapy.
BiPAP
Bi-level PAP machines are generally reserved for the most severe cases of sleep apnea. While CPAP and APAP devices use a single air pressure to provide therapy, BiPAP devices use two: one pressure setting for inhalation, and one pressure setting for exhalation. This dual pressure setting provides a more natural breathing experience for patients.
Some BiPAP machines even include spontaneously timed mechanical breaths, or ventilation. For example, if a patient experiences an apnea event and stops breathing, the device will trigger a mechanical breath after a programmed period of time. BiPAP machines have even proven helpful in patients with severe respiratory illnesses during the COVID-19 pandemic.
Types of CPAP Machines
The CPAP Shop offers a wide variety of CPAP and BiPAP machines from the industry's leading manufacturers. Here are a few of our recommendations:
Standard CPAP Machines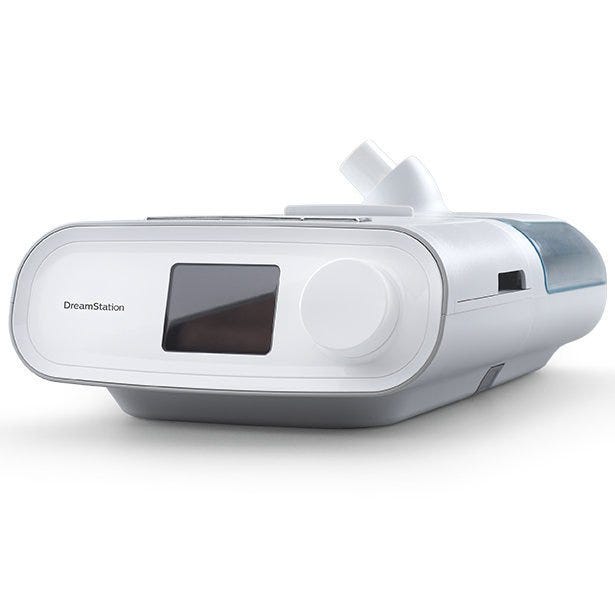 The Philips Respironics DreamStation CPAP offers a sleek design and user-friendly controls. Using the rotary knob, patients can access their comfort settings, view sleep reports and more. The DreamStation weighs less than 5lbs and delivers therapy quietly, providing you and your bed partner restful sleep. Users also have the option to add on a heated humidifier, providing moisture to therapy which is beneficial to patients living in drier climates.
Automatic CPAP Machines
The ResMed AirSense 10 AutoSet is one of the most popular APAP devices we offer. Unlike the DreamStation, the AirSense 10 comes with an integrated heated humidifier at no additional cost. Menu navigation is simple, allowing users to access their data and change settings. The ramp feature is a commonly used feature that allows patients to set their device to a lower pressure setting. As they fall asleep, the device will ramp up to their prescribed pressure. This feature provides a more comfortable therapy experience.
Travel CPAP Machines
The Philips Respironics DreamStation Go Travel CPAP delivers all of the same features at the standard DreamStation CPAP but in a more portable design. Travel CPAP machines generally offer both auto- and fixed-pressure settings and are ideal for patients who are constantly on the go. The DreamStation Go features a full color touchscreen for menu navigation and a simple one-touch button to start/stop therapy. A backup battery and humidifier are also available for this machine, making it one of the most versatile travel units on the market.
BiPAP Machines
The ResMed AirCurve 10 VAuto offers all of the same features of the AirSense 10 in BiPAP form. One of the features unique to the AirCurve over the AirSense is TiControl, which offers greater control over pressure setting timing to accommodate patients with complex conditions. The AirCurve relies heavily on its algorithms to ensure you receive accurate therapy every time.
Where Can I Buy CPAP Machine Online?
You can find these options and more at The CPAP Shop. Our knowledgeable customer care team is on hand to help you with your purchase should you have any questions. We always do our best to ensure fast and easy shipping, and some of our machines even offer a 15-night risk-free trial.
If you need help selecting the right CPAP machine for you, let us know. We can help you find the best CPAP machine based on your prescription. Call 866-414-9700 or email us at questions@thecpapshop.com.