What is a Nebulizer Machine & What Does It Do?
Nebulizers are often prescribed by doctors to treat chronic respiratory conditions, such as asthma or COPD (chronic obstructive pulmonary disease). There are primarily two types of nebulizers: home machines and portable nebulizers. Both work in similar ways and require proper maintenance. Consult your physician if you feel that you require a nebulizer and continue reading to learn a bit more about them.
What Does It Do?
The purpose of a nebulizer machine is to send liquid medication to a patient's lungs by converting it into a fine mist that the user inhales. This is either done via an air compressor or a vibrating mesh disc, depending on the type of nebulizer being used.
When Do You Need a Nebulizer?
As mentioned, nebulizer machines are prescribed by doctors to treat symptoms of chronic respiratory illnesses, such as asthma and COPD. Other conditions may require the use of a nebulizer for treatment. Consult your physician before purchasing a nebulizer machine for your respiratory needs.
How Do You Set Up & Use a Nebulizer?
There are two types of nebulizer systems: a home nebulizer and a portable nebulizer. Both are similar in function, but may require different set-up.
Home Nebulizer System
Home nebulizer systems are composed of several pieces: a compressor, tubing, medicine cup, and mouthpiece/mask. Connect the tubing to the compressor outlet port on one end and the medicine cup on the other. Fill the medicine cup with the prescribed medicine and twist the cap into place. Attach the mouthpiece or mask to the other end of the medicine cup. Once medicine is in place, do not turn the cup on its side.
Turn the device on and place the mouthpiece firmly between your teeth. Breathe slowly, allowing the medicine to move into the lungs. Depending on your prescription and your nebulizer system, treatment may take anywhere from 5 to 15 minutes. When treatment is over, turn the unit off.
Portable Nebulizer System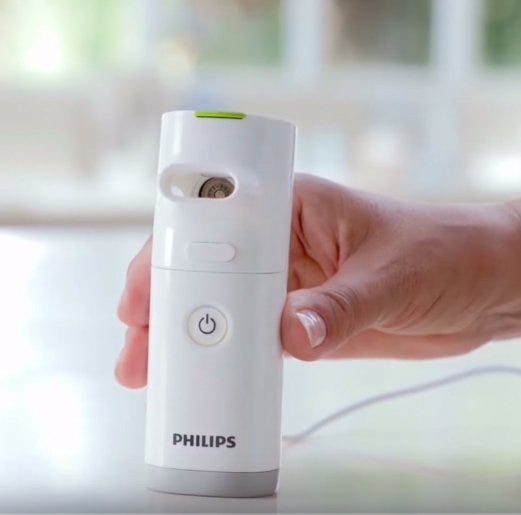 Most portable nebulizers are handheld units, powered by a rechargeable battery. These batteries, when powered on, cause a mesh disc to being vibrating inside of the unit's mouthpiece. To begin treatment, ensure the device is turned off, open the medicine cup and fill with the prescribed amount of medication. Close the cup, press the power button and press the device firmly between your teeth.
Breathe slowly during treatment. Portable nebulizers have faster treatment times and will finish in 5 to 7 minutes. Once treatment is complete, turn the device off.
What Type of Medicine Can I Use With My Nebulizer?
Nebulizers are most often used with bronchodilators. These are medications that help to open the airway and improve breathing. Confirm with your doctor if your medication can be used with a nebulizer machine.
What is the Difference Between a Nebulizer & Inhaler?
While both devices treat respiratory conditions, nebulizers allow more medicine to reach the lungs. Inhalers (also known as metered-dose inhalers, or MDIs) are often not used correctly, causing many patients to waste medication.
How Do You Clean a Nebulizer Machine?
Cleaning your nebulizer is an important part of respiratory therapy. Never submerge compressors, batteries, or tubing in water. Actively hand wash medicine cups and mouthpieces after every use and disinfect on a weekly basis. If your device uses filters, inspect them regularly and replace them if they become wet, dirty, or damaged.
As these are general rules, refer to your specific unit's user manual for the most effective cleaning method.
Do You Need a Prescription for a Nebulizer?
A prescription is required for the medication necessary for your respiratory condition. To determine if a nebulizer is the most effective method of taking that medicine, consult with your doctor.
How Much Does a Nebulizer Cost?
Home nebulizers, such as the Philips Respironics InnoSpire Essence, start as low as $29. Portable nebulizers are more expensive, due to the lithium ion battery included. Units such as the Flyp Portable Mesh Nebulizer start around $190.
If you have any additional questions about nebulizers, how they work, or replacement parts, contact our knowledgeable customer care team. Give us a call at 866-414-9700 or send us an email at questions@thecpapshop.com.
This post was updated on March 2, 2021.