What's at Risk if You're Not Using a CPAP Machine While Driving?
When most people think about the benefits of a CPAP machine, they think just think about its ability to help improve an individual's sleep. However, using a CPAP machine can affect more than your sleep. It can also play a role in your ability to drive safely. In this article, we take a closer look at the risks of not using a CPAP machine while driving.
This post focuses on answering the following questions. Clicking a specific question will direct you to the answer immediately.
What are the risks of not using a CPAP machine from a legal standpoint?
Most CPAP users know that obstructive sleep apnea (OSA) can make it extremely difficult to get a full night of restful sleep. If you have OSA, and continue to not use your CPAP machine, you'll continue to feel sleepy and drowsy throughout the day. When you feel tried during the day, you aren't as alert or able to react as you would be if you had gotten a full night of sleep. This can make driving extremely dangerous.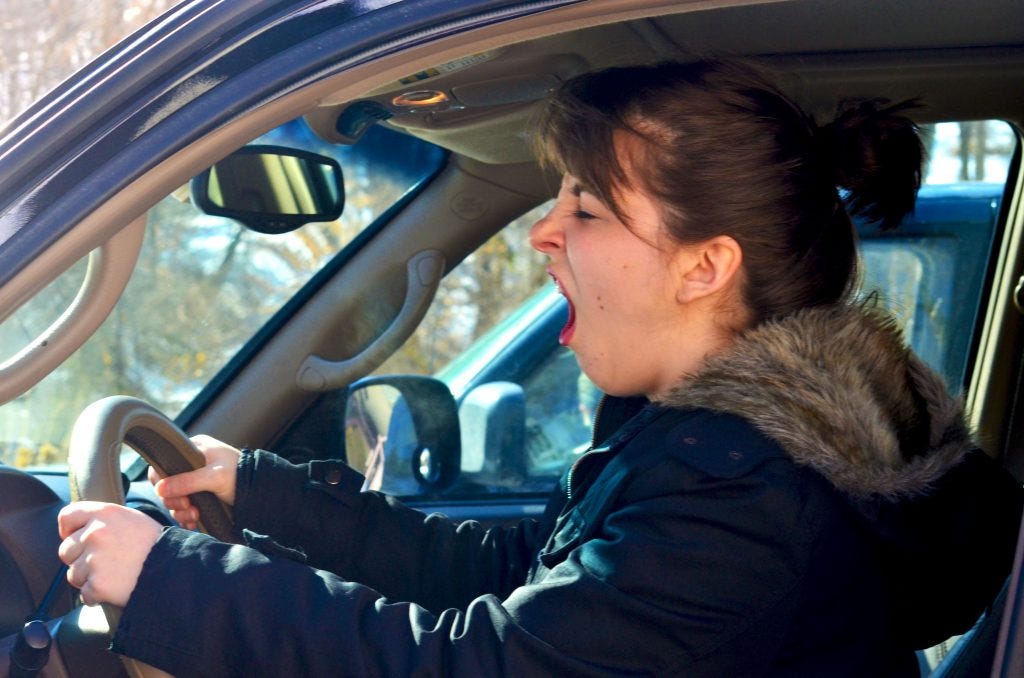 Driving while tired can be just as dangerous as driving impaired. In 2014, the AAA Foundation for Traffic Safety performed a study of drowsy driving. The results estimated that 328,000 drowsy driving crashes occur annually. Further, the same study determined that 109,000 of those crashes resulted in an injury. Even more shocking, about 6,400 of the driving drowsy crashes were fatal. Although these numbers are surprising on their own, the actual number of accidents caused by drowsy driving is likely much higher, as it can be difficult to conclusively determine that drowsiness played a role in the accident.
For those with sleep apnea, driving without using your CPAP machine can not only be risky in terms of causing an accident due to drowsy driving, but also can have legal consequences if your cause an accident for driving while sleepy. If you cause an accident, injure someone in that accident, and that individual can show that you have failed to use you CPAP machine, that party will be able to prove that you acted negligently. This means that you are legally liable for the accident and will be responsible for compensating any damages sustained by that person.
Does DOT require sleep apnea test?
Currently, the Department of Transportation (DOT) does not require everyday drivers to test for sleep apnea. However, as discussed in more detail below, commercial drivers are typically required to undergo a medical exam before obtaining a CDL. If the medical examiner identifies symptoms of OSA, they might require that you undergo additional testing to confirm whether you have OSA.
Is a sleep apnea test mandatory for a CDL?
The Federal Motor Carrier Safety Administration (FMCSA) does not necessarily require a sleep apnea test, but it does require truck drivers to undergo a medical examination to receive and maintain a CDL. A person who has a medical history of a condition that may affect an individual's ability to drive commercially, they might not be able to obtain a CDL license. However, in many cases, if the driver can demonstrate that their medical condition is treatable and manageable, you can still obtain a CDL.
However, if it is determined that you suffer from moderate to severe sleep apnea, the FMCSA considers you unsafe for driving a commercial vehicle. If you are diagnosed with moderate to severe OSA, there's a good chance you will lose your CDL until you are approved by your medical provider and cleared to reapply for your CDL again.
Can you pass a physical with sleep apnea?
Yes, it is possible to pass a physical with sleep apnea. However, you will be required to demonstrate that you are compliant with your CPAP therapy in order to maintain a CDL. The FMSCA provides a number of guidelines for drivers who have OSA, but in summary, drivers who are able to document nightly CPAP use and who can demonstrate that they have no daytime sleepiness will be able to obtain and keep their CDL.
How many hours of rest does a Heavy Grade Vehicles (HGV) driver need?
The number of hours a day that an HGV driver is permitted to drive and is required to rest is determined by the FMCSA. The driving and rest periods can vary depending on a number of factors. The link below has a summary of the regulations promulgated by FMCSA as well as details with the exact number of hours of rest you need. These differ whether you are carrying people or freight https://www.fmcsa.dot.gov/regulations/hours-service/summary-hours-service-regulations
How much does a CPAP machine cost without insurance?
The total price tag for a CPAP machine varies on the brand, features and accessories of the device. Insurance will typically cover some, if not all of the cost. However, if you have to pay for a CPAP machine out of pocket, you can expect to pay around $850 for the machine and the necessary components. However, there are options that are less expensive if you are on a budget.
If a driver is in an accident and can prove use of CPAP, will costs be covered by workman's comp or OSA union benefits?
The law in Pennsylvania and nationally says that if you are on the job and you are injured, you are entitled to Workman's Comp. For example, in a New Hampshire case where the employer refused to pay Workman's Comp for a driver who sustained severer injuries, the driver was able to receive compensation for his medical expenses and wage loss. The courts ruled in his favor.
As a driver, if you able to prove you have been compliant with your CPAP therapy, that would certainly indicate that you've met the medical requirements to obtain the CDL license, and you would be more likely to receive compensation for your medical bills and wage loss through Workman's Comp. Remember, health benefits either you receive from your union or employer are secondary. Period. Workman's Comp is primary.
What if OSA is proven but a CPAP machine was not used?
Fortunately, if you have OSA and fail to stick with your CPAP therapy, you are probably still eligible for these benefits, but you may also be at risk of losing your CDL license. The one caveat would be if you had not yet been diagnosed at the time of the accident. If you did not know of your diagnosis, you could not have known that you should be using a CPAP device, and in those circumstances, you may still be able to collect those benefits if you are injured in an accident
Should a driver's employer be responsible for the driver's rest?
A driver's employer is legally "on the hook" for an accident caused by an employee's lack of rest. Unfortunately in my 32 years of experience practicing law, and suing tuck drivers and trucking companies, this is good in theory but doesn't always happen in practice. It's one reason why the FMCSA regulations were enacted on truckers and carriers to ensure drivers are getting adequate rest. This is difficult to enforce and frequently the rules are violated and driving logs falsified. The employer / carrier is ALWAYS responsible for the drivers' action (under the legal theory of respondent superior).
In a best-case scenario for road safety, it's up to both the driver and the employer to work together to ensure drivers are getting enough rest and staying safe on the road. To do this, drivers must comply with driving limit regulations and employers must resist putting extreme pressures on drivers that tire them out. In this way, both drivers and employers can be sure that drivers are alert and ready for a day out on the road.
Certainly, if you have been diagnosed with OSA, and have been prescribed a PAP prescription, give us a call at 866-414-9700 or email questions@thecpapshop.com. Our knowledgeable customer care team has years of experience and access to all of the latest equipment for PAP therapy.
[magento store="1" sku="DSG500S11-BUNDLE, DSX500S11-BUNDLE, 37207-BUNDLE, 38113-BUNDLE" order="sku" dir="desc" limit="4" class="override"]