Sleep Apnea in Women: CPAP for Women
Obstructive sleep apnea is a common sleep disorder believed to affect approximately 22 million Americans, with the majority of cases remaining undiagnosed or untreated.1 Traditional research shows that men are 2-3 times more likely to experience sleep apnea than women. However, new research suggests that these estimates could be low, as women could present symptoms differently.2
Sleep apnea affects more than 20 million adults in the U.S. It also brings higher risks of a number of severe health issues. With the acknowledgment through research and sleep health experts that the needs, symptoms, and diagnosis disparities for women are unique to them in many ways, manufacturers and the healthcare continuum are working to address these issues collectively and separately.
Studies About Sleep Apnea For Women
Although men are more likely to have sleep apnea than women, the gap has closed significantly over time. What is also unfortunate is that the gap between those diagnosed and undiagnosed, as well as the gap between patients who are complying with their CPAP therapy and those who are not, are wide and closing far too slowly.
As more studies are done targeting women and sleep apnea, researchers are finding that women with the condition have a more diminished autonomic response than men. With CPAP therapy still the most effective treatment of sleep apnea, its positive effects on restoring autonomic functionality in women are being explored and verified.
There has been significant research showing the body's autonomic response. It is responsible for controlling blood pressure and heart rate. Sweating is weaker in people with sleep apnea. A UCLA School of Nursing study discovered that this weakened autonomic response is even more diminished in women. The study, which appeared recently in the peer-reviewed journal PLOS ONE, utilized three recognized physical and breathing tests with a study group of men and women with and without sleep apnea.
How CPAP Therapy Can Improve The Sleep Apnea Condition In Women
The heart-rate results for these tests show that the impact of sleep apnea on autonomic functions, while significant in men, is more severe in women. This may mean that women are more likely to develop symptoms of heart disease. The good news is that CPAP therapy is widely believed to help improve this condition in women. The low CPAP therapy compliance due to feelings of restricted movement and discomfort with some masks is one of a number of non-compliance determining factors.
Leading manufacturers have responded with a number of CPAP masks for women that take into account smaller features. They also provide greater freedom of movement, lightness of the apparatus, field of vision, and most of all, comfort. Preferred masks are the nasal and pillow masks by a significant number of women with sleep apnea. So, manufacturers have taken the best aspects of each while eliminating many of the detractors to comfort, simplicity, and freedom of movement.
These manufacturers have incorporated minimalist designs and superior seals. They're also soft, breathable, and pliable materials, and an open field of vision for reading, watching TV, or wearing glasses. Very quiet functionality is also paramount as well as hassle-free movement in every direction. Even accommodation for varying facial sizes and features has been taken into account.
Incorporated into this new breed of CPAP masks for women are the simplicity of assembly, disassembly, and cleaning. The goal is to encourage CPAP users to easily adapt and continue CPAP therapy so they receive the maximum benefit from their treatment.
Sleep Apnea Symptoms in Women
According to a recent article in Psychology Today, an estimated 6 percent of women of all ages are living with moderate to severe OSA.2 The same research indicates that this number increases to approximately 20 percent by menopause.
While most women may experience the traditional symptoms of sleep apnea (loud snoring, gasping for air, headaches, daytime fatigue, etc.), they may also experience other symptoms that are not connected to the disorder. These symptoms can include:
Depression and anxiety
Insomnia symptoms
Feeling overwhelmed and irritable
Restlessness
Improving Your Sleep
The current gold standard for treating sleep apnea is continuous positive airway pressure, or CPAP, therapy. CPAP therapy relies on a machine to send pressurized air to an individual's airway via a tube and mask to ensure the airway remains open and the individual continues to breathe. While the first step in proper sleep apnea treatment is diagnosis, The CPAP Shop is here to make sure you get the most out your CPAP therapy. For women, that may mean using machines and masks designed specifically for you.
CPAP Machines for Women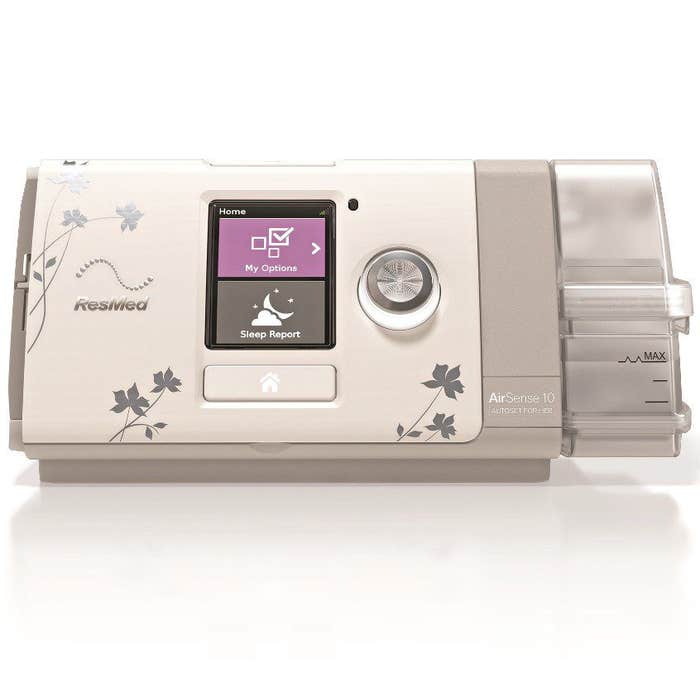 The ResMed AirSense 10 For Her was designed specifically with women in mind. Anatomically, women breathe more shallowly than men do. So, the AirSense 10 For Her uses a special algorithm to increase flow sensitivity and response time to apnea events. This provides more comfortable therapy all night long.
The ResMed AirSense 10 For Her also includes an integrated heated humidifier for patients living in dry climates or for those who wake up with a sore throat. The easy-to-navigate menus make accessing your sleep data or changing your comfort settings simple.
CPAP Masks for Women
Over the years, many CPAP mask manufacturers have introduced masks designed specifically for the facial features of women. While everyone's face shape may be different, these masks aim to make therapy as comfortable as possible for the majority of users.
Things To Keep In Mind While Dealing With CPAP For Women
Here are some things to keep in mind when dealing with CPAP for women.
Just because you don't snore doesn't mean you don't need CPAP. Other symptoms include daytime fatigue, obesity, lack of energy, morning headaches, awakening gasping, or dry mouth on awakening.
Look for masks with a smaller profile or extra small nasal pillows to allow for smaller facial features.
Low-profile head straps and soft wraps are more comfortable for a woman's fit.
To increase compliance, speak to your doctor about the best fit and model for you. Manufacturers have begun to take notice of the rise and have been designing masks specific to women.
Become informed and knowledgeable about sleep apnea and the necessary equipment. Knowledge allows you to make the proper decisions about CPAP therapy.
ResMed AirFit P10 Nasal Pillows CPAP Mask For Her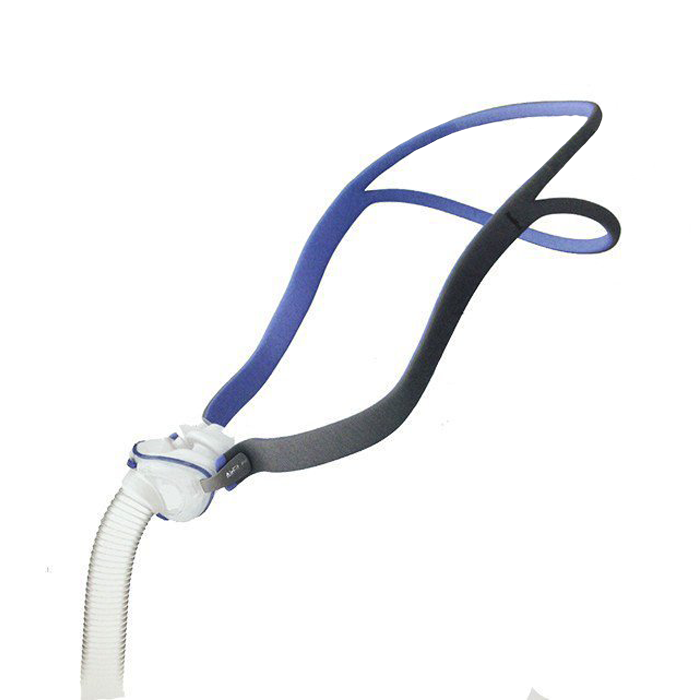 This mask continues to be one of the most popular choices for women. The AirFit P10 For Her by ResMed offers a minimal contact design – only the cushion and headgear make contact with the face. This is perfect for users who may experience claustrophobia with traditional CPAP therapy, or for those who enjoy reading before bed. The nasal pillows sit just inside the nose, providing direct yet comfortable therapy. The ResMed AirFit P10 is easy to take on and off, making middle-of-the-night trips to the bathroom easy.
ResMed Quattro Air Full Face CPAP Mask For Her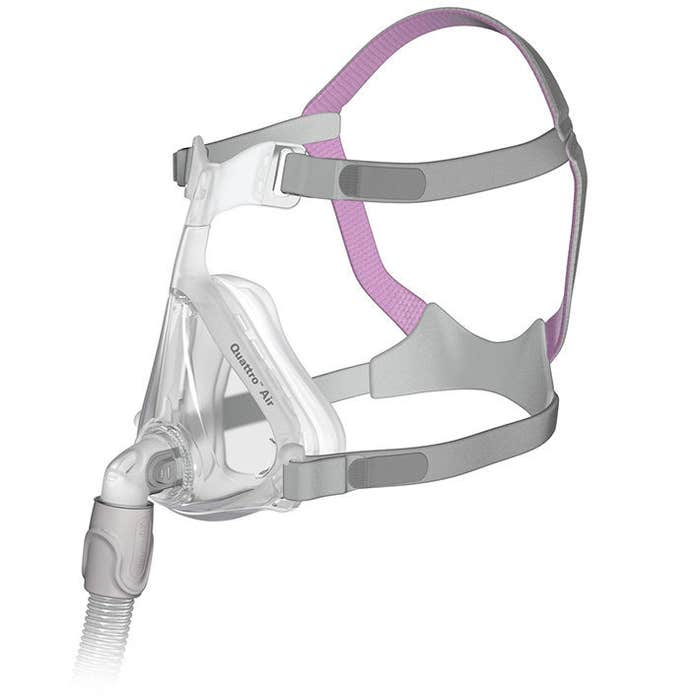 For users who prefer a full face mask, the Quattro Air For Her is one of the lightest options on the market. Traditional full face CPAP masks can be bulky and weigh you down. The ResMed Quattro Air is made up of only four parts and reduces mask bulk for a comfortable night's sleep. The dual wall cushion offers a secure seal while still providing maximum comfort, especially on the nose bridge. No need to worry about noisy air – the exhalation vents quietly direct air away from you and your bed partner for an uninterrupted night of sleep.
Philips Respironics DreamWisp Nasal CPAP Mask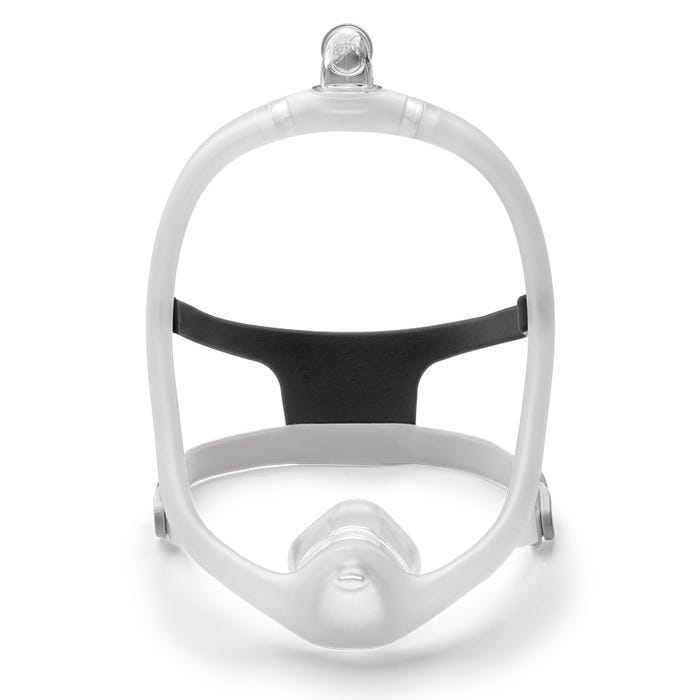 Although the DreamWisp is not specifically for women, it has a wide variety of cushion sizes, including petite, to accommodate a number of facial shapes. Additionally, the hollow frame allows air to flow from the tube connection to the cushion, creating a custom, secure seal for every user. The headgear is breathable and offers 4 points of contact for increased stability throughout the night. 
The CPAP Shop prides itself on making sure all of our customers have the tools and equipment they need to get the most out of their therapy. If you have any additional questions about a particular mask or want to learn more about women and sleep apnea, our knowledgeable customer care team is standing by. Give us a call at 866-414-9700 or email us at questions@thecpapshop.com.
This post was updated on November 17, 2020.
References:
American Sleep Apnea Association. Sleep Apnea Information for Clinicians. Accessed Nov 2020.
Breus, Michael J. Psychology Today. New Findings on Sleep Apnea in Women. Published 2019 June 26. Accessed Nov 2020.