How to Choose a Travel CPAP Machine
This post compares the four most popular CPAP machines built for travel on the market in 2019. If you have sleep apnea and are a camper, trucker, pilot, hunter, fisherman, travel for business or pleasure frequently, want to sleep comfortably on a flight, plan to take a cruise or go sailing overnight, then this article may shed light on how to choose a travel CPAP machine to meet your individual needs.
What is a Travel CPAP Machine?
If traveling with your CPAP machine has been troublesome, you'll be happy to know that new innovations in machine technology have resulted in a newer style of CPAP machines that fit the need of most travelers. These travel CPAP machines are small, quiet, powerful, and convenient.
Key Features of a Travel CPAP Machine
The best travel CPAP machines are lightweight, compact, and designed for easy portability. In fact, the smallest of the travel machines fit in the palm of your hand! Another key feature of travel CPAP machines is long-lasting battery life.
Benefits of using a Travel CPAP Machine
Travel CPAP machines give you the freedom to enjoy travel comfortably and conveniently. The compact size eliminates bulk and the lightweight replaces heavy equipment. Now you can take your nightly CPAP therapy on the road.
13 Tips for Traveling with Your CPAP Machine
The single most important tip for travel applies equally to CPAP therapy at home. You must use your equipment every night in order to gain the intended therapeutic benefits.
Don't check your CPAP machine on a plane. It could be lost or damaged when luggage is tossed around. Instead, today's travel machines are FAA-approved and can be carried on a plane.
If your machine has a humidifier, remember to empty all the water out of it before you leave to avoid potential damage to the machine's motor. Keep in mind that these travel machines are designed for easier use while on-the-go. Machines like the ResMed AirMini have a built-in waterless humidifier. The Philips DreamStation Go Auto has an optional integrated humidifier that can be powered by tap water. No more frantic search for bottled water when you arrive at your destination!
Bring along all necessary health/medical documentation, which will alert medical personnel or anyone helping during a medical emergency that you suffer from sleep apnea. We strongly recommend you purchase a medical emergency card and keep it in your wallet or purse during all your travels.
You can purchase a medical equipment identification tag for your CPAP machine to tell airline personnel that the equipment isn't to be considered a carry-on but rather a required medical device.
At US airports, TSA will need to screen your CPAP equipment just as they screen all carry-ons. Many travel CPAP machines have their own carry cases, designed to protect the machine in your carry-on and easily organize all your CPAP accessories including the mask and tubing. Simply remove your CPAP machine, as you do any electronic device, as you go through security.
It is always a good idea to bring along a letter from your physician or CPAP provider stating your need for the equipment.
Other notes and documentation you should take on your travels include health insurance information, contact information for your primary physician and/or sleep specialist, your CPAP machine model, your CPAP mask size and type, and your treatment pressure.
If you plan to use your travel CPAP machine with a humidifier during your flight, consider your options for getting large amounts of liquid through TSA security. The new Philips DreamStation Go Auto humidifier now works with tap water, so no more searching for bottled water once you pass security!
For in-flight therapy, be aware that you may not have easy access to an outlet. Plan ahead and purchase a good extension cord and/or a rechargeable battery, which will provide you with up to 30 hours of uninterrupted use.
When staying in a foreign country, you may need to purchase the correct plug adapter that works with that country's electrical supply.
Wherever you travel, if you make a significant change in altitude, you may have to reset your machine. Find out ahead of time if this adjustment is manual (you make it) or automatic (the machine makes it).
If you'll be driving all over this country and sleeping in a vehicle, make sure your machine is DC-compatible.
Which is the Best CPAP Machine for Travel?
The four top-selling travel CPAP machines include:
Are Travel CPAP Machines Covered by Insurance?
Most travel CPAP machines are not covered by insurance. However, it's best to check with your insurance company to see if you have any coverage options.
How Long Does a Travel CPAP Machine Last?
Most travel CPAP machines last about 7-8 years. However, longevity does depend on how often you use the equipment.
Where Can You Buy a Travel CPAP Machine?
You can find four top-selling travel CPAP machines at The CPAP Shop. Buy online or, if you have questions, contact us directly at 1-866-414-9700 or via email at contact@thecpapshop.com. You can also sign up for email notifications so that you receive the latest alerts on all CPAP equipment and supplies. Remember that you can earn rewards for future purchases on essential CPAP supplies.
Before you buy, see how all the preferred travel CPAP machines stack up.
Travel CPAP Machine Comparison
People travel for different reasons, and they have different criteria for how to choose a travel CPAP machine. Answering some basic questions may get you closer to a decision on how to choose a travel CPAP machine that is right for your individual needs.
ResMed AirMini Travel CPAP Machine
The ResMed Air Mini measures only 5.4 x 3.3 x 2.0 inches and weighs about as much as your smartphone. The AirMini is a traveler's dream. In this video, Chris Vasta, president of The CPAP Shop, shows the various components of the ResMed AirMini.
https://www.youtube.com/watch?v=m1u5b4gKw6A
Many features and technologies previously available only in larger CPAP machine models have now been incorporated into the AirMini. These include:
Humidifier: Part of the AirMini is an HME humidifier, which uses the person's own breath to add humidity to the pressurized air. (Because of this feature's design, only certain masks can be used.)AutoRamp: This technology makes getting to sleep easier by starting at a lower pressure and then gradually adjusting upwards to meet the therapeutic needs of the patient once asleep.
Expiratory pressure relief: This great travel CPAP machine feature delivers the lowest pressure necessary to prevent airway closure during inhalation, and then reduces pressure on exhale, which gives the sleeping patient a much more natural experience.
SmartStart: With SmartStart, therapy is initiated simply by breathing into the mask, rather than pushing a button.
Bluetooth: The AirMini can connect via Bluetooth to your smart device with an app that lets you program personalized comfort settings, check your nightly score to see how well you've slept, and more.
The ResMed AirMini meets FAA airport regulations, so you can use it on a plane. While a battery pack is not exclusively available for this product, it does have a DC converter so it can run from any DC power supply.
In order to decide how to choose a travel CPAP machine, we recommend taking a long look at the ResMed AirMini. It might just be your perfect travel CPAP machine, especially if you already like using either the AirFit P10 Nasal Pillow, the AirFit N20 Nasal, the AirFit F20 Full Face or AirFit F30 Full Face masks. The AirMini only works with these four ResMed masks, and the HME humidification is only available with the P10 and N20 masks.
• Provides all the comfort and convenience provided by your home auto CPAP in a small, travel-ready package
Shop Now
Philips Respironics DreamStation Go Auto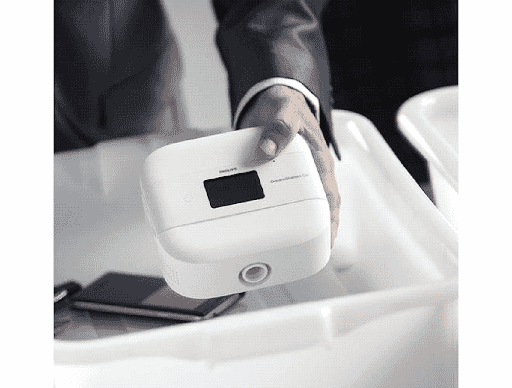 The Philips Respironics DreamStation Go Travel CPAP machine weighs about half of home use CPAP machines. But within that travel-friendly lightweight machine is powerful technology that makes it ideal for use when going places and as your every-day, home-based unit.
The DreamStation Go has one-third fewer components to deal with than any other travel CPAP machine on the market, and it has an optional rechargeable battery for the ultimate peace of mind when traveling anywhere. And the standout feature: The DreamStation Go Auto's heated humidification system can be powered by tap water. No more frantic search for bottled water after arriving at your destination!
Chris Vasta, president of The CPAP Shop, shares some insights on the DreamStation Go Auto.
Here are a few of this machine's popular features:
Swipe-and-set touch screen for convenience, especially when traveling.
Clamshell case to protect the unit while going through airport security.
Micro-flexible tubing that packs easily and gives the user more mobility during sleep.
Filter options include a washable pollen filter or a replaceable fine filter. The machine will let you know when it's time to replace the filter.
Mask options: You can use virtually any CPAP mask with this machine.
• Half the size of the larger at-home DreamStation machine with many of the same powerful therapy options
Purchase Now
Transcend 3 Auto minCPAP Machine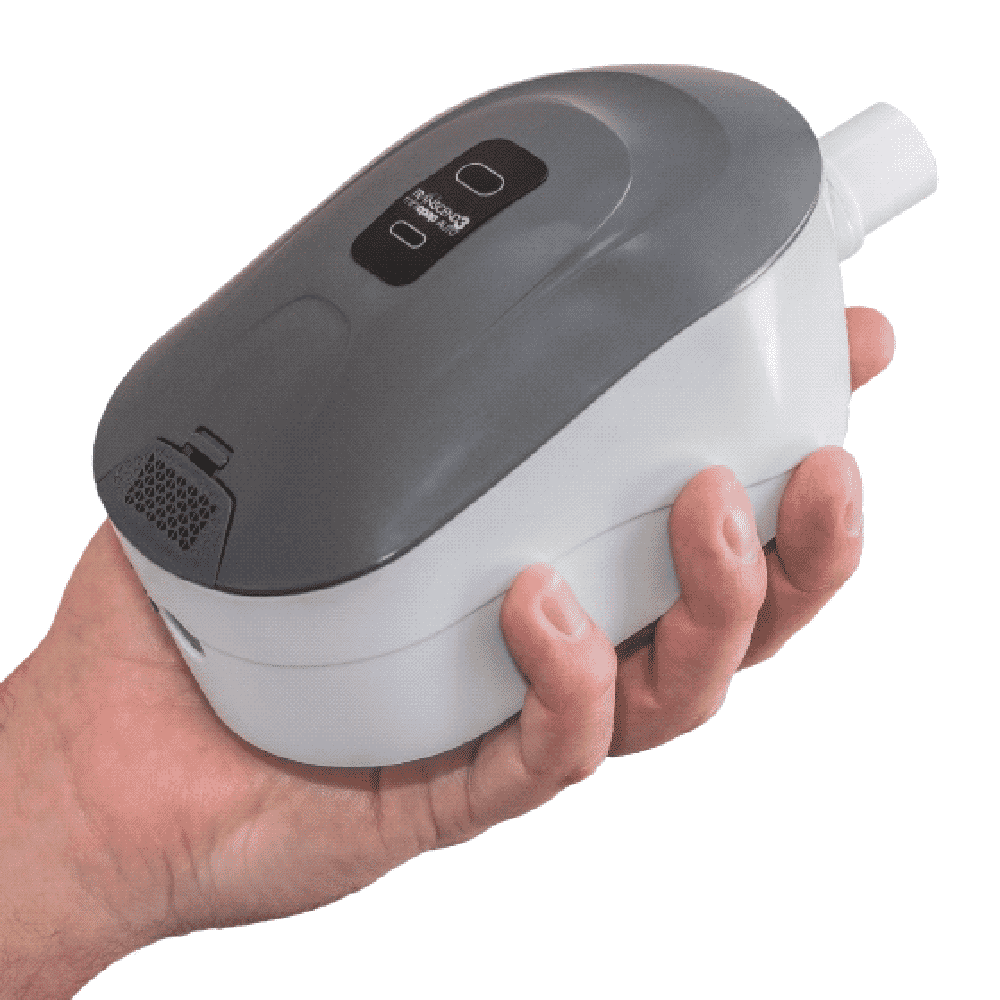 The Transcend 3 miniCPAP machine is an auto-adjusting unit that delivers precision the least amount of pressure amounts needed to keep the airway open at night. Travel-friendly, the compact design allows for use while at home or on-the-go. It is easy to pack in the bag and FAA-approved for use in flight. An integrated battery or DC cord can be used with the device as well.
A unique feature to the Transcend 3, "drying mode" helps reduce the spread of germs. After you clean your CPAP, activate this mode and the machine will blow a stream of air through the hose to dry up moisture and condensation.
Other notable features include an adjustable ramp period to gradually increases air pressure as you fall asleep for a more natural breathing experience and exhalation pressure relief.
Here's a look at the Transcend 3.
• A small and lightweight design for easy travel, providing advanced Auto-CPAP therapy
Shop Now
HDM Z2 Auto Travel CPAP Machine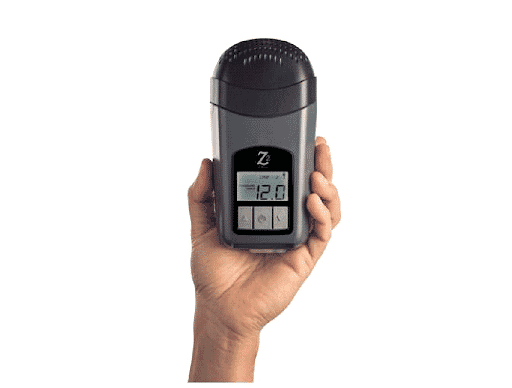 For a truly automatic portable CPAP machine, consider the HDM Z2 Auto Travel CPAP machine. At only 10.5 oz and sized at 6.48" x 3.3" x 2.02", the Z2 is small and lightweight, easy to drop into your bag and take anywhere. Plus, the unit is compatible with any CPAP mask.
Key features of the Z2 Auto include:
Auto-adjusting unit automatically adjusts pressure while you sleep.
Auto Start and Stop senses when you use your mask and when you stop using your mask for effortless PAP therapy.
Integrated battery option to ensure lasting power, offering a full night's therapy on a single charge.
Easy-breathe comfort feature for exhalation pressure relief
Waterless humidification
• Ultra-small, lightweight, auto-adjusting CPAP machine, perfect for travel or at-home use
Shop Now
Feedback from Users
One of the main deciding factors when choosing a travel CPAP machine is feedback from other users. At The CPAP Shop, our bestselling travel CPAP machines are the Philips DreamStation Go Auto and the ResMed AirMini. Here's what people say:
On the DreamStation Go Auto:
"This machine has now traveled all over the world with me from planes to remote locations and overnight ferries with poor or non-exisitant power availability. The battery covers the night with plenty of power to spare. I cannot recommend this fantastic machine highly enough as well as my positive experience with the support from The CPAP Shop." – Review by Brian, posted 7/1/19

"I researched travel CPAP machines knowing I would be prescribed one and knowing I had a 7-night vacation planned, so I selected the Phillips DreamStation Go. Can't say enough good about it. Compact, well-built and functions just like my home unit. Didn't miss a beat. The tube does not require a proprietary tube and a mask like the ResMed potable. However, the light and flexible tube that is included does require a connection to a Philips mask. But, I use a ResMed mask and my 15 tube attached without a problem. I have more travel planned and am really relieved to have the DreamStation Go and not have to travel with a large home unit. My in-laws, who came along on the trip and toted their bulky home units, were supremely jealous." – Review by Suits Me, posted 7/21/2018
On the ResMed AirMini
"This is now my everyday CPAP and I am buying a home unit by ResMed so I can leave this travel one in my suitcase. Love this machine. Incredibly quiet and the app shows you just how well you are sleeping. The small disc it uses to create moisture works very well and you need to replace it every month. IF you travel this is your machine. LOVE IT!!" – Review by Mark, posted 10/18/2019
"The ResMed AirMini auto-CPAP machine is the best, both in price and performance. I was using the ResMed AirSense 10 for a year, and I bought the AirMini for travel, but I like it so well that I use it at home too now. My sleep scores have improved to consistently over 90% now (including a perfect 100%) over the past 2 weeks. And yes I did use the regular Humid-X, which is very comfortable and produces no condensation in the air tubes. TheCPAPshop.com had the best price on the internet and gave good technical support, too." – Review by Tough Customer on 9/27/2019
So, Which One is the Winner? Which Travel CPAP Machine is Best for You?
For features like size, weight, battery life, and performance equal to a home CPAP machine, the Philips DreamStation Go and the ResMed AirMini are the most popular and best-rated travel CPAP machines.
The CPAP Shop is a leading provider of CPAP machines, masks and accessories. Our customer service team is here and ready to help. If you have questions on which travel CPAP machine is right for you, give us a call 866.414.9700.
---
Leave A Comment