Traveling with CPAP Machines
We surveyed over 500 CPAP users about traveling with their CPAP machines. This information came directly from CPAP users – the people who are the most familiar with and passionate about CPAP therapy and its benefits. In this post, we look at how traveling with a CPAP has become easier over the last few years, and address areas where CPAP equipment still needs improvement. Read on to find out more about traveling with CPAP machines and tips from other CPAP users!
Survey Results
We are a society on the move. Summer months, in particular, are a time when many people travel for pleasure. Air travel has its own challenges, as airplane seating gets smaller and airport security encourages travelers to arrive at the airport earlier and earlier for screening. As a result of these challenges, we wanted to know whether CPAP users are traveling with CPAP machines or are leaving them at home. Do the benefits of a good night's sleep make traveling with their equipment worth the extra preparation and work?
Almost 83% of people using CPAP have traveled with their machines. However, it is not clear if those who have not traveled with their machine did not own it long enough to have to travel, or if other reasons existed for leaving the machine at home. Clearly, though, a majority of CPAP users feel it's a benefit to travel with their CPAP units as opposed to going without.
Recently, manufacturers have introduced travel-sized CPAP machines, such as the Philips Respironics DreamStation Go and the ResMed AirMini, that rival their full-sized counterparts in comfort and effectiveness. Many full-sized machines have also added some thoughtful travel features and reduced size.
These improvements have motivated CPAP users to bring their CPAP machines along during a trip away from home - even when traveling for only one night!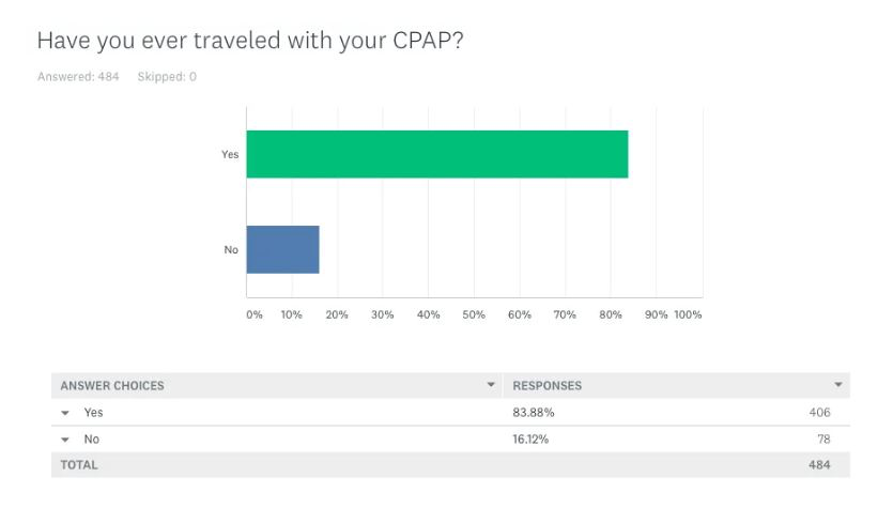 We also wanted to know how many users, of those that have traveled with CPAP, always travel with their CPAP machines. According to the survey, 72% always take their machines with them. For those who do not, the length of their trip seems to play a part. 12% of users only travel with their CPAP machine if they are away for multiple nights.
Another reason for leaving home without the CPAP machine is that there is no power supply available. In this case, some CPAP battery options may give them an opportunity to travel with their CPAP unit. When purchasing a battery, be sure to select the best option for your CPAP machine.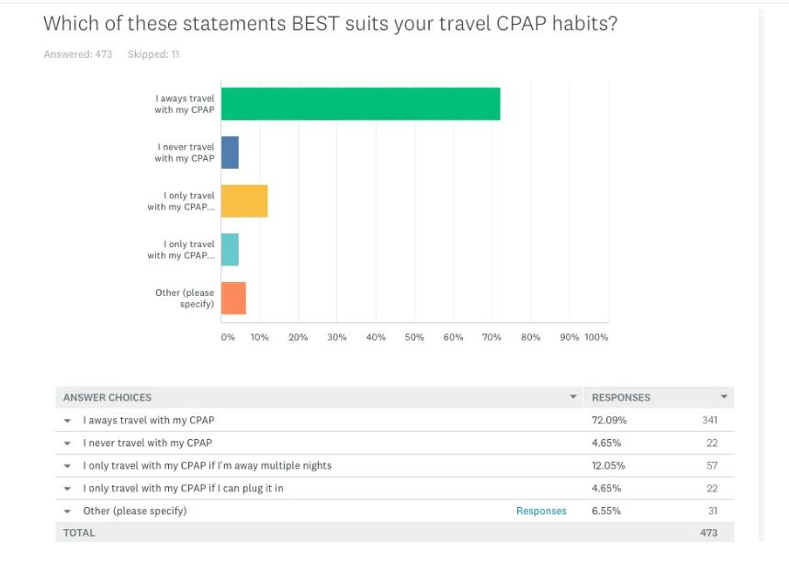 Interestingly, only 16% of CPAP users have decided NOT to travel with CPAP machines due to either the size or weight of the machine.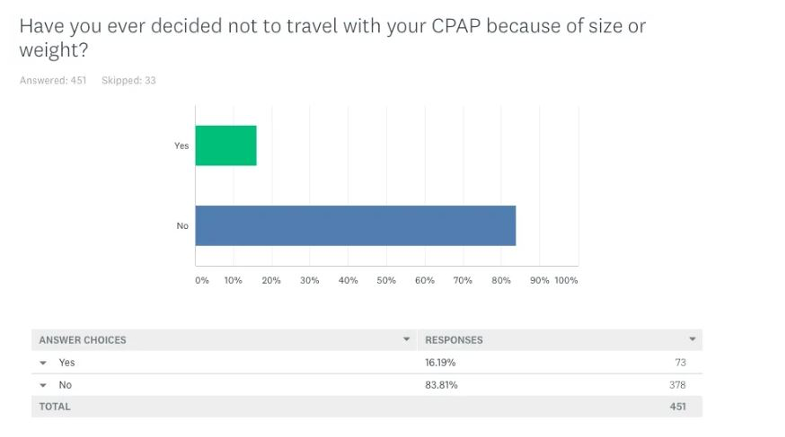 Of that 16% size seemed to be the biggest factor in the decision not to travel with CPAP. However, many people did not like the thought of having a lot of extra things to pack and carry. Many users made statements like this: "Just gone 1 night and thought I wouldn't need it. I was wrong!"
Thus, another of our traveling with CPAP tips is to ALWAYS take your CPAP machine along even if only for a short trip.
Traveling with CPAP Machines by Airplane
The idea that people do not travel with CPAP due to a bad airport experience is just not accurate for the majority of users. In fact, only 9% of those we surveyed ever had a bad experience during airport screenings, and only 2% of our 511 people surveyed have ever had to show their prescription while traveling with CPAP – although we still recommend keeping a copy of your prescription on hand, just in case!
Traveling with CPAP Flying Tips
Flying with CPAP can be a simple process as long as you know beforehand what to expect at the airport. The TSA has laid out the basic rules for those traveling with CPAP, APAP and BiPAP devices through security checkpoints at America's airports.
Things to Remember Before Your Flight
We collected some very good advice from our CPAP travelers who go through airport security. Most of them suggested keeping the CPAP in a carry-on bag (it is considered a medical device by most airlines and does not count against your carry-on limit). The idea that it can be lost or damaged in your checked bags is not acceptable by most users.
Most people suggested purchasing a travel bag just for CPAP that opens easily to show the TSA workers exactly what is in the bag (Update: most new CPAP machines now come with travel bags). Do not try to put other things in the bag, such as a tablet, because TSA does not allow this. If you are in a pinch and cannot get a travel bag, another of our travel CPAP tips is to put the equipment in a clear, plastic bag. This way, if you plan to put it on the conveyor belt to pass through security, you can keep it clean.
Others have suggested bringing spare parts such as a backup mask and tubing if there is space in your luggage because you never know when an accident may happen while traveling with CPAP and you can be assured that you will then have a replacement part.
Things to Remember During Your Flight
Be sure to bring enough battery power if you need to use your CPAP in-flight, or check with your airline to see if power sources on the plan will work with your CPAP machine. Some planes provide household power (110 or 240 AC volts) at individual seats; others provide "laptop" five-volt DC power; many provide neither. That's where batteries come in.
Things to Remember After Your Flight
Traveling with CPAP overseas? If you are traveling overseas be sure to purchase the specific plug adapter for the country of your destination. All CPAP machines work domestically as well as internationally. It is as simple as getting a plug adapter for the country you plan to be in during your visit.
If you are traveling to a destination with an altitude difference, be sure to check your CPAP machine's instruction manual to find out if your machine has an automatic or manual altitude adjuster. If manual, altitude adjustments can be made through the machine's menu.
Traveling with CPAP Supplies – and Keeping CPAP Clean
When you travel to a new location, you often do not know the availability of CPAP supplies or equipment at your destination. If you need to replace a tube, filter, mask or humidifier, this can hamper therapy. We always recommend taking additional supplies when traveling with CPAP especially when it's for a long period of time. We actually were surprised that most people do not take backup supplies. However, only 20 people in our survey ran into the problem of needing spare equipment while traveling with CPAP.
Some people travel for long periods of time, and do send away for replacement parts, like this person: "I go away for 6 months in the winter and send for replacement parts as needed such as masks and head gear." Of the 38% that do carry backup supplies, we wanted to know what they felt they needed to take.
The majority of people take backup masks, filters, and hoses. Hoses, in particular, have a tendency to rip and while many people are creative (sometimes using band aids or hotel tape to seal the rip) it's often hard to maintain the hose pressure if it is damaged.
People also take along extra power supplies (adaptors, cords, batteries), mask parts (cushions, clips, liners, headgear, chinstraps) and cleaning supplies. So, it's fairly easy to see exactly how important not missing a night of sleep with CPAP is to most users!
Even though you are on vacation, don't forget to clean your CPAP mask and accessories. Just like at home, cleaning the usable parts helps to maintain a healthy quality of sleep.
Traveling with CPAP Battery Power
Often CPAP users have very active lifestyles and enjoy camping, climbing, recreational vehicles, sailing, hiking, back country fishing, and hunting. Many do not let their use of CPAP get in the way of traveling to destinations where they cannot "plug in" and turn to the use of a battery backup. The CPAP battery allows the patient to operate his or her CPAP machine when A/C power is unavailable. For example:
Camping
Airplanes
Trains
Automobiles
Buses
Traveling with CPAP Supplies for Cleaning
More than half of the survey respondents (55%) take along supplies to clean their CPAP equipment when they travel. Many people felt that it was easier to clean the equipment before and after travel if it was going to be a short trip rather than take their cleaning supplies with them. Others felt that just using antiseptic wipes worked well enough when traveling (again on short trips). Still, others just take backup masks and tubes and switch them out during the trip.
Some manufacturers are even developing travel sanitizers, like the Sleep8 CPAP Sanitizer. Simply place your mask, tube and other accessories in the provided bag, connect to the Sleep8 and let the machine run. Whether you are in the car or in your hotel room, cleaning your CPAP while traveling does not have to be time- or space-consuming.
Traveling with CPAP Tips: Purchasing a Travel CPAP Machine
Since many of the people who took the survey did not own travel CPAP machines and took their full-sized CPAP on the road with them, we asked them if they were interested in purchasing a travel CPAP. Only 32% of our 500 respondents were interested in purchasing a travel machine.
Price seemed to be the main factor in their decision, with travel CPAP machines ranging in price from around $500 to over $1000 depending on the options chosen. CPAP size, weight, connectivity and battery power were also important factors in the purchase decision. If you travel often, travel CPAP machines are worth the value for portability and ease of use while away from home.
Additional Traveling with CPAP Tips from Users
Our users gave us several of their own tips and stories on traveling with CPAP that we want to pass on:
I clean my CPAP machine just before traveling, so I don't have to bring all supplies to clean it during my travel. I always bring it on my hand luggage (avoid loss or damage). If there is any part (usually mask) that needs to be replaced, I do it before traveling in order not to have a problem during my travel.
if you camp or travel try to get all power/ connectivity issues dealt with as soon as you get your machine. Medical supply stores don't really know much about necessary accessories or how to power portable.
Have your doctor's number, keep the CPAP prescription in the bag, insurance, and extra money in case a piece mechanically fails.
Humidifier and heated hose are unnecessary in the Caribbean and other tropical climates but carry an adaptor when traveling overseas.
Do not put CPAP in a suitcase to be checked in in the event that suitcase may be lost or stolen.
Carry an extension cord and/or multi-tap adapter. I regularly encounter hotel rooms that don't have enough available 120 volt outlets near the bed.
Have a simple CPAP packing checklist. I once left part of the power supply at home. Sucked!
Keeping the CPAP in its own case with nothing else other than CPAP supplies makes it easier to go through screening at the airport. I tried putting an iPad in there too and security didn't like that.
Just make sure your CPAP machine is packed and protected from being knocked around
One of my best traveling with CPAP tips it that the CPAP machine is an asset to one's health, so feel good about making room for it.
I normally use distilled water for my CPAP….when I went to a remote ski resort, all I could find was Aquafina….used it for 5 days with no mineral deposits or repercussions. In a pinch Aquafina works just fine.
When I travel with CPAP I do not pack in my luggage, I have it in the bag it goes in. I am immediately up front with airport folks, voluntarily open bag and explain what it is and I have never had any issues.
Carry extra fuses for 130V AC as well as for 240V AC when traveling. Read the CPAP manual BEFORE travelling!
Have a battery backup. You never know when the power will go out and I cannot sleep till the power comes back on.
If you travel to Ireland and use a machine that requires distilled water for humidifier, distilled water can be difficult to find (not all pharmacies carry it) and it is very expensive
I did not realize I failed to pack the power cord for the power supply. Arriving to my hotel and upon unpacking I had a fit because I had a brick and no CPAP. Scrambling to find a cord, I was unable to do so and spent three restless nights in wonderful San Francisco.
I tried a one night trip without my CPAP…big mistake! Never again.
With advancements in technology, there's no reason to not stay compliant with your CPAP therapy while on vacation. In order to fully enjoy your travels, you want to be well rested and alert. With planning and knowledge, you can travel anywhere with your CPAP. If you have any additional questions about traveling with CPAP equipment, our knowledgeable customer care team is standing by! Feel free to email us or give us a call today!
Chris Vasta is the president of The CPAP Shop and an expert in sleep and respiratory therapy. He often provides insights on product design and functionality on various manufacturers' prototypes and is frequently tapped to provide reviews on new releases.