AirFit P10 Nasal Pillow CPAP Mask Review
For CPAP patients who are looking for a lighter, quieter nasal pillow CPAP mask, the AirFit P10 delivers more comfort with less weight and a reduced noise functionality that offers a more peaceful sleep. It is 50% lighter and quieter than most popular nasal pillow masks, while still performing efficiently for a successful CPAP therapy night after night. It also has a low noise volume at 10-13 dBA, which is as quiet as normal breathing. The streamlined design reduces facial contact dramatically and has made the AirFit P10 one of the most popular masks.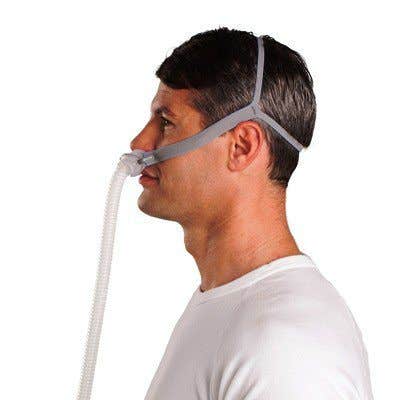 Key Features of AirFit P10 Nasal Pillow CPAP Mask
A minimal design, reducing facial contact and red marks
A one-size-fits-all headgear that provides a secure, comfortable fit for every user while the open field of vision minimizes claustrophobia and mask bulk
QuietAir venting technology, allowing users and their bed partners to experience less noise
Benefits Of Using AirFit P10 Nasal Pillow CPAP Mask
Users who have suffered through red marks on their faces will find this mask lighter and more comfortable. Fitting is easy, reducing constant adjustment. There are only three components to this mask, so the low profile makes it effortless to wear the mask while watching TV or reading. The innovative venting technology, called QuietAir, keeps performance of the mask quiet for you and your bed partner.
What is Unique About AirFit P10 Nasal Pillow CPAP Mask?
The unique color-coding of the nasal pillow sizes makes parts replacement simple and their clip-on design allows frustration-free assembly of the mask. With minimal parts, maintenance and cleaning are easier than ever. The design of the AirFit P10 delivers on proven research. One clinical study shows that the ResMed AirFit P10 Nasal Pillow Mask offers users 40 minutes more sleep every night.
How to Clean and Maintain The AirFit P10 Nasal Pillow CPAP Mask
Cleaning your ResMed AirFit P10 is easy because of its minimal parts. You should clean your CPAP mask daily after each use, as the build-up of facial oils and other residues can negatively impact your therapy and lead to damaged parts. Gently hand wash your mask with warm water and liquid dishwashing detergent. Allow the mask to completely dry before using.
How to Fit the Mouthpiece and Mask Of AirFit P10 Nasal Pillow CPAP Mask
Check to see that the left and right nasal pillows are positioned to match your left and right nostrils.
Hold the nasal pillows against your nostrils with one hand and pull the headgear strap over the back of your head with the other.
Split open the top half of the headgear, so that the lower strap sits at your back of your head while the top strap rests on your crown.
How To Change and Adjust the Nasal Pillows
You can readjust the pillows by pulling the mask away from your nose to reseat the nasal pillows to ensure they're upright.
Nasal pillows should be replaced approximately every three months, or when needed. To replace them, remove the old nasal pillows from the mask. Ensure the new pillows are aligned properly with the frame. There are "L" and "R" letters under each pillow to indicate which side is left and which is right. Once the pillows are aligned with the frame, simply press them into place until you hear a soft click.
AirFit P10 Nasal Pillow CPAP Mask - Warranty
Warranties help ensure performance and quality of your CPAP mask. Because CPAP users need the opportunity to try out different types of CPAP masks, the AirFit P10 Nasal Pillow CPAP Mask is protected by a 30 day money back guarantee. Users can return their AirFit P10 if not fully satisfied.
Where Can I Buy the AirFit P10 Nasal Pillow CPAP Mask?
You can find the AirFit P10 Nasal Pillow CPAP Mask at any medical supply retailer. You can also buy this mask from the comfort of your home online at The CPAP Shop. Our knowledgeable staff can answer all your questions about this mask and more. Give us a call at 866-414-9700.