ResMed Introduces Air Solutions, the Most Advanced Sleep Apnea Therapy Yet
Continuing with its philosophy of innovation, technology, and design, ResMed launched its much anticipated next generation of CPAP machines. The ResMed AirSense 10 platform consists of five new devices; AirSense 10 standard CPAP, AirSense 10 Elite, AirSense 10 Auto, AirSense 10 Auto for Her, and AirSense 10 BiLevel. The new platform is part of a much broader compliance solution that ResMed has embarked upon. Air Solutions is ResMed's latest progressive sleep-disordered breathing (SDB) system. It combines diagnosing and treating sleep disorders through improving compliance and patient involvement. More specifically, with Air Solutions, ResMed is facilitating the creation of a network of medical professionals to connect with patients using technologically advanced, seamlessly integrated CPAP devices in an effort to provide a higher level of management and care.
ResMed is one of our most popular brands and an industry leader in developing innovative products. They set unprecedented standards for patient comfort and usability. They are once again leading the field with innovation and advancement by responding to industry for better compliance. With Air Solutions, ResMed is the first manufacturer to introduce a comprehensive system that offers the possibility for an even more cohesive and comprehensive therapy solution.
Air Solutions is also an opportunity for doctors, sleep labs, home medical equipment providers, and CPAP users to increase diagnostic and treatment efficiencies and compliance through one-of-a-kind platforms. These platforms include:
AirView™ Monitoring and Compliance Management System - ResMed's new cloud-based compliance management system which enables healthcare professions to manage patient care at home. Troubleshooting problems, detecting faults and even changing the machine pressure is all manageable remotely by the patient's provider. Patients benefit through increased access and visibility all while receiving help and encouragement with therapy.
The AirSense™ 10 Series - ResMed's new line of connected CPAP, APAP and Bi-Level machines which offer unprecedented access to therapy data. These machines include advanced features that streamline the set-up process and boost compliance management. Moreover, an integrated humidifier, an AutoRamp feature which ramps when a user is asleep, and an unparalleled "For Her" APAP with therapy designed specifically for women provides a new level in CPAP therapy. The AirCurve™ 10 Series is a ResMed's new line of bi-level machines which address more significant patient needs. AirCurve devices offer greater pressure support and an adaptive-servo-ventilation among other features.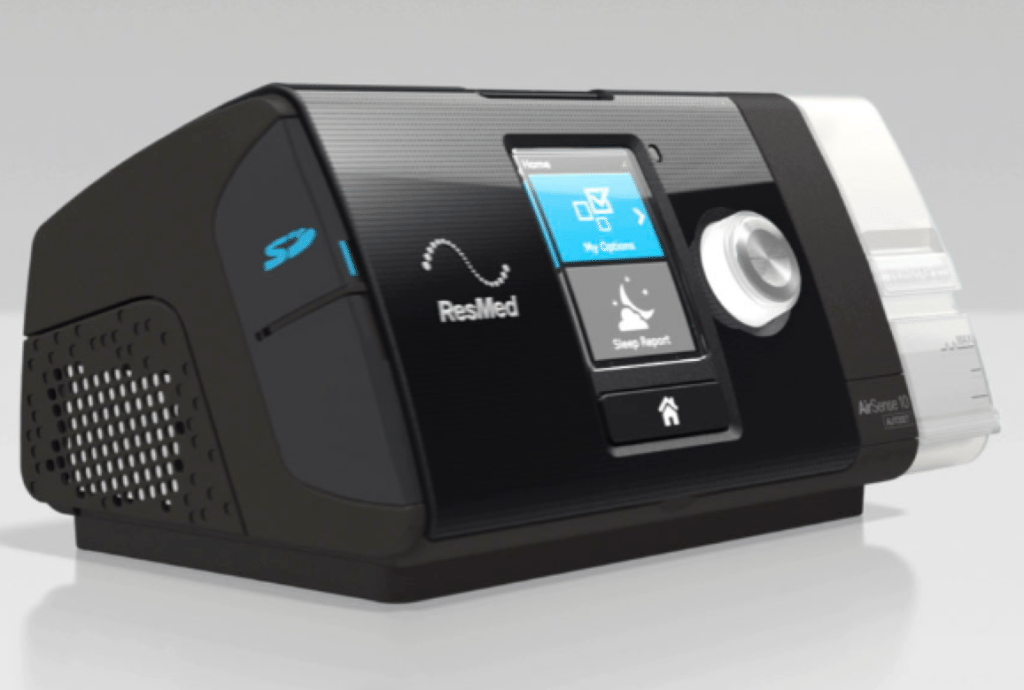 In addition to its new AirSleep line of CPAPs, ResMed recently launched the AirFit series of masks. These masks complement ResMed's inherent design prowess and seamless therapy integration. The masks include the AirFit P10 (nasal pillow), AirFit F10 (full-face) and AirFit N10 (nasal). They offer ResMed's latest upgrades to comfort and fit providing a perfect accompaniment to the new line.
Lastly, ResMed has always recognized that diagnoses and subsequent treatments are only as effective as a patients' compliance. MyAir Patient Engagement Application and Software is designed to improve patients' compliance. This cloud-based dashboard provides coaching and reinforcement messages that help patients interpret their sleep data, understand why compliance is so crucial, and see improvements over time.
Through Air Solutions, therapy has never been so connected, visible and interactive. The entire AirSense platform enables doctors, sleep labs and patients to realize a new level of care with heightened connection and communication and greater access and understanding. Check out The CPAP Shop for more details on ResMed's new Air Solutions CPAP, APAP and Bi-Level machines.
Additionally, the AirSense 10 is now available! To view the Air Solutions line, click here.