Sleep Apps to Help You Sleep Healthier
We have updated this post with new Sleep Apps to help you sleep better or healthier. Most of them are specifically chosen for people suffering from obstructive sleep apnea.
The Best Sleep Apps for People with Sleep Apnea
Today, Smartphone users have access to thousands of apps that we use throughout the day. However, there are several apps out there that we can use while we sleep as well. From snoring trackers to advanced data collectors, there are many tools at our disposal that can help us learn about our sleep patterns, identify disturbances in our sleep, and improve our overall sleep quality. Check out some of our favorite sleep-related apps, and learn whether they can improve your sleeping experience.
Best All-Around Sleep Trackers Sleep Apps
One of the most well-known apps available for both iPhone and Android devices is the Sleep Cycle Alarm Clock by Northcube. (Sleep Cycle for iOS and Android). The ultimate purpose of this app is to track your sleep cycles. It also identifies when you are in periods of deep sleep and light sleep. It uses this data to gently wake you up in the morning when you are coming out of deep sleep. The hope is that you will feel more rested and alert when you wake up.
Although the main focus of this app is to help individuals who have trouble getting up in the morning, individuals with sleep apnea may also find this app useful. Sleep Cycle uses the data it collects while you sleep to create easy-to-read graphs. They help users identify when they have had a normal night of sleep with regular sleep cycles and when the user has experienced disturbances throughout the night. Using this app over time will reconfirm whether or not CPAP therapy is improving a user's sleep quality.
Android users may also want to check out the Sleep Better app by Runtastic. Like Sleep Cycle, the Sleep Better app also tracks your sleep cycle, but offers other features as well. The app will also keep track of your mood when you wake up in the morning. It will additionally track your alcohol or caffeine consumption. The Sleep Better app also allows users to keep a dream journal. All of this information is used to evaluate the quality of your sleep. It tracks your sleep progress over time and can help users identify which variables affect your sleep.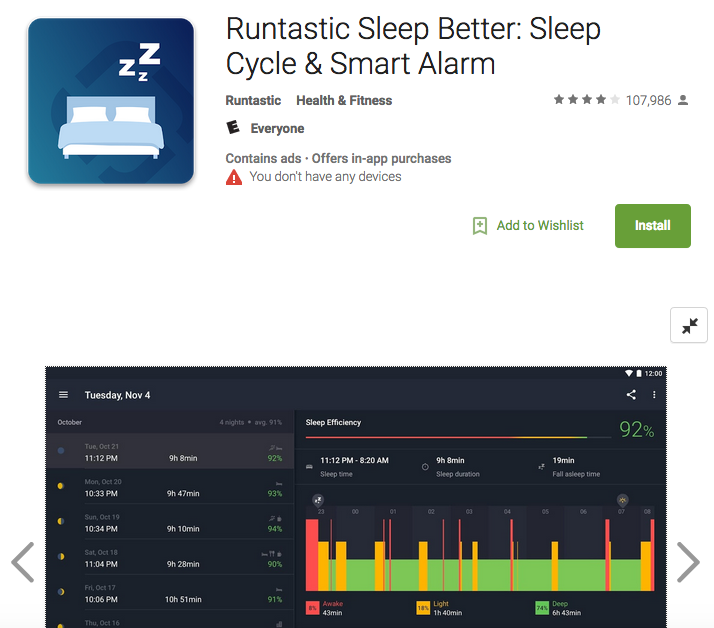 If you don't have an Android device, there are apps available for iPhone users as well. One of the most advanced apps on the market is Sleeptracker-24/7 by Motion X. In addition to promising that users will sleep better and wake up feeling refreshed, this app also helps users be more active throughout the day. Like other apps, the Sleeptracker-24/7 monitors movements while you sleep. It identifies periods of deep sleep and light sleep. It has an integrated alarm system that will wake you during periods of light sleep. Additionally, this app tracks and records your snoring, sleep talking, or other disturbances while you sleep. Using the data, the app will suggest sleep solutions to address interruption in your sleep.
Sleeptracker-24/7 does more than just monitor your sleep. During the day, the app will track your steps. It will also encourage you to "Get Active" if you haven't moved in some time. It can even monitor your heart rate! Again, all of this information is used to evaluate its effect on your sleep. That way, you can adjust your daily routine in a manner that will maximize your rest at night.
One of the newer apps is Sleephealth, created by the American Sleep Apnea Association. Unlike other apps, this app is part of a national sleep research study. The study looks into the sleep patterns and sleep quality of individuals across the country. After completing a brief health survey, the app will ask you to complete short tasks or answer simple questions about your sleep patterns and health.
By taking the time to complete these activities, the researchers behind the app are able to learn more about sleep patterns, sleep apnea, and external effects on sleep. All of the collected data is encrypted and protected, so you don't have to worry about your persona information being compromised. As the app continues to learn about your sleep habits and the factors effecting your sleep, the app will also offer you tips and tricks to improve your sleep quality and ensure a better night of rest.
Finally, we know some CPAP users have a tough time falling asleep. The masks CPAP users wear can make it difficult to fall asleep. Fortunately, there are dozens of apps available that can help you fall asleep quickly and efficiently. One of the most popular options is Pzizz. This app utilizes a patented system of music, voice-overs, and sound effects to create an individualized optimal sleeping environment that will relax your mind and body and help you drift off to sleep. The sounds change every night, and over time, the app learns what kinds of noises work most effectively for you while still providing a variety of sound sequences to maximize your sleep experience.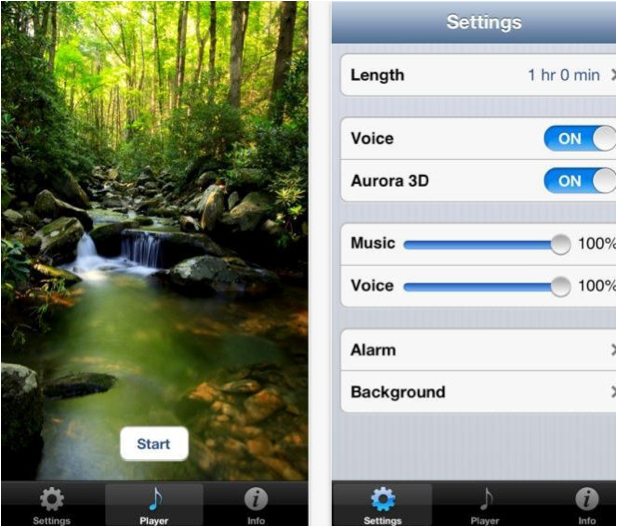 SleepBot (iOS and Android)
Similar to Sleep Cycle, SleepBot tracks your movement and provides comprehensive graphs about your night of sleep. SleepBot also has a recording feature to capture snoring. It also uses the volume of your snores in its algorithm as well.

SleepBot doesn't have as much instructional information on its website, but it does have an interface for your computer. The interface allows you to track your sleep patterns online as well as within the app. It's also free to download from the Apple Store and from Google Play.

Relax Melodies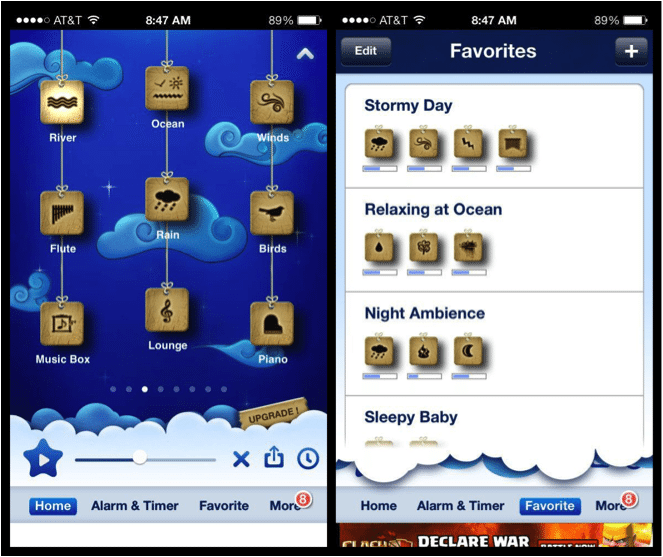 Relax Melodies takes a different approach. The Relax Melodies App creates a playlist designed to put you to sleep. You have the choice of creating your playlist from your own music or selecting from its library of custom sounds and melodies. The app helps you achieve a relaxed state of mind quickly, which is necessary to enter into sleep. To do this it uses binaural beats and isochronic tones to slow brainwaves. This app also helps ready you for mindfulness meditation. Use the app with headphones so you don't disturb anyone else. You can also activate it as an alarm and a timer system. Remove the stress from your life and get ready for a relaxing night of sleep with Relax Melodies, which is available for both Android and iPhone devices free of charge.
Best Sleep Apps to Monitor Snoring
If you're not sure whether or not you suffer from sleep apnea, but would like to find out, here's some good news. There's an app for that! Snore monitoring apps can help users discover if they experience the symptoms of sleep apnea before meeting a doctor for a full-fledged diagnosis, which can include extensive tests and sleep monitoring.
The first of these apps is the ApneaApp developed by the University of Washington. Currently available for Android devices only, the app detects events during the night that are correlated to sleep apnea. The app collects data of the user's breathing patterns and snoring, and compare that data to other users to determine whether or not the user might have sleep apnea.
Those who have iPhones can use SnoreReport to monitor their snoring as well. Like the ApneaApp, this app measures the frequency and intensity of your snores. However, this app converts this data into a quantifiable value, called the snore score. This analysis allows you to track your progress over time and identify various factors that improve your sleep and snoring episodes. If you try out this app, and find that you're having trouble controlling your snoring, it may be indicative that you suffer from sleep apnea, and may want to consult with your doctor.
Another favorite app for keeping track of snoring is SnoreLab (iOS and Android). This app also uses extensive algorithms to measure the intensity and frequency of the users snoring, as well as record any snore deterring remedies that the user might be trying that night. It also allows you to record your snoring to allow users to listen to the changes in their breathing throughout the night. Each night, SnoreLab converts the collected data into color coded and easy to interpret graphs that allow you to compare the effectiveness of various snore remedies and measure improvements in your sleep.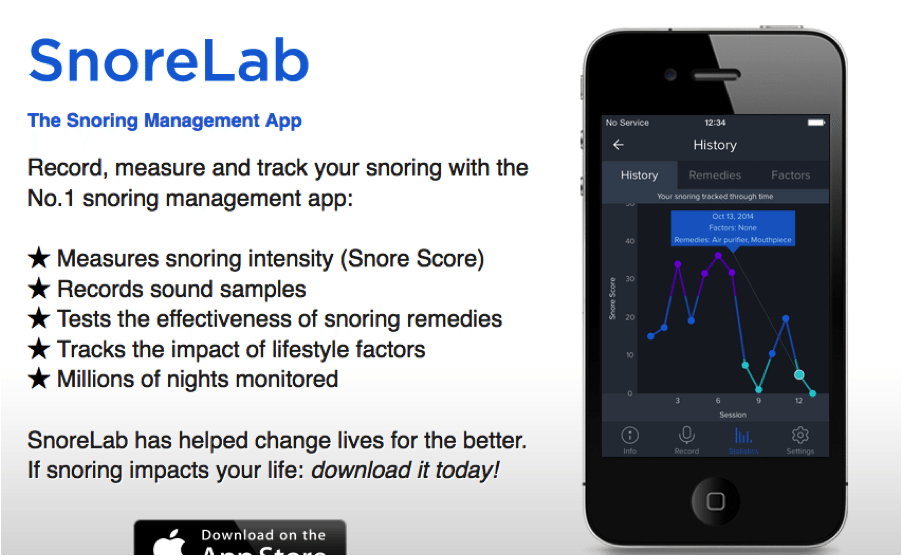 The Sleep snore/ Apnea/ talk Recorder from GRsoft Labs is an app especially designed for the people with snoring, apnea and sleep talking problems. The app records the sounds that have been produced during the night. Features include time and decibel graph and calibration for automatically detecting room noise level among others.
Can an App Determine if your Snoring is Sleep Apnea?
Far more sophisticated sleep apps for sleep apnea are being developed and tested that are meant to provide more granular data regarding snoring and sleep apnea. These apps will provide everything from the measurement of breathing and movement patterns to remote data access for doctors. While none of the devices currently on the market or in development claims to accurately predict OSA in patients to any degree rivaling sleep studies in clinics or with home devices, they do play an important role in raising OSA awareness. With costs being generally low for many of these devices, they can provide educational opportunities as well as spur people to get tested and work with their physicians regarding diagnosis and treatment.
Sleep Apps that use CPAP Devices
Previously, sleep clinics and insurance companies have collected data on patients' sleep habits and to track their progress with Sleep Apnea. Now that Smartphone's are so, well smart, some of these data collectors have created apps to help patients keep tabs on how well their CPAP device is working for them. Currently, some of the top CPAP manufactures like Philips Respironics and ResMed, have these sleep apps ready and available for use!
Philips Respironics' DreamMapper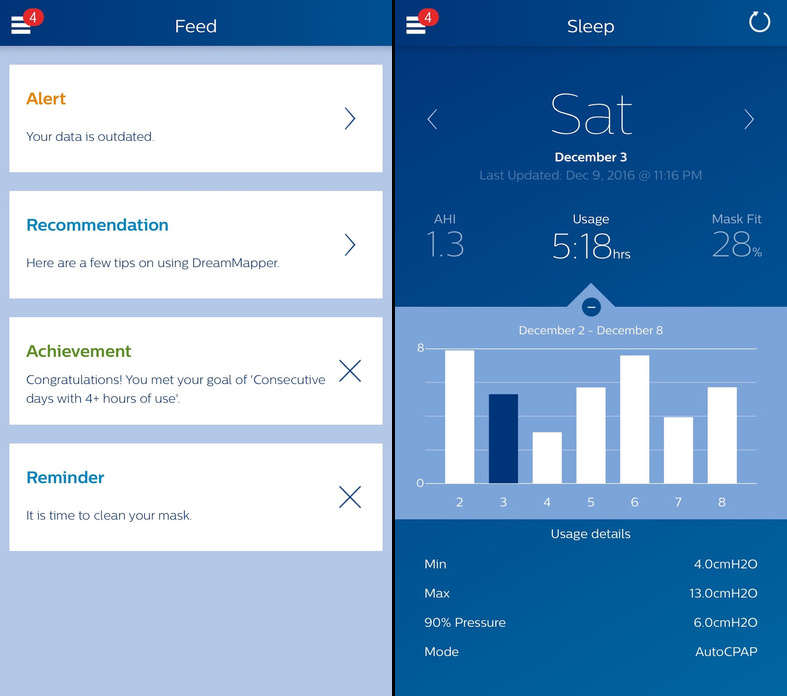 Philips Respironics is a leading manufacturer of CPAP devices to treat Obstructive Sleep Apnea. They are dedicated to providing users with the incentive and motivation to use these devices more effectively. When OSA patients use the DreamMapper app they can sleep better at night and be more active during the day. DreamMapper provides all of the following:
Feedback based on therapy results
Ability to set and manage goals
Motivational messages showing achievements
Informational videos and guides geared toward CPAP therapy success
Reminders to clean/replace equipment
Notifications about your therapy and equipment
These sleep apps are available for both Android and iPhone devices for free. But, of course it works only with a Philips DreamStation, PR Sytem One Remstar and DreamStation Go CPAP machines.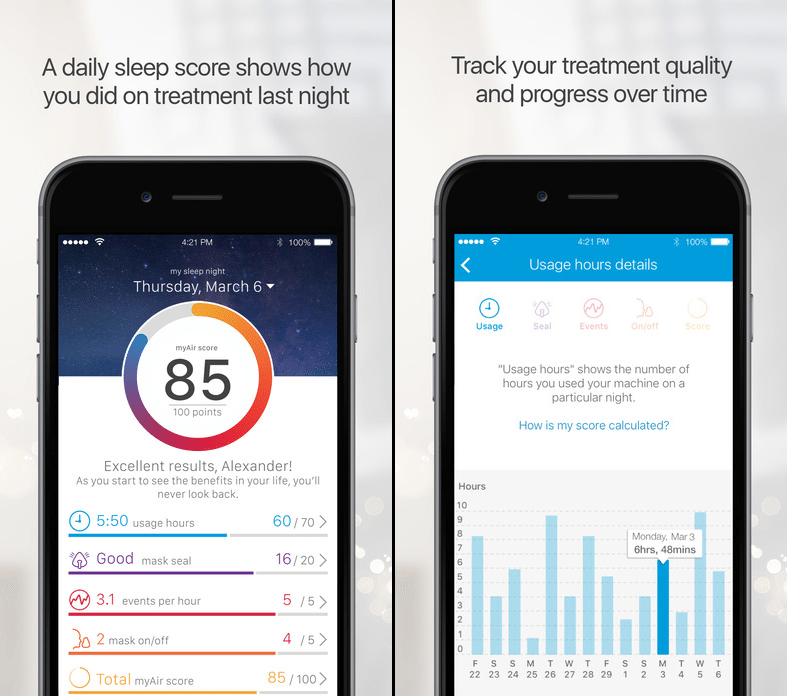 The ResMed MyAir™ app tracks your CPAP therapy progress and works in conjunction with your ResMed AirSense 10 CPAP machine. We have written extensively about the MyAir app on our website https://www.thecpapshop.com/resmed-myair . Your ResMed AirSense10™ https://www.thecpapshop.com/airsense-10-autoset-cpap-with-humidifier-bundle, or AirCurve™ 10 machines automatically upload data through a Bluetooth connection to the MyAir app so you can simply sign in and view important information about your therapy.
The idea behind myAir is to make compliance easier for new CPAP users and enable users to review nightly sleep data. The goal is to provide peace of mind that CPAP therapy works very effectively. MyAir provides personalized therapy suggestions to increase comfort. It also encourages users to troubleshoot any issues such as mask leaks, in order to stay on therapy.
When using your Air10 machine, myAir provides you with:
A daily myAir sleep score showing the quality of your sleep
A historical data graph of your sleep patterns to help spot patterns, and follow CPAP therapy progress
Automated prompts offering personalized support to improve therapy
Answers to common questions via videos and guides
Encouragement to help you build your confidence with treatment
The app is available for iPhone devices and is free.
Human Design Medical's Nitelog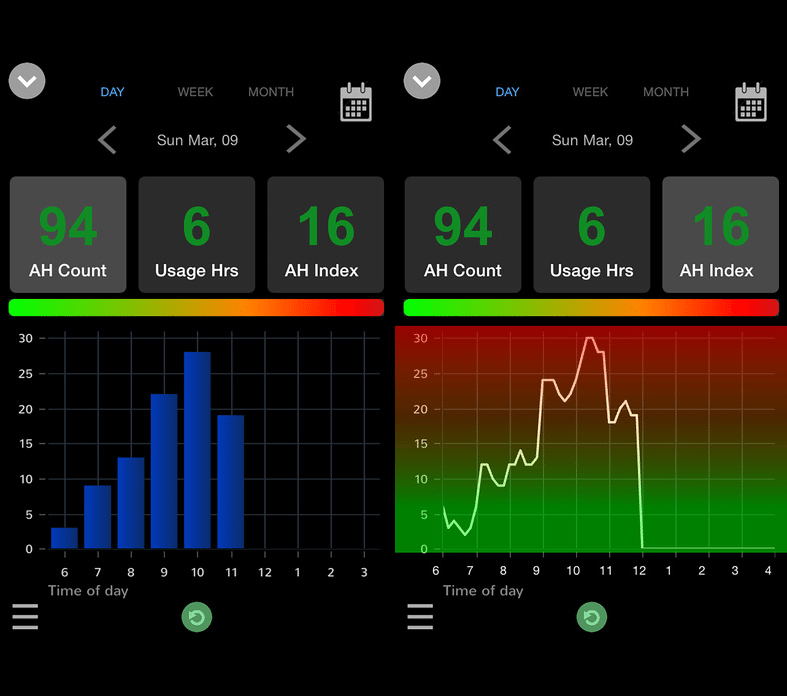 Nitelog™ app works with HDM's Z1 Auto™ https://www.thecpapshop.com/z1-auto-travel-cpap-machine-bundle , a light, travel-friendly auto CPAP machine created to be very user friendly. Users can even enable their app to control the Z1 Auto™. We've written in the past about this app https://www.thecpapshop.com/blog/new-z1-auto-hdm/ , which reports on all information collected from the Z1 on events and compliance and displays it on a smartphone. Users can share this data with their doctors directly from the app. The app is available for both Android and iPhone devices for free.
DeVilbiss' SmartLink for Intellipap CPAP machines

The SmartLink Sleep App replaces the IntelliPAP SmartLink system which is used to collect data from DeVilbiss the CPAP devices via a connection in the back of the machine https://www.thecpapshop.com/devilbiss-smartlink-patient-therapy-management-system. The app works with DeVilbiss IntelliPAP https://www.thecpapshop.com/devilbiss-intellipap-auto-cpap-machine and IntelliPAP 2 https://www.thecpapshop.com/devilbiss-intellipap-2-autoadjust-auto-cpap-machine-bundle CPAP devices. It also works with the IntelliPAP BiLevel or BiPap device. The SmartLink App captures and reports sleep data from the machine allowing users to benefit from monitoring their therapy. The SmartLink App:
Review simple color-coded feedback on your therapy
Provides reports for daily, weekly, monthly, and yearly usage
Shows data on high leak, snoring and machine usage
Provides reminders for replacing masks, filters and tubing
Comes with IntelliPAP machine instruction videos
The app is available for both Android and iPhone devices for free.
CPAP manufacturers have conducted studies that demonstrate significant differences in the quality of CPAP therapy between those using monitoring software and apps vs. those who do not use this data. The studies have shown that those using software have better partnerships with sleep clinicians which provides better therapy results. It also has been shown that people who use these apps have a higher compliance rate. They are also quicker to adapt and tolerate CPAP therapy.
Sleep apps also aim to educate users via videos explaining solutions to common problems, which help to alleviate questions and concerns. Sleep Apps also send automatic alerts that help users self-monitor their therapy which has shown to be an important step in successful CPAP therapy.
Sleeping apps can be an excellent supplement to your CPAP therapy. They can track changes in your sleep patterns, encourage you to stay committed to your therapy, and collect data that you can share with your doctor. Remember, using these apps are not a replacement for your CPAP therapy, and you should continue to use your machine every night to ensure consistent progress with your sleep therapy. These also cannot replace a true sleep apnea diagnosis or recommended treatment from a doctor. CPAP diagnostic and monitoring apps allow users to become more engaged in their CPAP therapy.
You can also troubleshoot deficiencies in their therapy, and learn more about their sleep in the comfort of their own homes. Most of the new CPAP machines come BlueTooth ready to connect with an app associated with that machine. If you use CPAP but don't use the app associated with your machine, we suggest you try it to see if using the app improves your CPAP therapy and sleep experience.
Chris Vasta is the president of The CPAP Shop and an expert in sleep and respiratory therapy. He often provides insights on product design and functionality on various manufacturers' prototypes.