What is the Best CPAP Mask For Facial Hair?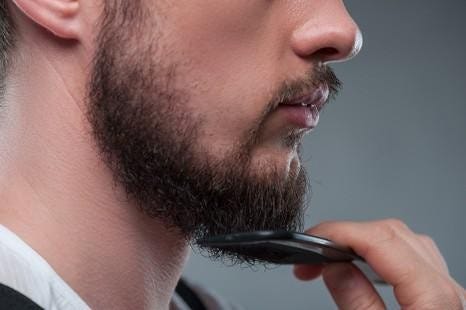 Whether you have facial hair or not, finding the most comfortable CPAP mask can be difficult. But this task can be especially challenging for those with a beard. Your beard or mustache shouldn't be a barrier to effective CPAP therapy. In an effort to meet the needs of every customer, many CPAP manufacturers have developed CPAP masks that comfortably fit those with facial hair. While there is no one best mask for every user, The CPAP Shop has assembled some of its top picks in each category (nasal, nasal pillow, and full face).
Best Nasal Pillow Masks for Facial Hair
With a lightweight design, the ResMed AirFit ™ P10 Nasal Pillow CPAP Mask with Headgear is ideal for anyone with facial hair. The key-clip nasal pillows make it easy to replace cushions, while the QuickFit elastic headgear provides enhanced stability and adjustability. Along with providing a comfortable, easy-to-use fit, this minimal contact design also offers a clear field of vision for watching TV or reading.
Other options in nasal pillow masks include the ResMed AirFit P30i Nasal Pillow Mask with Headgear which features a SpringFit frame with small, built-in ridges that adjust to any face size. The top-of-the-head tubing connection provides a more natural feel and helps accommodate beards and mustaches while still providing comfort throughout the night.
Best Nasal CPAP Masks for Facial Hair
Like nasal pillow masks, nasal CPAP masks are often the best choice for those with beards, as they only cover the nose. But what about mustaches? The Philips Respironics DreamWear Nasal CPAP Mask with Headgear provides minimal contact under the nose and a top-of-the-head tubing connection so you can wear this nasal mask comfortably in any position without compromising your facial hair or your therapy.
Other innovative designs like the ResMed AirFit N30i Nasal Mask with Headgear feature a curved cushion that cradles the nose for stability and comfort. The minimal under-the-nose cushion covers less of your face than most nasal masks, and the septum bridge membrane is designed for a stable seal, so your mustache never gets in the way of comfortable CPAP therapy.
Best Full Face Masks for Facial Hair
Many CPAP users prefer full face CPAP masks, which can be a challenge with facial hair. The Philips Respironics DreamWear Full Face CPAP Mask with Headgear is made of lightweight silicone material and features a under the nose design that minimizes facial contact so beards and mustaches do not pose a problem. The mask also offers unhindered movement with its top-of-the-head tube design, so active sleepers with facial hair will find this CPAP mask to be a win-win.
Other full face masks like the ResMed Mirage Liberty ™ Full Face Mask offer easier adjustability so you can achieve a custom fit around facial hair. By sealing individually at the mouth and the nose, this mask offers less skin contact, while the crown-shaped headgear offers increased stability. The lightweight design fits over 90% of users, so versatility makes this mask a good choice for all night comfort even for those patients with bushy beards or thick mustaches.
Still Have Questions About CPAP Gear For Facial Hair?
Our knowledgeable customer care team is standing by to assist all of our customers with their unique needs. Give them a call at 1-866-414-9700 or email them at contact@thecpapshop.com today.